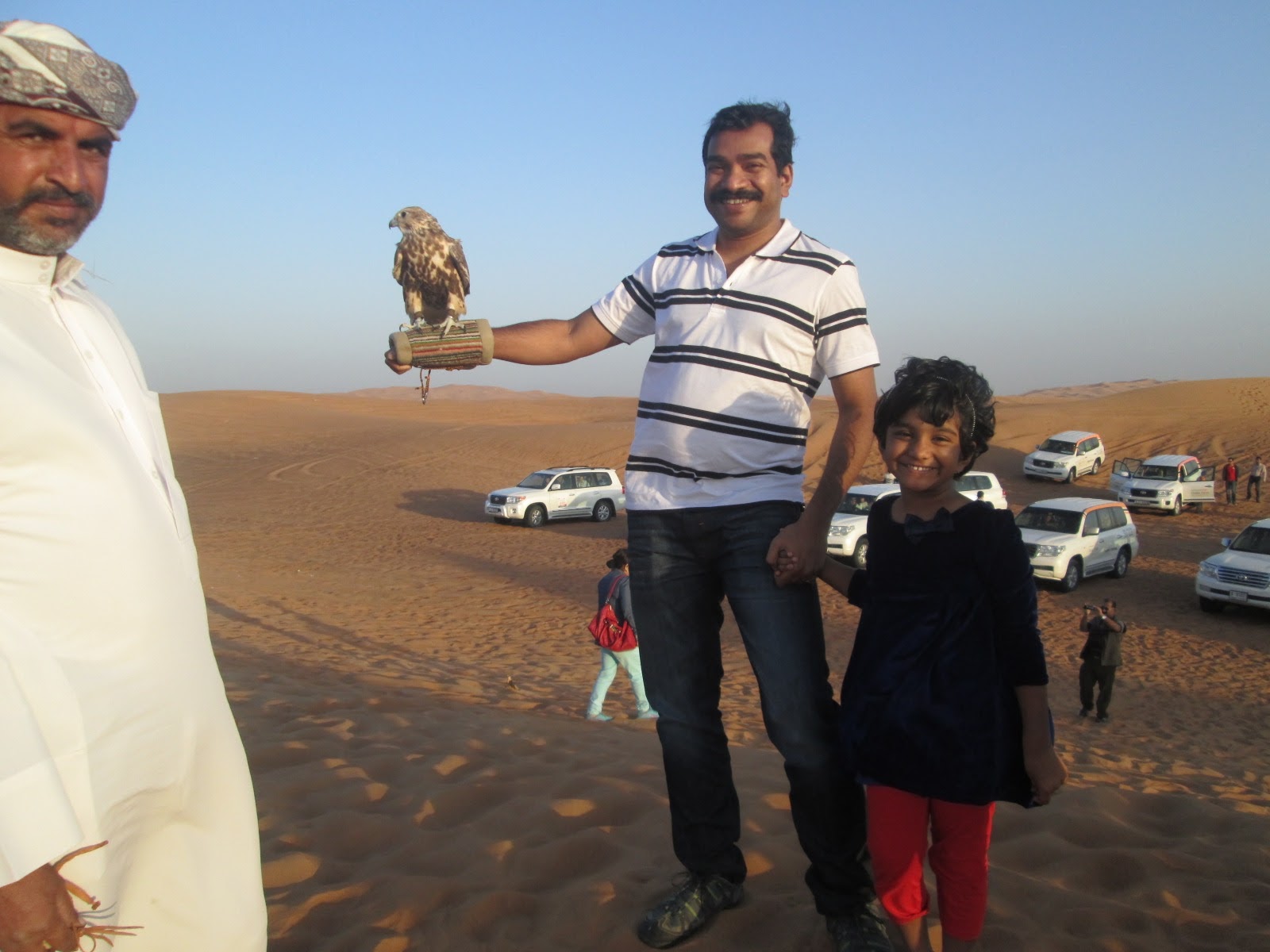 Travelogues- My Vacation in Dubai
During my 2nd standard's Christmas vacation, we went to Dubai. It was a fun filled trip for 5 days with my father and mother.
On the 1st day we went to a desert. We went in a special car on the sand and it was fun riding in the desert. We also saw a person carrying Eagle. My mother was scared to hold the eagle but me and my father allowed it to sit on our hands. I felt so adventurous. There was a belly dance and another dance where the person wore a dress with lights and when he danced it looked like a spinning Top. We had a good dinner and there was nice music and cool wind in the desert at night. I saw one person drawing different designs on the coloured sand inside a bottle –it was wonderful.
On the 2nd day we went to Burj Khalifa- Its the tallest building in the world. It has 163 floors and we went to the 124th floor . It took less than 1minute to reach the top and it's the fastest lift(elevator). We saw the entire Dubai city from the top and I saw the round shape of the earth. It was so beautiful. We took lot of photos. Next we went to a huge aquarium and it seemed like we went under the sea. I saw octopus, ray fishes, and other big fishes swimming around us.
On the 3rd day we went for site seeing in the metro train and went to different shopping malls with lot of games and I loved playing in those. In one mall there was ice skating and we loved playing inside the igloo. It was so cold and it seemed like we went to ice mountains. Evening we went to a museum with many old boats, cave and many antique things.
On the 4th day we went to the Palm islands – it was an island made in the shape of palm. There were many lovely houses in that island and my mom was telling film actor-Shah Rukh khan has a house there. We also saw a world island -which has shape of different countries. People can buy India, china, America or any country if they wish to buy those islands-but its very expensive.
On day 5- we went on a cruise ship. There were lot of tasty food and dance party in the cruise. We took photos and enjoyed the ride in the lake(creek).
It was a fun trip in Dubai and I was sad that we had to return back so fast .
I want to go back to Dubai again for my next vacation .
Rgds,
Naxatra Vipin