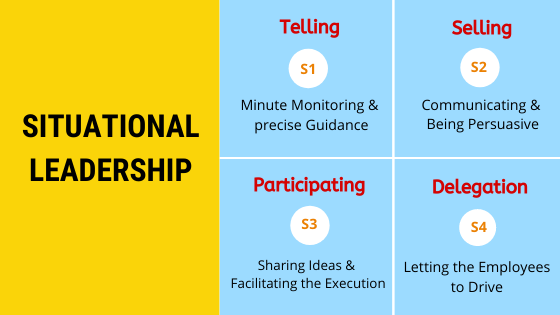 My job demands me to interact with many great leaders every day. And I learn a lot from their leadership styles. Every leader has his/her leadership style. Everyone comes with a barrage of personality traits, likes, and dislikes, experience and education which makes them unique in the way they do their job. The best part of their leadership is they can mold themselves easily in any kind of situation. Sometimes they are more of transformational leaders, trying to concentrate on integrity and emotional intelligence; then sometimes they are bit bureaucratic following more of a top-down instruction-based leadership model. And this is exactly what we call Situational leadership.
I wanted to take a deep dive into this particular leadership trait. What is Situational Leadership all about? I referred to multiple online journals and articles and found some very interesting theories on that. Here is a synopsis about situational leadership from my point of view.
What is Situational Leadership?
It is known to be more of an adaptive leadership style. When I say adaptive, I mean that leaders take account of various parameters to arrive at a certain conclusion or take critical decisions. Leaders need to analyze their team members, list down the work styles, list out the pros and cons and only then choose what to do in a particular situation. Leadership today is not about positional power as it is about situational temperament. Situational leadership is for people who want to
● Develop and groom their existing workforce
● Establish a connect with their people and bring out the best in them
● Exercise a – 'One organization, one leadership style motto'
In situational leadership, the approach changes as per the situation demand. It is more flexible and adapts to the existing work culture and environment. Leaders must be able to understand what strategy and approach fit the situation at that point in time in the organization and have an insight into the outcomes.
Situational Leadership Approaches
The most followed and taught a model of situational leadership was rolled out by Blanchard and Hersey. Their theories are based on two primary keys – the leadership potential itself and the aptitude of the follower (team members).
The model that was developed has four elements of a matrix. When you cross-reference and study them one by one, you understand the aptitude of the followers
1. Telling = S1 (Minute monitoring and precise guidance)
Here, leaders already make a decision and communicate it to others. They chalk out objectives and the same are to just be followed. Communication is a top-down phenomenon. Very effective approach when crisis prevails and one person is calling the shots.
2. Selling = S2 (Communicating and being persuasive)
Leaders create objectives for people but are more approachable to suggestions and opinions regarding their decisions. The leader sells the idea and ensures that you are convinced or if you are not, he is there to listen to a better plan. The leader tries to gain as much cooperation as possible.
3. Participating = S3 (Sharing ideas and facilitating the execution)
Here, leaders do not make a decision but act as an enabler to the employee to make the decision. The leader helps the employee understand the pros and cons of a decision and still leaves the decision to him/her.
4. Delegation = S4 (Letting his employees take over)
Leaders are always responsible for not just their teams but also the end objective or goal that is to be achieved. Despite that, a leader leaves the decisions and execution to his team members and provides minimum guidance in case they hit a roadblock.
How does one choose if a follower or employee knows what he/she is doing? Four types of followers are mapped out
1. Low competence. High commitment
2. Some competence. Low commitment
3. High competence. Variable commitment
4. High competence. High commitment
When we categorize followers into these buckets, we can connect better as to what approach to take.
To summarize, Situational Leadership is nothing but choosing the right leadership style for the right people. People acting like bosses and not leaders are a thing of the past. You have to mold yourself from time to time to get the best out of your team.
Inspired by:
Leadership @Pega
Work-space experiences
Articles by Kenneth Blanchard and Paul Hersey