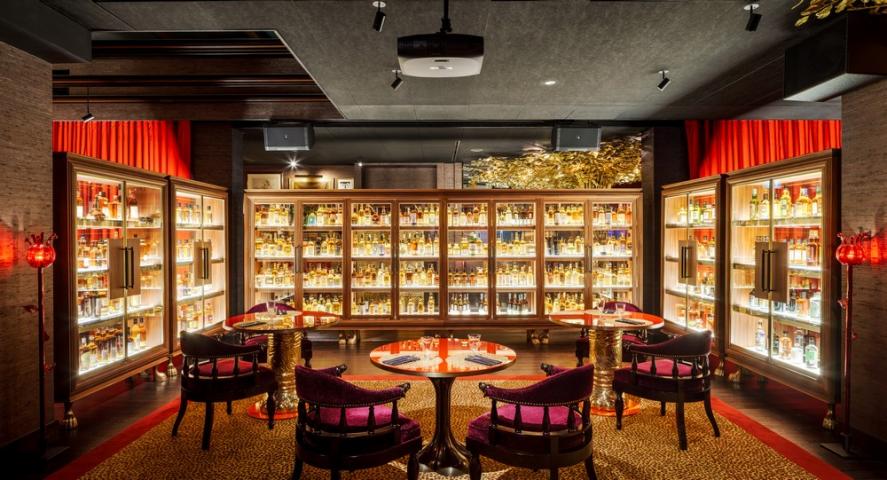 Singapore is often the go-to destination for any occasion, be it a family trip or a fun vacation with friends. Though this tiny island has a lot to offer to guests, how about skipping the typical touristy places this time and visiting the lesser-known facet of Singapore? The number of places is endless, so why not explore a few on a virtual tour around Asia's Lion City.
So whether you are with your friends, family or even solo, here is a list of exciting offbeat attractions in Singapore that you need to visit if you aspire to explore a new dimension of the country.
NOX–Dine in the Dark
Be alert for you are about to experience a multi-sensory dining experience at NOX, a unique fine dining establishment that takes off your sight as you step in the dark so that you can enjoy a meal through your other senses. You'll be assisted by visually-impaired people who are uniquely prepared to guide you through your meal. With a creative menu and an innovative thought, this is one meal you will never forget.
Ce La Vie at Marina Bay Sands
If you are a party person or like the vibrant atmosphere of the parties, then head to Ce La Vie at Marina Bay Sands! Towering on the 57th storey, Ce La Vie is popular for its incredible music played by renowned DJs, exclusive champagne, gourmet eats and striking views of Marina Bay. Spread across 40,000 square feet, Ce La Vie homes The Restaurant, which serves world-class cuisine; The Club Lounge, a cosy banquette area; and the famous Sky Deck, which has the infinity pool.
Holey Moley: The mini-golf cocktail bar in Clarke Quay
If you've ever fancied playing golf but always took a step back? Here's your chance to fulfil some of your dreams. Holey Moley in Singapore has converted golf into a fun play that anyone can enjoy. Even if your hand-eye coordination is not that great, you can still have a drink here while playing a round of golf.
Mandai Mangrove
When in Singapore, don't miss a chance to go kayaking in the magnificent Mandai Mangrove, the biggest mangrove cover in Singapore. It is recognised for its rich biodiversity, homing the greatest Horseshoe Crab collection in the world including 112 other species of migratory birds. It is certainly a pleasure for nature lovers, bird watchers and photographers!
Tiong Bahru Wet Market
A bustling market is a great way to see the Singaporean way of life. It offers one of the freshest produce and all varieties of local food products and is very famous among the locals of Singapore. This popular market is stocked with greens, tropical fruits, fish, meats, tofu, spices, dry goods and you can also find a variety of cheese here.
Head Rock VR
Singapore's first VR themed park, HeadRock VR, offers many high-tech games and rides attracting all the thrill-seekers around. Protect yourself from the evil spirits, attack missiles on your enemies, balance yourself as you walk on the corner of a high-rise structure, sounds interesting, doesn't it? You can do all this and much more at the HeadRock park located within the Sentosa islands. This will surely bring out the adventurer in you!
MINT Museum of Toys
If you're planning to visit the Mint Museum just for kids then the expansive collection of over 50,000 vintage toys is sure to leave you fascinated too. With toys spread across six floors covering different themes, the MINT Museum holds collection from more than 40 countries. On a tour around the Museum, you would surely be relieving some of your fondest childhood memories.
Singapore Island Cruise
One of the most underrated activity, yet the most fun thing to do in Singapore. Hop on the Singapore Island Cruise right over the Marina South Pier MRT station, and travel to southern lands like Kusu Island and St John's Island. Away from the crowds, spend some peaceful time relaxing on the pristine beaches while soaking yourself in the sun. Don't forget to carry your water bottles and sun hats.
The Library Bar
For something unique, hit the Library Bar. A cosy 55-seater secret bar inspired by the prohibition period, that serves fun and fancy cocktails. Secured by an everyday changing passcode, The Library offers you everything you can think off from a secret bar. Including drinks labelled after celebrities like Andy Warhol and Marilyn Monroe, served with glass frames and books as coasters, you're certain to have a jolly time here.
The Live Turtle & Tortoise Museum Singapore
It's unusual to discover a whole museum devoted to turtles and tortoises. This place in Singapore brings together over 200 of them from across 60 different species. Some of them include the majestic Radiated Tortoise, the red-eyed Elongata, and Thailand's Golden Temple Turtle be sure to find the rarest and various exotic varieties living in the museum.
Fascinating right? Yes, we agree with you too. To understand or explore these places in detail to add them to your Singapore packages and get ready to experience Singapore like never before.