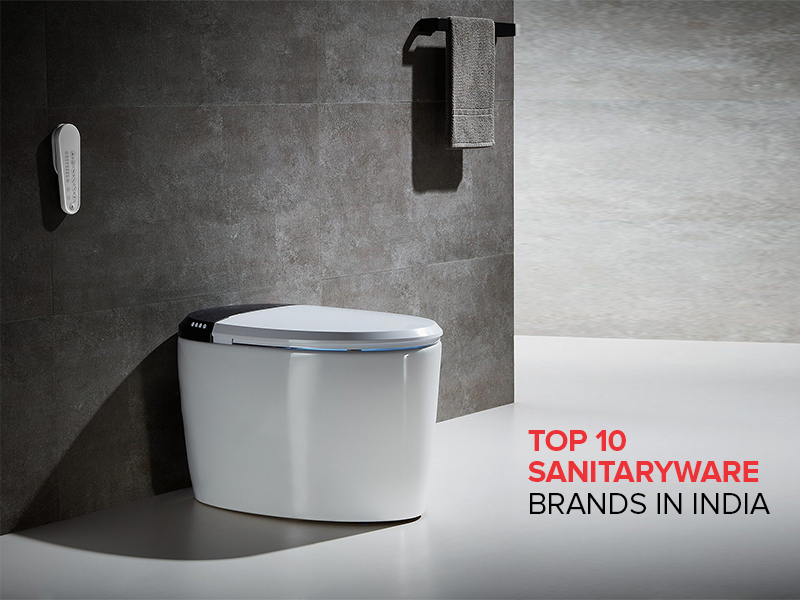 Bathrooms are an essential aspect of our lives and should be extravagant and elegant. They are as essential as our rooms. They soothe our minds and souls. As a result, you may make them spectacular and appealing by utilising various sanitary ware manufacturers in India. Faucets, water closets, bath and shower items, and washbasins are examples of sanitary ware products.
There are numerous sanitary ware brands available in India that might confuse you when it comes to choosing one brand for your sanitary ware requirements.
So, which are India's Best Sanitary Ware Brands? Which manufacturers produce the highest quality products while also covering the complete spectrum of bathroom fittings? To address your queries, I did research and compiled this list of the best Sanitaryware brands in India in 2020. Continue reading to learn more about these best sanitary ware companies in India.
Top 10 Sanitary Ware Brands in India
1.Asian Granito India Ltd.
2.Kohler
3.Jaguar
4.Cera
5.Hindware
6.TOTO
7.Duravit
8.Parryware
9.Aquant
10.American Standard
Asian Granito India Ltd.
Asian Granito India Ltd, a tile and home décor company, announced its entry into the faucets, showers, and bath accessories market, with the goal of becoming a 'Complete Bathroom Solutions' supplier in 2019. The company has released over 20 series and plans to steadily expand, including the launch of a premium line in the near future. AGL Bathware wants to become an Rs. 150-200 crore brand in the industry in the next 4-5 years.
AGL Offers faucets, water closets, urinals, seat covers, cisterns, basins, and much more.
Kohler
It is a brand headquartered in the United States with over 50 production units worldwide. The manufacturing facility in India is located in Jhagadia, Gujarat. Every year, the production capacity is around 1.5 million pieces. Kohler creates high-quality toilets. It creates high-quality, user-friendly products with innovative designs.
It manufactures tanks, toilets, bowls, water-saving toilets, pedestals, and urinals. They offer outstanding after-sales support.
Jaguar
They are well-known for their faucets. They began by trading sanitary products and then established their own production plant in Gujarat. They have a large dealer network in India and provide a 10-year guarantee on their products. They provide a full bathroom solution as well as a broad range of bathtubs.
Water heaters, faucets, bathroom accessories, showers, flushing systems, and lights are among the various product options.
Cera
It is one of India's fastest-growing brands. It began operations in 1980. It provides a complete bathroom solution. The manufacturing plant is in Kadi, Gujarat. It received a trusted brand award in 2015, as well as a power brand award in 2013 and 2012.
Cera is a company that makes urinals, washbasins, seat coverings, water closets, and cisterns.
Hindware
Hindware is a 57-year-old brand that was formed in 1960 as Hindustan Sanitaryware & Industries Limited (HSIL). This company has four production sites in Haryana and Andhra Pradesh, India, with a total capacity of 2.7 million sanitary ware items per year.
Hindware manufactures a wide range of goods, including bathtubs, water closets, washbasins, health faucets, showers, cisterns, accessories, and urinals.
TOTO
TOTO was founded in 1917 by Kazuchika Okura as TOYO TOKI CO and was subsequently renamed TOTO. They established a laboratory in 1912 to manufacture hygienic ceramics, which became popular in America and Europe. It caters to high-end clients. It debuted the tornado flush toilet, a revolutionary kind of flush toilet.
TOTO makes bidets, toilets, suite collections, bathtubs, lavatories, washbasins, showers, and bathtub accessories.
Duravit
It has about nine production locations across the world. It began plant commissioning and installation in Gujrat in 2010. It debuted a comprehensive bathroom series in 2013. For their product lines, they have worked with well-known designers such as Philippe Starck and others. Duravit has offices in Turkey, India, and China.
It manufactures console basins, sinks, urinals, toilets, shower trays, bathtubs, and bidets for high-end clients.
Parryware
It is the world's oldest manufacturer of sanitary goods. It makes items under the brand name Roca. It has a well-developed distribution network in both North and South India. It has three manufacturing plants in Ranipet, Dewas, and Alwar. It is the first brand in this category to be named an Indian Superbrand.
It makes closets, bathtubs, basins, urinals, traps, laboratory sinks, seat coverings, and electronic flushing systems.
Aquant
Aquant was founded in 2007 and is headquartered in Mumbai. Within ten years, the firm has onboarded a large number of dealers in India's main cities. The firm has gained the respect of the design fraternity and achieved a position among the Top 10 Sanitary Ware Companies In India via attention to detail and continual innovation.
The company offers a large selection of natural stone basins and sanitary goods. They also provide a variety of shower systems, including body jets, hand showers, multi-function diverters, rain showers, and others.
American Standard
The firm was formed in 1929 by the merging of Standard Sanitary Manufacturing Company and American Radiator Company. American Standard Corporation was founded in 1967. Unlike some other sanitary ware brands in India, American Standard has a strong presence in the country.
Basin faucets, Bidet Seats, toilets, washbasins, and bathtubs are among the numerous items available.
So these are the top ten sanitary ware brands in India. I chose the most trustworthy and well-liked ones for you. Evaluate these brands and choose the goods that best meet your requirements.
Original Source: Top 10 Sanitaryware Brands in India 2021