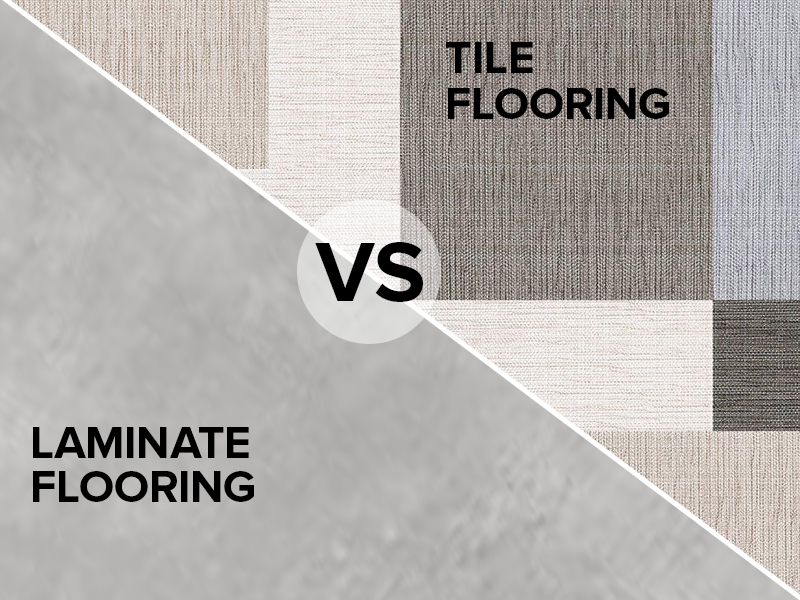 Tile and laminate flooring are the two most popular flooring options in India, and both have a plethora of pros and cons, so which one to choose?
To make the selecting process easy for you, we'll discuss the laminate VS tile flooring and see which is better- tile or laminate flooring. We'll learn about the material's makeup, installation, durability, etc. Then we'll compare the pros and cons.
So, without further ado, let's dive right in and see the difference between tile and laminate flooring!!
Laminate VS Tile Flooring- Overview
What is Laminate Flooring Made off?? Laminate flooring is mostly made of three layers. The stiff base layer, a photo-realistic image layer, and a hard plasticate wear layer. Laminate flooring is synthetic flooring that can mimic the look of wood, stone, and even fabric.
What are Tiles Made off?? Tiles are either man-made tile or natural stone tile. Man-made tiles are made from ceramic or porcelain, and natural stone tiles are made from different types of rock, like marble, slate, onyx, quartzite, etc.
Laminate VS Tile Flooring- Installation
Laminate is probably the easiest to install. It is installed on top of the vapour barrier to protect the laminate flooring from the moisture beneath. They are installed by using a tongue and groove system. It does not take loads of skill or tools to install laminate flooring.
Installing tiles requires a bit more work than installing laminate flooring. And you might require a special set of tools to complete the installation process. Tiles are installed on the mortar bed, and the grout is used to glue the tiles together. The tile installation process is labour-intensive, messy, and requires a minimum of 2 days to complete even the smallest project.
Laminate VS Tile Flooring- Appearance
Laminate flooring comes in a variety of different colours and sizes. Laminate flooring looks rich and probably has the best appearance, also, they are comfortable on the feet.
When it comes to looks, tiles are not lacking behind, and you have endless options to choose from. However, tiles are not as comfortable as laminate flooring; they are cold & hard on the feet.
Laminate VS Tile Flooring- Maintenance
Laminate floors do not have any grout lines, and that makes them easier to clean. You can simply sweep and or vacuum the floor and mop them using very little water, and it will be clean.
Tiles are a pain in the butt to clean. The grout line tends to catch loads of dust and grime, which can be challenging to clean. You'll have to thoroughly clean the grout lines regularly. When it comes to tile, you can simply sweep & mop.
Laminate VS Tile Flooring- Durability
Laminate flooring is not extremely durable, but if maintained properly; it can last for about 20-25 years. Generally, laminate flooring is not water-resistant, so you should not install them in wet areas.
Tiles, on the other hand, are extremely durable. If installed properly, tiles can stay as it is for at least 75-100 years. Moreover, tiles are water-resistant, which is great.
Both tiles have their pros and cons, so now it all depends on your preference. If you want to check out these floorings, check out the AGLTiles website or visit their showroom; the experts over there will help you make an informed decision.
If you are renovating your whole home, check out this post to learn- how to create a modern kitchen.