From Facebook, Amazon to Apple, the world's largest brands need no introduction and usually speaks for themselves. For most of us, these iconic designs instantly connect with the user's mind as well as captivate their attention without even saying a word. If you look carefully, our world is full of creative logo designs created by prestigious companies and brands to stay relevant in today's challenging environment. No matter how much revenue your company is generating annually or yearly, you have to establish your identity in the compelling market by building a brilliant logo design. If you want to create your own identity, then you need to pay close attention to your companies branding. Despite the size of your business, getting the right professional graphic design services can magically help you creating the most creative, unique, and powerful logo design by leaving a positive impression on your respective prospects.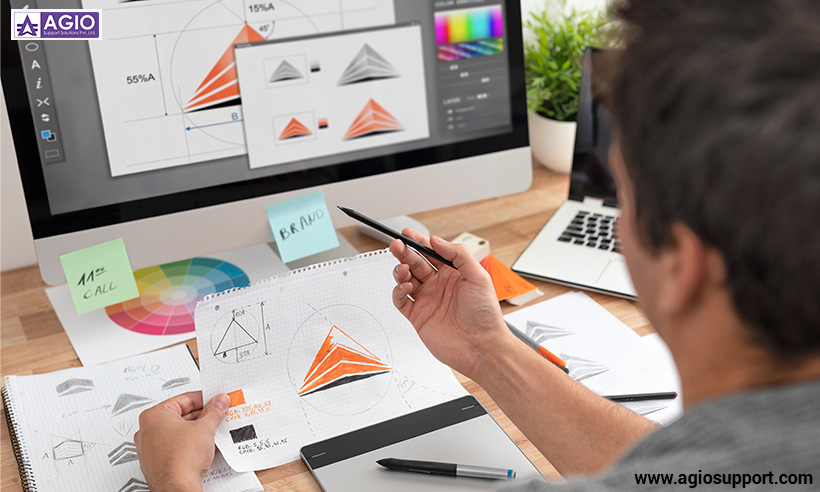 As the digital world is constantly progressing day by day with advancement in technology, up-gradation in techniques, and evolving methodology, the website owners should start investing in professional graphic design services to create impeccable log designs that stand out. Here, we have mentioned some of the key principles to create that mind-blowing logo design using the best graphic design services:
The biggest mistake most business owners make is that they usually create complex logo designs filled with bright colors and shapes without conveying any meaningful message. Being a smart business owner, you have to keep your logo design simple. Creating a logo design seems complex, but simplicity is the first step that you should give more preference to. The skilled graphic designers can help you remove the extra elements, reduce the irrelevant designs, and add value to your logo designs. Using the right balance of texture, color, and shape, your logo designs will naturally encapsulate the brand's message positively.
Create Relevant Logo That Connects With the Audience
A building that one eye-catching logo design requires a lot of planning, time management as well as creative thoughts. You need to find that winning logo design that connects with the end-user effortlessly. It's imperative for every business to stay relevant and use modern design elements that leave a long-lasting impact on the user's mind and associate with their emotions genuinely.
Being memorable is probably the most important yet most difficult quality to achieve for organizations. You should think one step forward by making your logo memorable at any cost. It sounds easy but quite daunting for you to achieve. For creating a memorable logo design, you must create an impression, evoke certain emotions or feelings that can associate with your company too at the same time.
A responsive logo design is one that doesn't ignore the quality versatility at any cost. A good logo design must adapt to the different environments and most importantly works well on different platforms like mobile or web. Leveraging cost-effective professional graphic design services can help you with creating appealing logo designs of different variants on the size or different versions without compromising on the quality.
In this millennial world, many influencing brands are using color therapy to ignite the passionate feeling or transmitting trustworthiness with the help of professional graphic designers. Using the right combination of shapes, typography, and colors, the brands are transmitting true emotions and smoothly increasing their brand value in the online world.
It is now evident that you can make and break the growth of your new or current business by creating a simple and natural web designing strategy. The golden rule on building a powerful logo design is to pick the right color, font, space combinations while keeping it easy and interesting at the same time.
In the age of digitalization, logo creation is an elementary part of your business process that can help potential customers to memorize your logo design with ease. In case you're thinking of starting your new venture, then think of creating a logo design first by outsourcing professional graphic design services.
Agio Support is an influential web designing company that aims to deliver eye-catching logo designs to almost every business. With Agio, the clients can get the latest design with solid research and strategy to reflect your brand's message competently.
Thus, get professional assistance from Agio to get worthy logo designs of high-quality!