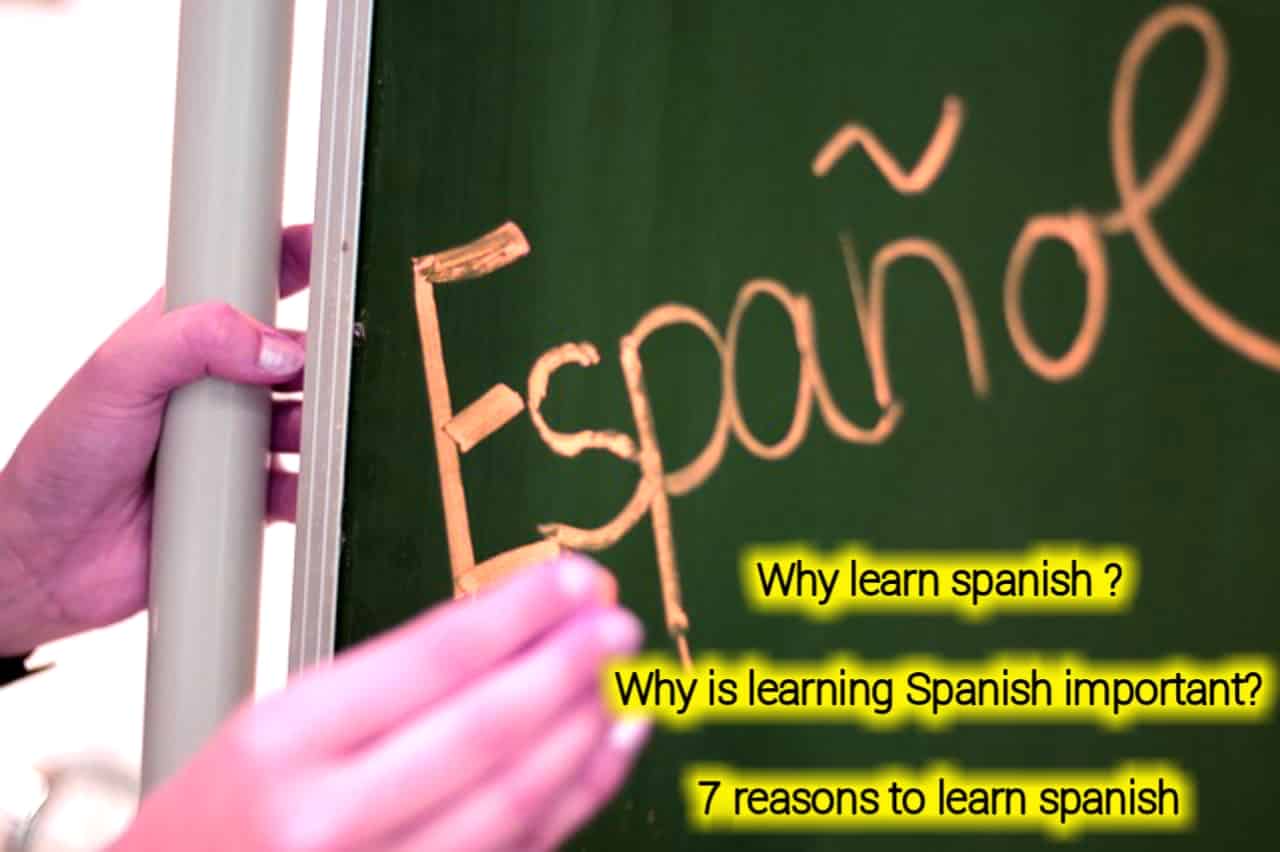 Hey guys, why learn Spanish?Today we are going to talk about the second most spoken language in the world which is Spanish.Let me tell you that the most spoken language in the world is Mandarin, but today we will learn about the Spanish language.
If you like to learn another country's language, then firstly a question will come in your mind: why do I have to learn another language?
If you want to learn Spanish and want to know how to learn it quickly, then definitely visit the best app for learning spanish and read this article because why should we learn Spanish today? Let us explain its importance to you.
Today we will understand all the topics given below :
Why learn spanish ?

Why is learning Spanish important?

7 reasons to learn spanish
Why learn spanish ?
Who does not like to learn or speak new languages today, Everyone likes to learn or speak new languages, but a question definitely comes to mind, why should we learn any benefit from it?
Although many languages are spoken in the world, do you know Spanish is the second most spoken language in the world? This is true and who would not want to learn such a language.
But why should you learn Spanish? And is it so important?
Why is learning spanish important ?
Spanish is the second most spoken language in the world.

More than 400 million people speak Spanish worldwide.

Being the official language in 21 countries, it is the second to be used in international communication and one of the official languages of the United Nations and the European Union.

By learning Spanish, you will be able to communicate better with Spanish speakers.

You can go to Spanish country and get to know the people about their culture very well and can tell people in your country.

You can become a Spanish-language teacher in your country and teach people so that they too have a chance to learn Spanish.

You can become a good Spanish online tutor and connect with people from all over the world.
7 reasons to learn spanish
1.Spanish gives you a chance to connect more deeply with others
Learning languages around the world increases your knowledge of languages, but the more languages you learn, the more people will join you. And by meeting and talking to people from all over the world, you will have the knowledge of the world, it will benefit you greatly.
Spanish is a great second language because it is practiced in many parts of the world: Spain, Latin America, the United States, and more.
If you are planning to travel or live in a Spanish speaking country, being able to understand and speak the language well will improve the quality of your life and allow you to build lasting relationships with those people.
2.Spanish brings you to world-class literature and film
Spanish is spoken all over the world, therefore Spanish language literature and film is not limited to Spain, they are being spread all over the world.
By learning Spanish, you will be able to know Spanish film, which will be able to know the historical and modern life of Spain quickly through film, Which is more powerful than translation.
3.Because it can get you a better job
Spanish is spoken by more than 400 million people, that's why Spanish is the second most spoken language in the world and it is spoken in more than 20 countries, in which case you are learning Spanish, then your chances of getting a job increase.
If you know how to speak other languages along with Spanish, then you can get a job quickly no matter where you live in any country.
Learning Spanish will add your final resume to your resume which will make you stand out among the rest of the candidates who are applying for the job you want to get.
However, if you do not want to change your career or leave your job, Spanish is also a great asset that can help you get promoted to your current place of employment.
Even if you do not get a job, how can you get a Spanish language job, then how can you open one of your Spanish Tutoring classes and teach Spanish to people, it is also like a job.
4.Because it will let you enjoy books, music and movies in their native language
We like to read books in our native language, listen to music and watch movies but sometimes feel that it would be so good if we could enjoy it in other languages too.
If we read Spanish language books then how much knowledge we get about its culture, food, sports, historical place so that when we go to visit Spain, we already know all the things and we Can translate well with people and understand the culture there.
There is also a reason to learn Spanish, that Spanish music is very famous, you can listen to it and you can dance to the music.
Who does not like Spanish movies, but you will understand them only when you know Spanish, then you will understand the movie.
5.Because it can help you find love
Imagine how many points you can add to your "love score" if you learn Spanish for love. You can give it a surprise and start using it only once you feel confident enough, or maybe the love of your life can help you learn their language.
I can assure you that if you send a te quiero instead of "I love you", the Spanish-speaking man with whom you are head-heels in love will start looking different from you. Eyes.
If you have fallen in love online and your love comes to Spanish, how much will it impress you when you are from another country, neither romantic nor do you know that you know Spanish and you love them Suddenly translate to spanish.
6.Because it will help you make new friends
Do you like making spanish friends? If it is necessary then you should know Spanish so that you can make them your friend and talk to them.
We are in the age of the internet. We should make good use of it so that we can make some Spanish friends and chat with them through the internet, we can learn some new Spanish words from those who do not know us, they will definitely help you with this.
You will get a new Spanish friend and in future you can also become a true friend, which will increase your Spanish knowledge more.
You can meet Spanish friends on holidays and understand Spain closely and mix with them.
With Spanish friends, you can tell about the culture of your country and you can learn about their culture and much more.
7.Because of the Amazing Food, People and Culture
Do you like going abroad? Why would not be the choice? Everyone likes to travel abroad, if we go abroad and do not eat traditional food there, it cannot be done.
There are more than 20 countries where Spanish is an official or national language. This means that there are over 20 types of traditional foods, customs and cultures!
One of the best things about traveling abroad is to taste regional and local food. Once you know how to speak Spanish and you decide to proceed to your next destination, you can go to a local bar or restaurant and ask the waiter to give you some food tips.
Through this you will get to know about traditional food and culture and can also get a chance to meet Spanish people somewhere.
Conclusion:
Hope you have liked the article about why you should learn Spanish. Through this article we have also told you why it is necessary to learn Spanish and 7 reasons why you should learn Spanish, which you will definitely learn Spanish this year.
gracias...