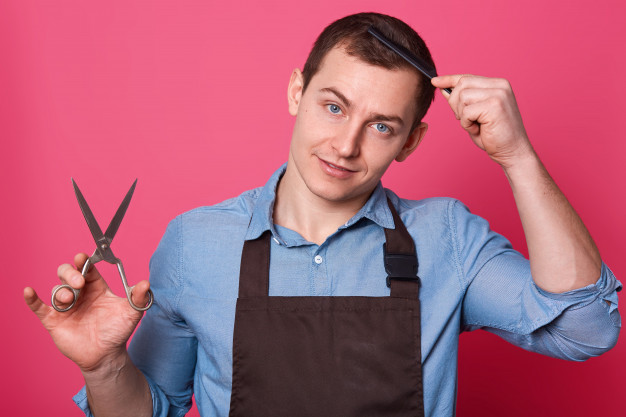 Short haircuts are lot more in style right now more than ever. It seems like the long hairs are some weird pasts everyone had, messier haircuts are coming an end. If you look around, short haircuts for men 2021 are considered more professional, neat and cleaner look than a long hairstyle. They are becoming the new age popular among the young men and boys across the world.
Chop off those long bangs you have to get the stylish and trending stylish short haircuts male which are currently very popular.
Getting a new hairstyle will also allow you to have different perspective, you change how you look, and you change how you do.
With short haircuts for men, it's very difficult to go wrong. No long bangs getting in front of the eyes or struggling with that man bun every day. Just some hair gel, pomade will do the job every morning. You can also run through your hands to get random motions.
Also, having short haircuts like undercut can really emphasize on your chiseled facial structure and get out your inner beauty. Short haircuts give cleaner and more professional look, on the other hand, long hairstyle give a cool vibe which is not very professional.
Options from low, mid or high fade or undercut? With so many possibilities, choosing the right haircut for you can be difficult but in this article, you will surely find what you want.
The best short haircuts and hairstyles for men by popularity order
Crew Cut
Classic Buzz Cut
Short Style with Finger Waves
Ivy League
Classic Combed Back With Fade
Side Part Fade
Medium Length Natural Quaff
Pompadour with Taper fade Haircuts
Crew Cut
We start the list with the evergreen of men's hairstyle, the crew cut. Crew cut is the easiest haircut you can get which is stylish. It works well for men with thick hair and square face shape. The main difference between the crew cut and the military buzz cut that follows with crew cut, hair length is not equal from all side.
Short Comb-Over
The short comb over is favorite hairstyle of every mother to have on their son. As it gives a polish look and is ideal for men with fine hair who need to style suit their thin locks.
Classic Pompadour
The pompadour is one of the classics that rule the short haircuts for men line up. This one is for those stylish gents. Big boy stuff. Although look may be famous in 1960s, it still looks good and professional.
Bowl Cut with Side-Swept Bangs
This gives a more contemporary look, with side-swept bangs it becomes the highlight of short haircuts. The combination also tends to flatten the traditional look while emphasizing on the facial features.
What is the best haircut for guys?
Some of the most popular haircuts for men are crew cut, undercut, quiff, taper fade, side parts and slick back.
What is the easiest haircut to maintain?
Short haircuts for men 2021 are the easiest haircut to maintain example the buzz cut, crew cut, Ivy League, butch cut and induction cut.
What can I do with really short hair men?
The best part is the short cut and style; it gives a lot of options. You can get a low, mid or high fade or undercut combine it with Caesar, buzz cut. If you have thick hair, you can even add spikes to texture it more.