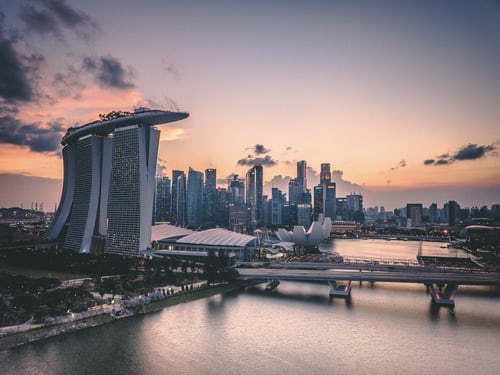 Singapore is one of the most culturally diverse countries of the world. With many Indians having migrated here they have bought with them the rich cultural heritage of India. As a result, Singapore has many Indian communities like Little India and of course with that comes a fantastic range of Indian restaurants. Here's our guide to exploring some of the best Indian cuisines in the tropical country of Singapore.
MTR Singapore

This Bangalore based outlet Mavalli Tiffin Room (MTR) arguably serves one of the best dosas in Singapore. The restaurant is known for its famous Karnataka-style dosa which is made of fermented rice including black lentils cooked to perfection with its 60-year-old recipe which is followed across all the outlets. So, on your trip to Singapore don't miss out on these delicious ghee soaked food served with piping hot sambhar and chutney. Well, don't hesitate to ask for more ghee, they would be more than happy to serve you.

Address: 438 Serangoon Rd, Singapore 218133
Opening hours: Tue to Sun | 8:30 am - 3:00 pm | 5:30 pm - 9:30 pm


Punjab Grill by Jiggs Kalra

If you're a real Punjabi or someone who likes authentic grilled Punjabi food then, sure enough, you'll be taken from Lahore to Rawalpindi through your dining experience here. The lip-smacking tandoori lobster, Dahi ke kebab and Mutton masala served here is a must-try across many others of celeb Jiggs Kalra's signature dishes. With its elegant ambience and crystal lights, this award-winning restaurant brings you the most authentic grills within the tropic neighbourhood of Singapore.

Address: 2 Bayfront Avenue, Shoppes at Marina Bay Sands, Singapore 018972
Opening hours: Mon to Sun | 11:30 am to 2:45 pm | 6:30 pm to 10:30 pm

Kebabs & Curries

An excellent place to laze around on a Sunday's lunch in your flip-flops and shorts or somewhere you can head to after a great shopping spree at the Mustafa shopping centre. Kebabs & Curries displays a perfect fusion of fancy but charming dining space which is divided between the steel domed indoors and a spacious wooden deck with views of the busy Little India streets on the outdoors. Try the garlic butter naan with their famous creamy dal makhani while sipping some chilled mango lassi (best in Singapore) and be sure that it would dig deep on your pockets.

Address: 171 Syed Alwi Rd, Mustafa Centre, Singapore 207704
Opening hours: Mon to Sun | 11:00 am to 12:30 am

Ananda Bhavan Restaurant

If you are looking for a big, healthy Indian meal pay a visit to Ananda Bhavan located just when you enter the streets of Little India. One of the best and oldest vegetarian restaurants in the country which serves food made of traditional Indian herbs and fresh vegetables. On your visit here try the savoury and aromatic vegetable fried rice with yellow ginger curry. The 80-year-old establishment will undoubtedly take you back to India with its nostalgic decorations and unique furnishings.

Address: 58 Serangoon Road, Rochor, Singapore, 217964
Opening hours: Mon to Sun | 8:00 am to 10:00 pm


The Song of India

Located in the neighbourhood of Orchard Road, this luxurious black and white bungalow serves one of the best seafood options in Singapore with reinvented ancient recipes. Curry crayfish, laksa chicken kebab and shrimps are the most selling and famous dishes at Song of India. The freshness of the ingredients with unparalleled exotic and tropical curry sauce is what makes it stand out. Go in for the buffet lunch served here if you're looking for an Indian feast.

Address: 33 Scotts Road, Newton, Singapore, 228226
Opening hours: Mon to Sun | 12:00 pm to 3:00 pm | 6:00 pm to 11:00 pm


Samy's Curry

Founded in the 1950s, this establishment is a family-run outlet that has been carried on for generations now. In a world of hi-fi restaurants with towering ceilings and decorative cutlery, find a spot for yourself in their long hall and enjoy an aromatic, rich and flavoursome hot curries on a banana leaf. Make sure you try the rasam and sambar here. Arriving early is the key because this restaurant is always packed with people.

Address: Dempsey Hill, 25A Dempsey Road, Singapore 249670
Opening hours: Mon to Sun | 11:00 am to 3:00 pm | 5:00 pm to 9:00 pm


Kailash Parbat Restaurant

The interiors at Kailash Parbat are as busy and always filled with people. The long menus served to you might leave you confused on what to order and whatnot, but don't be overwhelmed by the number of choices, here's how to narrow it down. Though it can be a bit difficult choosing amongst its signature dishes, the chole bhature is a hands-down is the best here while they also serve Dal Pakwan as a part of their Sunday's special menu which will leave you wanting for more after several rounds.

Address: Hilton Garden Inn, 3 Belilios Rd, Singapore 219924
Opening hours: Mon to Sun | 11:00 am to 10:30 pm

Annalakshmi

Annalakshmi stands out as one of the most unique dining experiences, a buffet of all you can eat, for whatever you wish to pay. Dig into the scrumptious biryani, poori, appam, vegetable stew, potato playa, rice and a variety of curries amongst a list of other home-cooked North Indian and South India delicacies. The menu here is always different, so explore as much as you can on your visit because the next time you might not find it on the list.

Address: 104 Amoy Street, Singapore 069924
Opening hours: Mon to Sun | 11:00 am to 3:00 pm | 6:00 pm to 9:00 pm

Chat Masala

This one tops the list of many among the popular Indian restaurants in Singapore. With its consistent food quality standards, pocket-friendly rates and a warm attitude across the serving staff, Chat Masala should definitely be a must-visit. Do try the Keralan fish curry and bhindi masala which are the signature dishes here.
Address: 158 East Coast Road, Singapore 455254
Opening hours: Mon to Sun | 12:00 pm to 2:00 pm | 6:30 pm to 10:00 pm

Shahi Maharani

'Shahi' in Hindi means royal, so take all your long cravings with a king-sized appetite when at this north Indian establishment. Its speciality is the tandoor-cooked kebabs, delicious curries and truly, the best Tadka dal in the country. The restaurant uses indigenous herbs and spices and makes gravies with rich cream topped with nuts. You must try the malai kofta curry with a piece of pillowy butter naan when you visit the Shahi Maharani.

Address: Raffles Shopping Centre, 252 North Bridge Road, Singapore 179103
Opening hours: Mon to Sun | 12:00 pm to 2:30 pm | 6:30 pm to 10:30 pm


Are you salivating yet? Fuel up to indulge in the best curries, biryanis, paneer tikkas, dosas and idlis of this island on your next trip to Singapore. Check out some amazing Singapore packages offered by travel companies like Pickyourtrail and grab yours today!