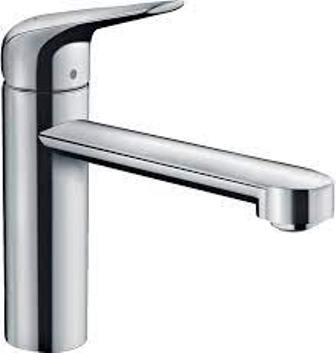 Named as the "brand of the century", in 2019, and a company that is built on the tradition, Hansgrohe is a household name. Tap and shower specialist, Hansgrohe has grown considerably over the years by maintaining an amalgamation of traditional touch with a modern outlook. Their products are appreciated and have a separate fan base, hence enjoying a worldwide reputation. So if you are thinking to upgrade or buy a new kitchen faucet, then you know which brand you can rely on.
Tips for getting the right faucet for your kitchen- With so much lined up, getting the right kitchen faucet becomes a little tricky. The variety of styles, finishing, components, and also the price can be a little overwhelming.
If you are always swayed by the looks, then let us tell you when it comes to working in the kitchen you might consider going for the utility rather than the look. And with Hansgrohe Kitchen faucets, you will know what is right for your kitchen. However, with Hansgrohe, you get the looks without compromising on long-term durability and convenience.

Get the best-specified kitchen faucets at a reasonable price. Spend enough to get the desired kitchen faucets, but not enough to pinch your pocket.

You loved the design, the price is right too, but do remember to find out the spout height and the reach. (your children might love helping their momma/papa out)

Some finishes of the kitchen faucet might be tougher than the others. Go through the specification carefully. Either satin nickel or polished chrome or maybe bronze finishes. All these finishes got a good look that stays longer for years and is durable.

Choose the right style and design so that it goes well with the cabinets and wardrobes in the kitchen

Look for valves that are drip-free, preferably go for the ceramic one. They are reliable and last for a long.

Consider the holes in the sink- you might have two or three holes in the sink. Hence, read through the specifications under Hansgrohe kitchen faucets and get your desired faucet.

After all, it is your choice, but if we have to advise, then go for a single handle- easier temperature adjustment, more convenient, and you just have only one handle to clean (minimizing your workload to some extent)
The leader in bathroom fixtures
No, we are not deviating from the kitchen faucets. It is just that Mr. Hans Grohe was a pioneer in bathroom fixtures. For more than a century they have been promoting and carving a niche as a global player in bathroom fixtures. And then they planned to extend their boundaries to kitchen faucets. The quality and design that have been brought in only goes to ensure what leaders are born for.
And why Hansgrohe kitchen faucets?
For every faucet they produce, Hansgrohe promotes
Produce quality- So when you are buying kitchen faucets for your kitchen, you get a sturdy, sustainable and reliable faucet. Functions that are technologically advanced, but are super easy to use. So even if you are using it for the first time, you still know how to use it.

Design quality- Compared to other brands, they might not look that "designer type" but you can't ignore the looks. However, rest assured once you get Hansgrohe into your kitchen, you would not be looking for any other brands. Because Hansgrohe stays there with its exceptional features, parts, and components. From 10 years now, it still has the look and functioning

Manufacturing quality- If a company takes into consideration the efficient use of resources, protects the environment, as well as safe working conditions, then that company is worth noticing.

Service quality- It stays with you even after you finished purchasing the product. A proactive relationship.
When you go for Hansgrohe kitchen faucets, you get all the information that you need to buy for your kitchen. So revamp your faucet with the brand that ensures you the best.