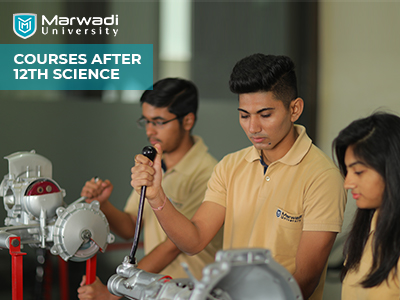 Science stream is one of the most sought-after picks by students. As students come towards the end of their 12th class, they start thinking about what courses after 12th science will be ideal for them.
Class 12th is a turning point in the students' lives. You have to adapt to a shift from school to college and brainstorm on what career option after the 12th will suit your interests. Generally, science students opt for engineering or medical, but there are several options they have their doors open to apart from these two.
The benefit science stream possesses is students can opt for the course from commerce and arts as well if they solicit interest in the area. Besides, commerce or art students cannot pick programmes from the science stream.
For providing you support to pave your road to success, here are the top 5 courses after 12th science you must explore and pick from!
Best Courses after 12th Science:
Bachelor of Technology/Bachelor of Engineering:
Nearly 15 lakhs engineer graduates each year in India, and so I don't even need to explain the popularity engineering encompasses. B.Tech or B.E. is a 4-year undergraduate programme in the engineering domain. Students who have completed 12th science can pursue engineering and then get their door open to endless job opportunities. You can pick one from many specializations available in engineering, so spot below some of the popular ones:
Civil Engineering

Mechanical Engineering

Electrical Engineering

Computer Engineering

Chemical Engineering

Automobile Engineering
Bachelor of Science:
Bachelor of Science (B.Sc.) involves in-depth study in the science domain. It is generally a 3-year undergraduate programme. For students who are interested in gaining knowledge in the area of mathematics and science, then B.Sc. is the ideal choice. The eligibility to pursue a B.Sc. course is at least 45 to 55% marks in the 12th science. B.Sc. aspirants can obtain their specializations in:
Nursing

Biochemistry

Mathematics

Microbiology

Physics

Nanotechnology

Chemistry

Botany

Zoology
Bachelor of Pharmacy:
Bachelor of Pharmacy, 4-year undergraduate programme, empowers students to study and prepare drugs, dispense medicines and become specialists in the pharmacy field. Students will require a minimum of 40% marks in the 12th class science to pursue a B.Pharma course. Some of the topics on which students will enhance their understanding during the course are:
Pathophysiology

Pharmaceutical Analysis

Human Anatomy and Physiology

Pharmaceutical Engineering

Pharmacology
Bachelor of Computer Applications
Yet another popular course after 12th science that students choose. Bachelor of Computer Application involves the in-depth study of computers and their application in modern life. BCA again is a 3-year undergraduate programme. Anyone who possesses the ability to or is excited to gain some knowledge on computers, then this course works the best. Through the BCA course, students get to learn essential topics in the field like:
Information Security

Game Design

Database Management

Programming

Computer Network

Web Application
Bachelor of Architecture
Bachelor of Architecture (B.Arch.) is an undergraduate programme that deals in the field of architecture and branches related to it. Minimum 50% aggregate marks are required in 12th science (PCM) to pursue a B.Arch. course. Aspirants need to give entrance examinations like NATA, AAT, GAT UGTP, ITM NEST, and GCET to get admission in B.Arch. For those interested in knowing about the below-specified topics, B.Arch. is the right choice for them:
Architectural Designing

Building Materials Construction

Building Management

Art of Planning
So, I think these were my top choices for courses after 12th science. You can surely bet on these courses to build a desirable career. However, with these courses, you will also have to be aware of the best college you can bet on!
Well, from my viewpoint, you must consider Marwadi University as a prospective college to pursue any of these courses. The reason being, it's one of the very few institutes that have been graded with a NAAC A+ certificate, which assures best-in-class academics.
You also get an opportunity to land excellent placement. Top companies like Amazon, Hettich, LG, BYJU's etc., come for recruitment at Marwadi University.
If you liked the post, have any suggestions or spotted a mistake, then comment below! Hope this article helped!
Source: Top Courses after 12th Science