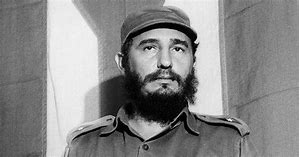 Fidel Castro (1926 – 2016)
Born on August 13th 1926 to a wealthy Spanish sugarcane farmer who came to the island during the Cuban war of Independence. While he was enrolled in the as a law student at the University of Havana he got interested in politics and joined the anti – corruption Orthodox Party and participated in an aborted coup attempt against the Dominican Republic dictator Rafael Trujillo.
Early Life
Fidel Alejandro Castro Ruz was born on August 13, 1926, near Birán, in Cuba's eastern Oriente Province. He was the third of six children, including his two brothers, Raúl and Ramón; and three sisters, Angela, Emma and Agustina. His father, Ángel, was a wealthy sugar plantation owner originally from Spain who did most of his business with the American-owned United Fruit Company, which dominated the agriculture in that region at the time. His mother, Lina Ruz González, had been a maid to Ángel's first wife, Maria Luisa Argota, at the time of Fidel's birth. By the time Fidel was 15, his father dissolved his first marriage and wed Fidel's mother. At age 17, Fidel was formally recognized by his father and his name was changed from Ruz to Castro.
Educated in private Jesuit boarding schools, Castro grew up in wealthy circumstances amid the poverty of Cuba but was also imbued with a sense of Spanish pride from his teachers. From an early age, Castro showed he was intellectually gifted, but he was also something of a troublemaker and was often more interested in sports than studies. He attended Colegio Dolores in Santiago de Cuba and then El Colegio de Belén in Havana, where he pitched for the school's baseball team as well as played basketball and ran track. After his graduation in late 1945, however, Castro entered law school at the University of Havana and became immersed in the climate of Cuban nationalism, anti-imperialism and socialism, focusing his energies more exclusively on politics.
Children
Although there is no official count, Castro is believed to have fathered at least nine children. With his first wife Martina, he had a son Fidel ("Fidelito"), who reportedly committed suicide in February 2018 after a battle with depression. Castro and his second wife, Dalia Sota Del Valle, had five more sons. He also had three other children (two daughters and one son) from three separate women. When he graduated from the university in 1950 he opened a law office. Two years later, he ran for election to the Cuban House of Representatives. However the election never happened because Batista seized power that March.
Castro led nearly 120 men for an attack on the Moncada army barracks in Santiago de Cuba in the year 1953. He was caught and imprisoned for 15 years, he lost many men. He was only released in 1955 because Batista wanted to improve his own image. He ended up in Mexico and found a fellow revolutionary Ernesto Guevara with whom he plotted his return.
The next year Castro and 81 other men sailed on the yacht Granma to the eastern coast of Cuba where they were immediately ambushed. There were around 18 survivors including Castro, his brother Raúl and Guevara. They escaped to the Sierra Maestra Mountains in southeastern Cuba literally empty-handed.
Although by early 1957 they were recruiting and winning small rural guard patrols Castro says that they started with merely with two rifles. Batista tried to end the rebellion in 1958 but the guerrillas managed to hold their ground and launched a counterattack and gained the control from the Batista on January 1st 1959. Castro took the post of the Prime Minister as soon as he arrived in Havana. At the same time, revolutionary tribunals began trying and executing members of the old regime for alleged war crimes.
When Castro nationalized all U.S. owned businesses, including oil refineries, factories and casinos in 1960, the United States ended diplomatic relations and imposed a trade embargo that still exists today. Meanwhile, in April 1961, about 1,400 Cuban exiles trained and funded by the CIA landed near the Bay of Pigs with the intent of overthrowing Castro. Their plans ended in a disaster, however, firstly because a first wave of bombers missed their targets and secondly the air strike was called off. In the end, more than 100 exiles were killed and nearly everyone else was captured. In December 1962, Castro freed them in exchange for medical supplies and baby food worth about $52 million.
Castro declared himself a Marxist-Leninist in late 1961. By that time, Cuba was becoming increasingly dependent on the Soviet Union for economic and military support. In October 1962, the United States discovered that nuclear missiles had been stationed there, just 90 miles from Florida, setting off fears of a World War III. After a 13-day standoff, Soviet leader Nikita Khrushchev agreed to remove the nukes against the wishes of Castro, who was also left out of the negotiations. In return, U.S. President John F. Kennedy publicly consented not to reinvade Cuba and privately consented to take American nuclear weapons out of Turkey.
Cuban life under Castro.
After taking power, Castro abolished legal discrimination, brought electricity to the countryside, provided for full employment and advanced the causes of education and health care, in part by building new schools and medical facilities. But he also closed down opposition newspapers, jailed thousands of political opponents and made no move toward elections. Moreover, he limited the amount of land a person could own, abolished private business and presided over housing and consumer goods shortages. Because the political and economic options were so limited, hundreds of thousands of Cubans, including numerous professionals and technicians, left Cuba, often for the United States.
From the 1960s to the 1980s, Castro provided military and financial aid to several leftist guerrilla movements in Latin America and Africa. Nonetheless, relations with many countries, with the exception of the United States, began to normalize. Cuba's economy floundered when the Soviet Union collapsed in the early 1990s and the United States expanded sanctions even further.
Collapse of the Soviet Union
After the 1991 collapse of the Soviet Union sent Cuba's economy into a tailspin, Castro's revolution began to lose momentum. Without cheap oil imports and an eager Soviet market for Cuban sugar and other goods, Cuban unemployment and inflation grew. The contraction of the Cuban economy resulted in 85 percent of its markets disappearing.
Yet Castro was very adept at keeping control of the government during dire economic times. He pressed the United States to lift the economic embargo, but it refused. Castro then adopted a quasi-free market economy and encouraged international investment. He also legalized the U.S. dollar and encouraged limited tourism, and in 1996 he visited the United States to invite Cuban exiles living there to return to Cuba to start businesses.
In 2001, after massive damage was caused by Hurricane Michelle, Castro declined U.S. humanitarian aid but proposed a one-time cash purchase of food from the United States. George W. Bush's administration assented and authorized the shipment. With the fuel supply running dangerously low, Castro ordered 118 factories to be closed and sent thousands of Cuban doctors to Venezuela in exchange for oil imports.
Yet Castro, who by this time had switched his title from prime minister to president, found new trading partners and was able to hold on to power until 2006, when he temporarily gave control of the government to Raúl after undergoing emergency intestinal surgery. Two years later, he permanently resigned.
In his retirement, Castro began writing a column about his experiences and opinions, called "Reflections of Fidel," and in 2007 his autobiography My Life was published. From mid - November to early January of 2012, however, Castro failed to publish any columns. This sudden silence sparked rumors that Castro had taken a turn for the worse. But these stories soon proved to be unfounded, as Castro put out a flurry of articles later that January.
In 2015, U.S. and Cuban officials announced they had agreed to terms on the normalization of relations between the two nations, with mutual embassies and diplomatic missions opening in each country.
Fun fact: Fidel Castro is the longest-ruling non-royal national leader since 1900 by term length
Mourning for Castro
Castro's died on November 25, 2016 at the age of 90, Cuba declared nine days of mourning. Thousands of Cubans lined up to pay tribute to their leader at a memorial at the Plaza de la Revolución in Havana where he had delivered many speeches throughout his rule. On November 29, Raúl Castro led a massive rally which was attended by leaders of ally nations including Nicolas Maduro of Venezuela, Evo Morales of Bolivia, Jacob Zuma of South Africa and Robert Mugabe of Zimbabwe. Tens of thousands of Cubans attending the rally chanted "Yo Soy Fidel" (I Am Fidel) and "Viva Fidel" (Long Live Fidel).
While there was mourning in Havana, Cuban exiles around the world celebrated the death of the man they believed was a tyrant, who was responsible for killing and imprisoning thousands of Cubans, and separating generations of families.
His death was announced on state television and later confirmed by his brother Raúl. A motorcade carrying Castro's ashes in a Cuban-flag draped casket was driven across the country to Santiago de Cuba. On December 4th, 2016, Castro's remains were buried at the Santa Ifigenia Cemetery in Santiago, near the burial site of Cuban poet and independence leader José Martí.
This shows his grit and determination to change his country for the better and desire for the best of facilities for his people. He constantly strived for their upliftment so that they could have better lives. However, he made some mistakes that caused other countries to hate him but the Cubans still look up to him and respect him for everything that he has done.
One of my favourite quotes of his are: