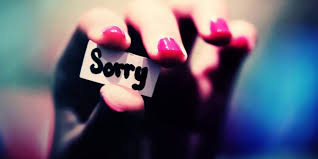 In programming language there are lots of keywords like in "Java" 50 reserved words are there, 32 in "C" programming language and another 30 reserved words are for C++.
But in life there is a very powerful keyword present, guess what it would be!
Which plays a very important role in our day to day life.
i. e-"SORRY".
Sorry is used as a polite way of asking someone to excuse you for having done something that might have annoyed the person.
If someone scolding you in a very loud voice and he/she didn't give a chance to explain properly then you should let them speak for a moment until they speak out their issues. Feel like this, who are talking in a louder voice by dominating others then there must be some serious issues in their life, they might be in pain or suffering some problems, to hide their emotions they are taking the help of a louder style.
Keep quiet and listen to their thoughts, if they are nonstop then just apply a trick by saying sorry then they must pause for a while and you should take chance at that time and start your words. Make sure your every word are polite which give them relax like medicine. Even if they are wrong and you are right you should give them a chance to speak out, when they get relax take a break and tell all the things. If they don't understand then give them time for realizing. If still, they do not understand the thing, then don't think so much and leave that topic by saying sorry.
Keep your ego in your pocket and try to spread happiness. Life is too short, there is no place for all negative words. Try to smile and make everyone smile.