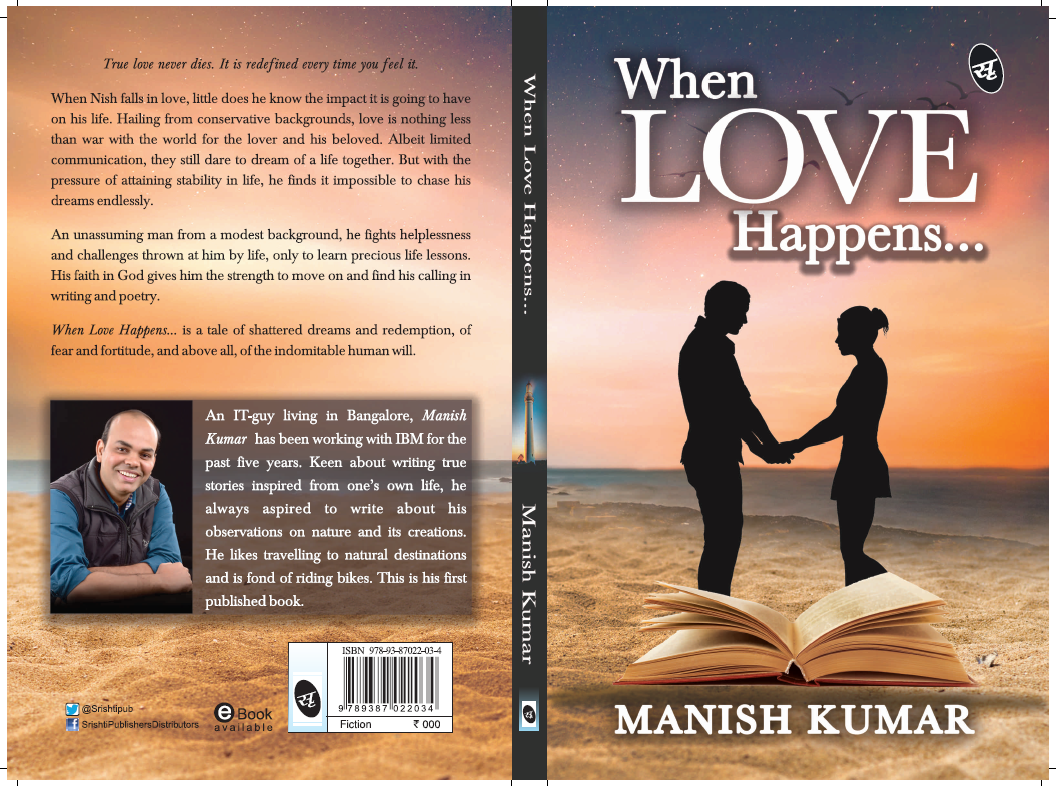 "If you are disappointed in love…

Fall in love again. Life is a journey of new experiences!

"
True love never dies. It is redefined every time you feel it!
"The real meaning of love I experienced is not simply falling in love with someone. It is also about how happy you are in different circumstances and conditions."
"God is ever present behind all his creations. And, I think belief in God makes all the difference in your life as it helps you believe in yourself."



"When Love Happens" is a story of a boy Nish right from his college days to his journey through work struggles and his goal achievement. Nish is unaware of the impact that his first love is going to have on his life. Hailing from a conservative background love is nothing less than a war with the world. Despite all this, they dare to have a relationship but their dream seems to be unfulfilled. The struggles that Nish has to face do not end here. The book is a story of Nish's journey through life.

The book is a plain flowing text of the protagonist's life journey which includes his academics, love, job, and experiences. The things that play a major role in the life of the protagonist are love and faith in God. The book is not exactly a love story but apart from them many motivation things. The point that the book highlights is the power that faith in love can give someone. One more aspect that the book touches is the conflict between work pressures, assignments, and deadlines and the chase of your artistic dreams. This book is not for someone who is expecting an English literary masterpiece. The language is rather very simple and free-flowing. The book explores a lot in the stream of consciousness. The book is a treat for someone who wants an escape from mainstream Hindi books. It has Hindi Shayari after certain stanzas which can put off someone who is not very well versed in English. This book is a mixture of Hindi and English languages.
Teri har koshish wo dekh raha
Baitha upar aasmano mein…
Tu zor laga ud ja phir se,
Teri shakti hai tere armano mein…
Yun bandha nahi tu reh sakata,
Koi baandh tujhe nahi rakh sakta…
Koi farishta tujhe chhudayega,
Jo aayega aasmano se…
Bas pankh phaila tu zor laga,
Teri pehchan hai teri udano se.
Tere raaste hain asmano mein,
Tere rishte hain asmano se.
Tu zor laga ek aur laga…