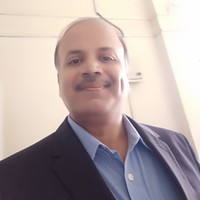 Please give details about your initial education and forming years of life.

:
I am a science graduate with an M.B.A in marketing. I work as an Associate Vice President-Sales and Business Development with a Life Science research organization
How did you get interested in literature? What inspired you to write?

:
Since my school days English as a subject has been my love. I was inspired by the poems taught to us in school. Human emotions are my source of inspiration. In my early days I used to write romantic poems in rhyming patterns, slowly my work has evolved into life emotions written in free verse
What difficulties did you have to face with respect to literary work?

:
In today's world of information explosion and internet at your finger tip, plagiarism is a major issue. Furthermore exploitation of budding writers by commercial houses who do not understand literature is an issue that I have been coming across everyday. Getting a right platform to showcase your work is very important
What is your view about the present day literary work?

:
The present day literary work in my opinion is stupendous. It is really heartening to see youngsters pursue their literary skills and take them to new heights armed with latest technology which was not the case of yesteryears.
Do you think that the emergence of digital and social media has given a new opportunity to creative writers?

:
It definitely has and this is a huge opportunity which creative writers should optimize on
Please tell us something about your literary work

:
I write to pursue my passion of penning emotions. I am not a professional writer but write in free verse, penning various emotions of life. I believe that emotions should rhyme rather than rhyming of words. A lucid and vivid pen picture of your emotions should be presented to the reading to which your audience can immediately relate to. My work has been published across various national and international platforms. A brief summary is as follows :
The author is management leader by profession .
He has 5 research publications to his name in the field of CRM and two book chapters.
A well read and vastly published poet.
Featured among 100 emerging poets of Asia.
Featured poet of the month in PoetrySoup.com in 2016-17
Featured poet as contemporary Asianpoets of 2016-17
Featured artist of the week in The 13Alphabet Magazine- 2017-18
Featured artist at the St.Charles Artsfest gallery- Chicago- 2018
Conferred 'The Author of the year 2018' by Story mirror
20 international and 25 national poetry publications in paper backs and e-books .
Popularly known as 'Dusk' in literary circles
How many ways literature can contribute to society in future?

:
Literature can contribute to the society only if it is able to inculcate basic values in children. The future of our society lies in our children, their basic literature will only be the lighthouse in their journey called life
Where do you see yourself after 5 years in the literary world?

:
I don't take writing as a profession hence there is no set benchmark for future
What ways would you suggest to build a community for poets?
Social media is the best platform to bind poets and build a community
What message would you like to give to aspiring new writers?

:
Be honest in your writing. Inspirations are good but being influenced is not. Be yourself and pen what you think is right. It is not necessary that your thoughts need to be caged into rhyming verses, as I have said earlier, it is important that the emotions rhyme.
How was your experience of writing on StoryMirror?

:
My experience of writing on StoryMirror has been good so far and I find a very welcoming and professional culture here backed by politeness and grace
Would you like to say something about StoryMirror?

:
StoryMirror is the home for writers from all facets of the society. They are doing a good job and improving on their own set benchmarks day by day. My sincere gratitude and best wishes to them
Here is the link to read all my content https://storymirror.com/profile/uh6hb5p3/bipul-banerjee/poems