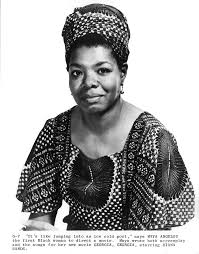 Marguerite Annie Johnson (April 4th 1928 – May 28th 2014)
She was a poet, singer, memoirist and civil rights activist. She has published three books of essays, several books of poetry, seven autobiographies and a number of plays, movies and television shows spanning over 50 years. Having received dozens of awards and more than 50 honorary degrees Maya is best known for seven autobiographies which focus on her childhood and early adult experiences. Her first poem I Know Why the Caged Bird Sings (1969) is a narrative of her life up to the age of 17 and brought her international recognition and acclaim.
She is the second child of Bailey and Vivian Johnson. Her older brother nicknamed her Maya (derived from 'My' or 'Mya Sister'). When she was there her parents ended their marriage and she along with her brother were sent to Stamps Arkansas to her paternal grandmother's place. Annie Henderson was an exception to the harsh economics of the African Americans and flourished financially during the Great Depression and the World War II since she had a store that sold the basic commodities.
After four years their father suddenly returned and returned them to their mothers care in St. Louis. While living with her mother she was sexually abused and raped by her mother's boyfriend called Freeman. Angelou became mute for almost five years after that incident believing, as she stated, "I thought, my voice killed him; I killed that man, because I told his name. And then I thought I would never speak again, because my voice would kill anyone". It was during this period Angelou developed her brilliant memory, an immense love for her books and literature and her ability to observe the world around her.
Almost immediately after Freeman's murder Maya and her brother were sent back to their grandmother and over there a teacher, Mrs. Bertha Flowers helped her speak again by introducing her to authors such as William Shakespeare, Charles Dickens, Jessie Fauset, Anne Spencer and Frances Harper who changed her life as well as her career.
When Maya was 14 they moved in with their mother again who lived in Oakland, California. During WWII she attended the California Labor School. Even before her graduation she was the first black female streetcar conductor in San Francisco. At the age of 17 which was around three weeks of completing school she gave birth to her first son Clyde (later known as Guy Johnson).
In 1951 she married Tosh Angelos who was a Greek electrician, former sailor and aspiring musician. She took modern dance classes during this time and met Alvin Ailey and Ruth Beckford. Later on Maya and Ailey formed a dance team and called themselves 'Al and Rita" and performed at fraternal black organisations throughout San Francisco but that didn't work out. She with her husband moved to NYC so she could study African dance with Pearl Primus who was a Trinidadian dancer but returned to San Francisco a year later.
After her marriage ended in 1954 she danced in clubs like the Purple Onion. Until that time she went by the name Marguerite Johnson or Rita but when the manager and her supporters suggested she changed her name to Maya Angelou which captured the feel of her dance performances. During 1954 and 1955 she toured Europe with a production of the opera Porgy and Bess. She gained fluency in several languages while visiting several countries. In 1957 she recorded her first album Miss Calypso out of which a CD was made in 1996. In the 1957 Calypso Heat Wave she sang and performed her own compositions.
She met John Killens in 1959 and moved to New York at his convincing. She met prominent African-American authors like Rosa Guy, Paule Marshall and Julian Mayfield. When she heard Martin Luther King Jr. and listening to his talk she and Killens organised the Cabaret for freedom to benefit the Southern Christian leadership Conference and was elected as its Northern Coordinator. The scholar Lyman B. Hagen declared Maya's efforts as successful. Her pro-Castro and anti-apartheid activism also began at the same time.
In 1993, Angelou recited her poem "On the Pulse of Morning" at the inauguration of President Bill Clinton, becoming the first poet to make an inaugural recitation since Robert Frost at President John F. Kennedy's inauguration in 1961. Her recitation resulted in more fame and recognition for her previous works, and broadened her appeal "across racial, economic, and educational boundaries". The recording of the poem won a Grammy Award. In June 1995, she delivered what Richard Long called her "second 'public' poem", titled "A Brave and Startling Truth", which commemorated the 50th anniversary of the United Nations.
Angelou's successful acting career included roles in numerous plays, films, and television programs, including her appearance in the television mini-series Roots in 1977. Her screenplay, Georgia, Georgia (1972), was the first original script by a black woman to be produced, and she was the first African-American woman to direct a major motion picture, Down in the Delta, in 1998.
In 2013, at the age of 85, Angelou published the seventh autobiography in her series, titled Mom & Me & Mom that focuses on her relationship with her mother.
Angelou was honoured by universities, literary organizations, government agencies, and special interest groups. Her honours included a Pulitzer Prize nomination for her book of poetry, Just Give Me a Cool Drink of Water 'fore I Diiie, a Tony Award nomination for her role in the 1973 play Look Away, and three Grammys for her spoken word albums. She served on two presidential committees, and was awarded the Spingarn Medal in 1994, the National Medal of Arts in 2000, and the Presidential Medal of Freedom in 2011. Angelou was awarded over fifty honorary degrees.
Most Famous Quotes:
· "Try to be a rainbow in someone's cloud."
· "It is time for parents to teach young people early on that in diversity there is beauty and there is strength."
· "Music was my refuge. I could crawl into the space between the notes and curl my back to loneliness."
· "We may encounter many defeats but we must not be defeated."
· "The ache for home lives in all of us, the safe place where we can go as we are and not be questioned."
· "My great hope is to laugh as much as I cry; to get my work done and try to love somebody and have the courage to accept the love in return."
· "You may not control all the events that happen to you, but you can decide not to be reduced by them."
· "When someone shows you who they are, believe them the first time."
· "I've learned that people will forget what you said, people will forget what you did, but people will never forget how you made them feel."
Death
Angelou died on the morning of May 28, 2014. She was found by her nurse. Although Angelou had reportedly been in poor health and had canceled recent scheduled appearances, she was working on another book, an autobiography about her experiences with national and world leaders. During her memorial service at Wake Forest University, her son Guy Johnson stated that despite being in constant pain due to her dancing career and respiratory failure, she wrote four books during the last ten years of her life. He said, "She left this mortal plane with no loss of acuity and no loss in comprehension".
Tributes to Angelou and condolences were paid by artists, entertainers, and world leaders, including President Bill Clinton, and President Barack Obama, whose sister was named after Angelou. Harold Augenbraum, from the National Book Foundation, said that Angelou's "legacy is one that all writers and readers across the world can admire and aspire to." The week after Angelou's death, I Know Why the Caged Bird Sings rose to #1 on Amazon.com's bestseller list.
On May 29, 2014, Mount Zion Baptist Church in Winston-Salem, of which Angelou was a member for 30 years, held a public memorial service to honor Angelou. On June 7, a private memorial service was held at Wait Chapel on the campus of Wake Forest University in Winston-Salem. The memorial was shown live on local stations in the Winston-Salem/Triad area and streamed live on the university web site with speeches from her son, Oprah Winfrey, Michelle Obama, and Bill Clinton. On June 15, a memorial was held at Glide Memorial Church in San Francisco, where Angelou was a member for many years. Rev. Cecil Williams, Mayor Ed Lee, and former mayor Willie Brown spoke.
In 2015 a United States Postal Service stamp was issued commemorating Maya Angelou with the Joan Walsh Anglund quote "A bird doesn't sing because it has an answer, it sings because it has a song", though the stamp mistakenly attributes the quote to Angelou. The quote is from Anglund's book of poems A Cup of Sun (1967).On April 4, 2018, Google presented a doodle to honor her 90th birthday.
Autobiographies
I Know Why the Caged Bird Sings

(1969).

Gather Together in My Name

(1974).

Singin' and Swingin' and Gettin' Merry Like Christmas

(1976).

The Heart of a Woman

(1981).

All God's Children Need Traveling Shoes

(1986).

A Song Flung Up to Heaven

(2002).

I Know Why the Caged Bird Sings: The Collected Autobiographies of Maya Angelou

(2004).

Mom & Me & Mom

(2013).
Poetry
· Just Give Me a Cool Drink of Water 'fore Me Diiie (1971).
· Oh Pray My Wings Are Gonna Fit Me Well (1975).
And Still I Rise

(1978).

Shaker, Why Don't You Sing?

(1983).

Poems

(1986).

Now Sheba Sings the Song

(1987).

I Shall Not Be Moved

(1990).

"On the Pulse of Morning" (1993).

The Complete Collected Poems of Maya Angelou

(1994).

Phenomenal Woman: Four Poems Celebrating Women

(1995).

A Brave and Startling Truth

(1995).

"From a Black Woman to a Black Man", 1995

"Amazing Peace" (2005).

"Mother: A Cradle to Hold Me" (2006).

"Celebrations, Rituals of Peace and Prayer" (2006).

Poetry for Young People

(2007). Berkshire, U.K.: Sterling Books.

"We Had Him", 2009

"His Day is Done", 2013
Personal essays
Wouldn't Take Nothing for My Journey Now

(1993).

Even the Stars Look Lonesome

(1997).

Letter to My Daughter

(2008).
Cookbooks
Hallelujah! The Welcome Table: A Lifetime of Memories with Recipes

(2004).

Great Food, All Day Long: Cook Splendidly, Eat Smart

(2010).
Children's books
Life Doesn't Frighten Me

(1998). New York: Stewart, Tabori, and Chang.

My Painted House, My Friendly Chicken and Me

(1994).

Kofi and His Magic

(1996).

Maya's World

Series (2004).

Izak of Lapland

,

Angelina of Italy

,

Renée Marie of France

Mikale of Hawaii
Plays
Cabaret for Freedom

(musical revue), with Godfrey Cambridge, 1960

The Least of These

, 1966

The Best of These

(drama), 1966

Gettin' up Stayed on My Mind

, 1967

Sophocles, Ajax

(adaptation), 1974

And Still I Rise

(writer/director), 1976

Moon on a Rainbow Shawl

(director), 1978

[23]
Film and television
Blacks, Blues, Black!

(writer, producer and host – ten one-hour programs, National Education Television), 1968

Georgia, Georgia

(writer for script and musical score), Sweden, 1972

All Day Long

(writer/director), 1974

PBS

documentaries (1975):
v Who Cares About Kids & Kindred Spirits (KERA-TV, Dallas, Texas)
v Maya Angelou: Rainbow in the Clouds (WTVS-TV, Detroit, Michigan)
v To the Contrary (Maryland Public Television)
v Tapestry and Circles
Assignment America

(six one-half hour programs), 1975

Part One: The Legacy; Part Two: The Inheritors

(writer and host), 1976

I Know Why the Caged Bird Sings

(writer for script and musical score), 1979

Sister, Sister

(writer), 20th Century Fox Television, 1982

Brewster Place

(writer), ABC, 1990

Down in the Delta

(director), Miramax Films, 1998

The Black Candle

(poetry, narration), Starz, 2012
Plays and films acted in (partial list)
Porgy and Bess

, 1954–1955

Calypso

, 1957

The Blacks

, 1960

Mother Courage

, 1964

Look Away

, 1973

Roots

, ABC, 1977

Runaway

, Hallmark Hall of Fame Productions, 1993

Poetic Justice

, 1993

Touched by an Angel

("Reunion"), CBS, 1995

How to Make an American Quilt

, Universal Pictures, 1995

Madea's Family Reunion

, Tyler Perry Studios, 2006
Recordings
Miss Calypso

, Scamp Records, 1957

For the Love of Ivy

, ABC Records, 1968

"And So It Goes" (co-written with Roberta Flack for Flack's album

Oasis

), 1988

Been Found

(collaborated on 7 tracks with Ashford & Simpson), 1996

"Music, Deep Rivers in My Soul" (with Wynton Marsalis), 2007
Spoken-word albums
The Poetry of Maya Angelou

, GWP Records, 1969

Women in Business

, 1981

On the Pulse of Morning

, Random House Audio, 1993

A Song Flung Up to Heaven

, Random House Audio, 2002
Radio
Talk show host,

Oprah and Friends

, XM Satellite Radio, launched 2006