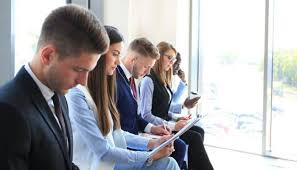 Each of us wants' to work with big organizations and want to explore the inner skills and talent, but that can only be possible when we get hired at the right place with the right employer. The biggest challenge that comes in today's competitive job market is to show you true potentials and skills that you have by facing Interview that consist of 15 to 20 minutes and it unlocks the door of opportunities to work with your dream organization or the employer.
A candidate often makes mistakes unknowingly due to which they have to face failures at job interview and same is repeated over and again when they plan their 2ndinterview. The candidates should always make a list of below given things well in advance to avoid stress, failure and silly mistakes.
1.Know your Employer: -Candidates often go for interview without any details and updates regarding the employer and the services or product that the organization offers's. One should completely go through the company website, type of industry, its current updates and the achievements.
2.Go through the Job Description: -The candidate should thoroughly go through the job profile to check the required skills that employer requires for performing specific job and task.
3.Make a note of Things To Do: -The candidate should make sure he carries photocopy of his updated CV, along with his/her photo and complete documents as required by the employer.
4.Venue & Time for the Interview: -Candidate should track the complete address for interview to save time along with Landmark so that he /she reaches place before time. This will make a candidate feel relaxed and focused on the interview. It's always good to reach the venue 20-25 min early.
5.Dress Code: -The candidate should prepare his dress code well in advance to avoid shabby look. The dress code should be completely formal, neat & clean, well ironed and should chose to wear light colors.
6.Have your Breakfast:-Candidates often quits breakfast on the day of job interview due to stress, worries and tensions and which may lead to headache, acidity & person feels tired sitting long hours and waiting for his/her turn. One should wake up early, get ready and should eat something light in the breakfast before leaving for the interview, so that it makes you look fresh and cheerful for the day.
7.Practice for Interview: -There is saying that'Practice makes the man perfect', so the candidate should practice looking him/herself into the mirror. This would help the candidate to be more confident, comfortable and would help him to stay positive on Final day of Interview.
8.Answer Short & to the Point: -The candidates often answer the question that is too long and few candidates simply bluff if they do not know the right answer. It's always good to present yourself smartly with shorten and to the point answers. Listen carefully to the question and then answer by matching similar skills; achievements that you have made in past and that you would contribute if you are being hired.
9.Body Posture: -Body language speaks more than your words, so the entire body language should be very confident and optimistic. Walking and sitting posture should be completely perfect. Entire body language should match with what u speak and say during the job interview.
10.Switch off Mobiles: -The candidates should either keep their phone on silent or should switch off completely to avoid distraction during the job interview.
11.Know your strengths & Weakness: -This is a very important thing that candidate should always keep in mind. One should be well aware about his/her strength and weakness so that during the job interview the candidate can highlight more on the key strength areas that would help him/her to crack the job interview.
12.Interview Feedbacks: -In case if you received any feedback the candidate should always try to work and improve on the weaker side so that same mistakes are not repeated again.
I hope you enjoyed reading this blog and would be really happy to receive your feedback and questions that you have on the Job Interview. You can also share your job interview experience so that we can keep learning from each other.