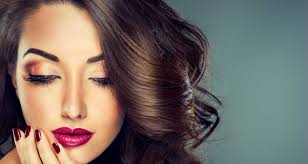 To improve beauty we can adopt certain tips using kitchen ingredients as follows:
1.Before going to bed gently massage coconut oil on dark circles under eye and early morning rinse with warm water.
2.To get rid of blemishes ,mix two drops of lime juice and 10 drops each of lavendar oil,tea-tree oil and wheat germ oil and apply on the affected area. Keep there for 20 minutes and then rinse it off.
3.During Monsoon skin pores open as a result skin allergies are common, and dust depoists to give black-heads to remove them make a paste of methi seeds powder and milk and apply on face for 20 minutes and then rinse with water.
4. Mashed potato when applied on face as a scrubber removes all blemishes.
5.Make a paste of curd , mehndi powder and multaani mitti and apply on hair for one hour and then rinse your hair with water for shiny hair and get rid of hairfall, do not use shampoo or soap when using this paste.
6.While using soap on face if you use some sugar with it , this will work as scrub and remove dead skin.
USE THESE BEAUTY TIPS AND EXPERIENCE A NEW YOU