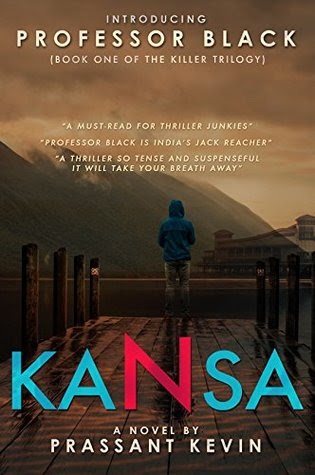 "KANSA - Book 1 - The Killer Trilogy" by Prassant Kevin is a suspenseful tale dealing with criminal psychology!
The plot is gripping and engrossing as it takes the readers into the world of crime, murder, and evil psychopath - Kansa. Forty pregnant women have been murdered along with their unborn children over a long span of time by Kansa. ACP Desai has been given the responsibility to solve this complex mystery.
Professor Black, the most enigmatic and intriguing character in the tale comes to her rescue and consents to help her unfold the mystery.
The plot is tightly woven and described in the most engaging and enthralling way. Language is lucid and characterization is done extremely well. The readers can relate with each and every character as they have been portrayed efficiently with appropriate description.
However, the spelling and grammatical errors were considerably annoying and editing certainly requires improvisation.
I found the cover mediocre considering the gripping and nail-biting suspense the story contained. Blurb was concise and well written. The title "KANSA" is indeed apt and suitable.
Overall, a great crime fiction novel which is bound to leave the readers craving for more!
Regards
Niyati Gogna