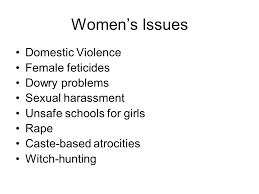 The problem of violence and atrocities against girls and women is prevalent in India. They have been tortured,humiliated and exploited since time immemorial. Though the scene is changing as girls are given education and other equal opportunities as their male counterparts,but still atrocities against women and girls are quite prevalent.Laws have been made to protect women yet women face violence and cruelty.
'Atrocities against women' means a cruel and wicked act against a woman which causes her emotional or physical injury or both.
There are several practices which cause emotional and physical harm to girls and women--
They are
-Child Marriage- as soon as a girl gained puberty she was married off to a man several years her senior.Girls who were still minors were forced to take the role of a wife and had no say in these relationships.Overnight they had to mature and behave as an adult.
Female Genital Mutilation:
It is a common practice worldwide.It is reffered to as FGM or female genital cutting. It involves removal of partial or complete female genitalia causing immense physical and emotional pain to a female.She may suffer from health complications.
SEXUAL EXPLOITATION, PROSTITUTION ,AND TRAFFICKING
All the three things cause significant damage to a girl child's mental and physical health.Sexual exploitation,child labour,slavery,trafficking girls to different places by force and using them in the flesh trade are all heinous crimes which are still prevalent.
PRENATAL SEX SELECTION:
Prenatal sex selection or selective abortion is prevalent in our male dominated society. If with the help of Amniocentesis or ultrasound people find out that the woman is carrying a female fetus they get it aborted.This can cause emotional problems in women.
SEXUAL HARASSMENT IN SCHOOLS AND WORKPLACE:
Sexual harassment causes physical and psychological harm to women in workplaces and can spoil work environment leading to animosity.Girls in schools are harassed by teachers and peers leading to low esteem and depression.In both the spheres, it can cause abetment to suicide.
CRIMES COMMITTED IN THE NAME OF'HONOR":
Male members murder girls if they feel the girls have brought dishonor to the family and this practice is called as'Honor Killing'.This is done on account of premarital sex,adultery,rape,refusing to enter an arranged marriage,wanting divorce and falling in love outside one's caste.
DOWRY AND DOMESTIC VIOLENCE:
women are murdered or abused on account of dowry.The inability of girls getting good amount of dowry causes them to bear domestic violence at the hands of husband and in-laws.This can lead to mental agony and even suicide.
RAPE:
Another common problem of the society where minor girls and women face trauma and stigma for no rhyme or reason.
WITCH HUNTING:
Sometimes a campaign is directed against a woman or women by society who they feel indulge in witchcraft and cause harm to people.Sometimes women are burnt at the stake when people feel they cause harm.
The atrocities can be prevented in the following ways: