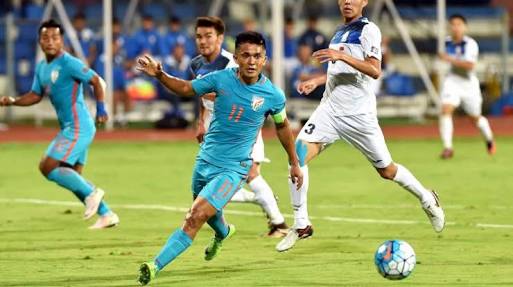 A sport that has existed in India for more than a century, kicking it's way through numerous strives and still struggling to find the recognition it deserves. Yes, that is how I would describe our Indian Football team. Looking at the posters of Lionel Messi, Cristiano Ronaldo, Gareth Bale, Luis Suarez or Neymar on our cupboards, wearing the jerseys to look cool, we conveniently curse the Indian Football team for not being "good enough", for not being famous. Can we, for once, remove the blindfold of hypocrisy?
Every sportsman expects people to appreciate his skills and support him, not because he wants to satisfy his ego but because it motivates him to perform better. If someone is representing your country internationally, it is the moral responsibility of the citizens of that country to support him. We recently witnessed an event in which Sunil Chhetri, the captain of the Indian Football team begged everyone to give them the support that they deserve. The Indian team has worked their asses off to grow bigger and better. But it is extremely unfortunate that we, as a country, did not do what was expected from us. All the Football legends have the support of millions of people and as a result, they're always motivated to play better. It is high time that we really move past our hypocritical thoughts and support these people who are bringing India up at the global platform and creating an impact.
Although, Football is tightening it's grip in the hearts of the Indian Football fanatics slowly and gradually, there is still a long and difficult way to go. Hopefully in the near future, more captains won't have to beg for attention for India to move forward in the field of sports.