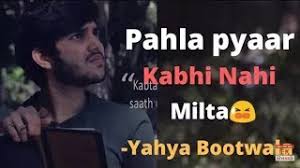 Spill poetry is a platform which is against charging money from artists who want to express their creativity.It was for this purpose Daaniyal founded Spill Poetry with his friend Foram Ashish Shah in December 2016.They entered You Tube 6 months back with a video 'Shayad Wo Pyaar Nahi' by Yahya Bootwala.Other videos are Shukr by Daaniyal and Hawa by Darshan.
They were irritated as earlier platforms were charging poets wanting to perform at open mics.So when people wanted to share their art with the world,they came out with the concept of Spill Poetry.They have managed to get 9 million views and 3 lakh subscribers.
The Spill Poetry team consists of Daaniyal,Foram Ashish Shah(co-founder),Johnathan Dsouza(editor and core team member),Azania Patel,Deepali Gupta and Amar Chittwala(photographers).The Spill Poetry helps people to be at home and perform with ease.
Spill Poetry conducts monthly events in Mumbai ,people who are interested to showcase their talent can try their luck and if they like the artist's work,he is taken in the loop.