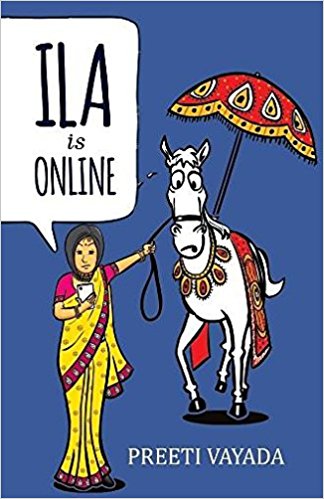 Blurb:
All mothers dream of their sons getting married, having children in a couple of years, and living happily ever after. But my dream was shattered into pieces, not to mention that it was because of a reason I cannot talk about in public.
Well, after much thought and careful consideration, I have come to the realisation that it is not all over. Varun will get married. This time I will double check. Sameer told me that staying 'Active' on Facebook can help.
The only problem is that I don't know how to use Facebook. But how difficult can it be? If I can operate the washing machine and the smart TV, Facebook cannot be much harder. After all, Varun's future at stake – and my name in society.
Intrigue:
"Change is the law of life. And those who look only to the past or present are certain to miss the future." – This is the crux of this book.
This is the story of "Ilaben Patel" conservative mother who wish to get his son varun married to Aakruthi which calls off due to strange circumstances ends her into the social media vicious circle.
What's next,
Could she subsist the concomitant of the social media infirmity ?
What decision Ila took in addressing those aftermath?
Did Varun get married ?
My Review:
Blurb hints the essence of social media which is supported by Splendid book cover (Facebook blue background) with a marriage procession horse and a chat text "Ila is online", this is not the story of protagonist Ila rather its a anecdote of every mother Whose children are already trapped amidst the evils of social media. I cant stop appreciating the author who picked up this idea. Every sentence explains the agony of mother of techno-freak kids. This book is first person(Ila) narration with a dash of comical aspect. Author never missed the theme of chucklesome in the entire plot. Characters are very well illustrated.
Author conveyed different angle of motherhood of extant society. Its a different approach in conveying message to the readers. Undoubtedly this is a reference manual for the present day fraternity mothers.
"I saw my mother in Ilaben Patel" – I hope that consolidates
I rate "ILA IS ONLINE – Preeti Vayada" a 4.5/5 which carries powerful message,humour, motherhood emotions, family bonding and desi style. Its worth reading as this is of different genre and you will never feel bored. Believe me you will never regret reading this treatise.
Regards
Kiran K Adharapuram