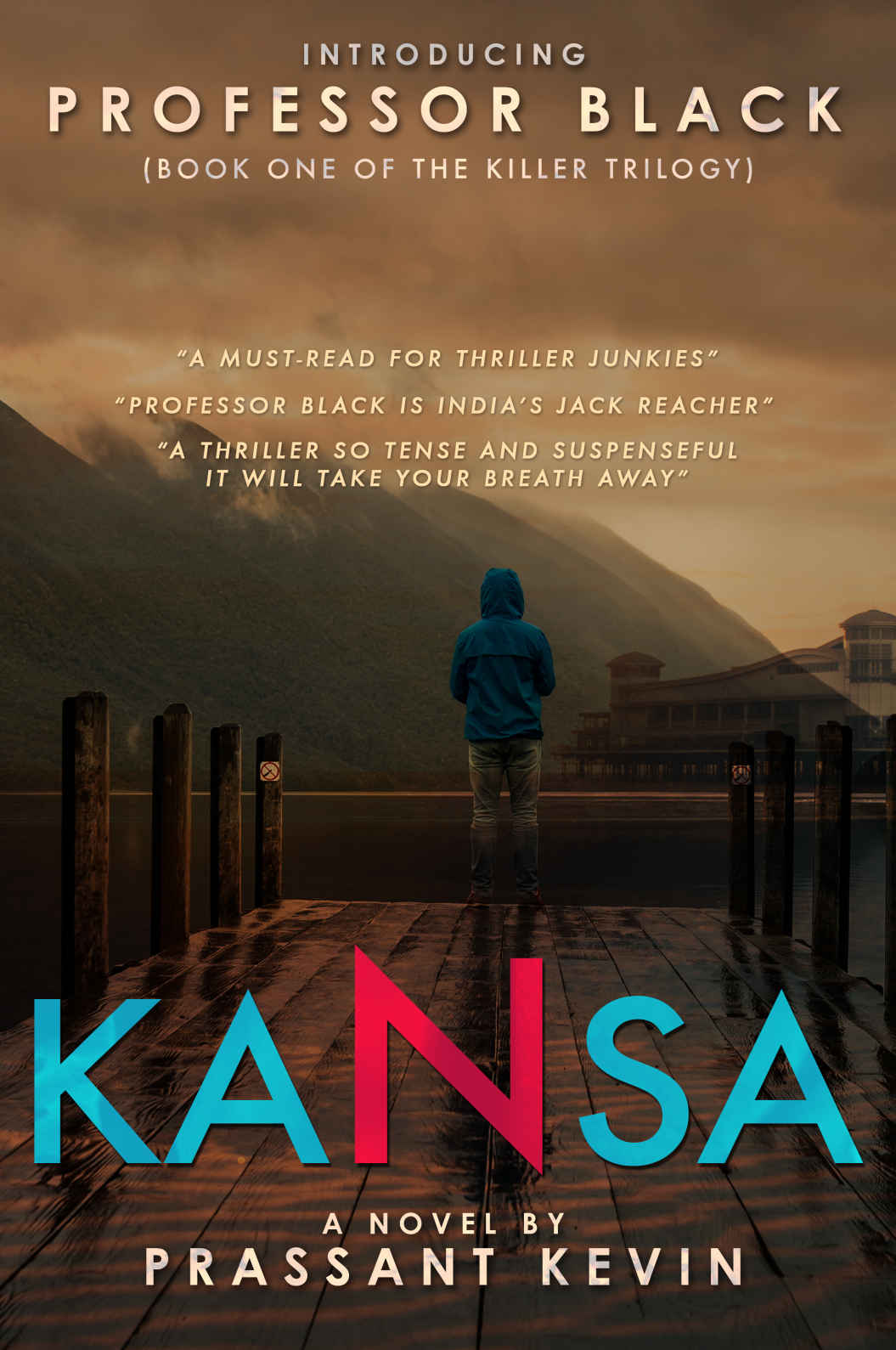 Blurb:
OVER A SPAN OF TEN YEARS, HE KILLED FORTY PREGNANT WOMEN AND THEN VANISHED WITHOUT A TRACE. AFTER FIVE YEARS OF SILENCE, HE IS BACK AGAIN, SEEKING HIS NEXT VICTIM. ONLY ONE MAN CAN STOP HIM – PROFESSOR BLACK.
Maher was found unconscious in the middle of the highway and later, in the hospital, she revealed that she had escaped from a killer's house. All the details and patterns matched the serial killer 'Kansa,' who had disappeared five years ago after murdering forty pregnant women. ACP Saargi Desai was assigned to the case. She appealed to her department to bring back Professor Black to help her catch the killer. The Professor, who had a haunting past that had kept him away from the world of crime and investigation for several years, was not willing to take on this case. But the ACP managed to convince him to get on board just for this one last time. Soon after agreeing to help, the Professor realized that for the first time in his life, he had met his match. As he dug deeper into the case, everything got dirtier, the stakes went higher, and nothing was what it seemed.
Intrigue:
'Kansa' is the First book of 'The Killer trilogy' series by Prassant Kevin. The book narration starts with a couple who are traveling back after marriage at Corbett, whose car met with an accident, which rans out on Meher who is an escaped victim from KaNsa. The story grips with "ACP Saargi Desai" who suspects the impression of serial killer Kansa, who seeks help of a alcoholic, drug addict, womanizer yet criminology expert "Professor Black" to break this killing mystery of forty pregnant women and their babies.
Not to further be a spoiler, this book answers the questions:
Who is kaNsa?
Why is the motive of killing pregnant women and their babies?
Did ACP and Professor could break this mystery ?
How Meher escaped from killer clutches ?
To know yourself, read this crime thriller kaNsa.
My Review:
To start off , the book cover is damn awesome specially the EMBOSED title, the background picture and fine quality paper with bigger font which is handy makes happy to carry. It was one of the most awaited crime thrillers, the pace of book is very good and you will not find yourself bored at any point and a perfect nail biter.
Book starts with a hidden message, a second of driving negligence needs more pay off and in other way that paves a great start as clue to find the serial killer, "There is no one either good or bad, but circumstances make them so" , one of the best thing in kaNsa is the story is written and narrated in third person point of view. writing style is pretty clear, decent content and has minimal grammatical errors, can be ignored in interest of plot. The narration was so perfect, I can feel those come before my eyes when I am reading the book (may be due to midnight read)At few places due to suspect and mysterious nature, readers will literally experience chills in their spine (sweet warning), this book pulled me from love and romance to crime and suspense genre ( I stacked three already) ,title kaNsa and story progress makes the keen readers feels the mythological impression in the intrigue.
Below few unanswered questions made me to go with a star less:
1. Professor Black family ?
2. Logical or medical reason to kill pregnant women
3. The necklace
4. Two pictures of of three by Meher
5. Annu Kesharwani, white rabbit
6. Exact male who torture and kill pregnant women
7. Arjun involvement in crime
Looking forward for Book:2 in this trilogy series,overall kaNsa turns out to be a perfect crime thriller, with decent story-line,well narrated, fit to screen-played, minor grammatical errors, nail biting page turner. Even the last page has an amazing twist that paves a thought for the upcoming one. kaNsa serves as reference for "Criminology" enthusiast

Link:
KaNsa

Regards
Kiran K Adharpuram