Are you getting trouble to get the detail information about Arunachal Pradesh Tourism? Then don't worry about it here you can get all the information in this blog.
Reading all this blog you will love to visit Arunachal Pradesh the wonderful state of North East India. Visiting these places will never disappoint you in your everyday life.
What exactly catches the attention of tourists in Arunachal Pradesh?
Surprisingly the state filled with the natural beauty and the tranquil destination with eye catching sightseeing places and their land which is purely virgin attracts the attention of tourists in Arunachal Pradesh.
Where is this state located?
Home to famous and holy Monasteries, picturesque mountains, charming unexplored passes, mild lakes lying on the Nature Lap Arunachal Pradesh is a state located in north India.
Arunachal Pradesh is bordered on the south by Assam, on the west by Bhutan, on the north and northeast by China, and on the east by Myanmar (Burma). It covers an area of 83,743 sq km.
Arunachal Pradesh will be an engrossing destination for the cool- planner tourism. Among the other "seven sisters" like Assam, Meghalaya, Nagaland, Tripura, Mizoram, Arunachal Pradesh state has its own uniqueness and charm.
If you wish to explore the tribal culture and the simplicity of the admirable beauty It's amazing array of flora and fauna, in a unique habitat with glaciers, high altitude meadows and sub-tropical forests then Arunachal Pradesh will be a perfect state for you and your family. ,
The state is ideal for interesting trekking expeditions, breathtaking rafting experience, adventures, enthralling wildlife tours, holy pilgrimage tours, interactive tribal tours and of course spending a peaceful holiday amidst serene and pristine nature.
While visiting Arunachal Pradesh what can you experience from past History?
The past history of Arunachal Pradesh is unclear but here you can explore the majority of the tribal origin like the great AboTani, and also it has been clear that there are other tribes called Galo, Nyishi, Tagin, Daflas, and Adi who had settled their lifestyle in Arunachal Pradesh.
Other then the tribal people know as the Apatanis were believed to be more advance, besides this Abor tribe is also called themselves as Adi situated in the valley of Arunachal Pradesh.
Similar to any other state, the history of Arunachal Pradesh had played a significant role in attracting tourists. The state's ancient history can even be associated with the uncovered ruins of the Hindu temples of Malinithan.
The tribal groups speak about 50 languages and dialects, most belonging to the Tibeto-Burman branch of the Sino-Tibetan language family. They are often mutually unintelligible; thus, Assamese and Hindi, both of which are Indo-Aryan languages, as well as English is used as lingua francas in the region. Each of the tribes follows its own social, cultural, and religious practices, and most are an endogenous group.
Today you can see that Arunachal Pradesh state has been one of the best destinations when it comes to tourism, it is a land of abundant travel opportunities. Adorned with the unspoiled landscape, this Northeast state of India is a place that every nature lover and travel junkies must visit Arunachal Pradesh.
A treasure trove of culture, nature's beauty, rich history, and warm people, Arunachal is truly a land that you cannot afford to miss.
Attractive tourist places in Arunachal Pradesh you must visit.
Dirang
Dirang one of the best tourist places that lie in the west Kameng district of Arunachal Pradesh and stands as a gateway to Tawang. This quaint hill town's picturesque scenic beauty and simplicity of the ever-smiling people are sure to take any visitor's heart in no time.
Bhalukpong
Bhalukpong is a small town nestled in the foothills of Himalayas in West Kameng district of Arunachal Pradesh, Bhalukpong is known for its breath-taking scenic beauty and serene and tranquil ambiance which casts a spell on its every visitor.
Tawang
Tawang is the ideal place for you. The entire Tawang region is nestled amidst Gudpi and Chong Chugmi ranges and bathed by the water of the Tawang Chu River. Tawang Monastery is an around 113 feet long and 80 feet wide edifice which is a famous Buddhist temple.
Tawang is famous for Old Monastery; one can easily reach these places through air, rail, and road. and the best time to visit Twang is in the month of September – October and then March to June.
Golden Pagoda
If you want to take an opportunity to be blessed along with enjoying breathtaking architecture then you don't miss out to visit the most prominent religious places called Golden Pagoda in Arunachal Pradesh, Golden Pagoda is an excellent specimen of Burmese architecture in the state.
Riong
The places are less than the Paradise alluring with the charming scenic beauty. Numerous ancient forts and enigmatic sites of archaeological significance add to the place's historic appeal which brings in plenty of history lovers and archaeological freaks too. Roing is a splendid holiday destination where you see countless tourists every year.
Ziro Valley
Ziro Valley is the gateway to a number of other attractive tourist spots surrounded by the pine ridden mountains, paddy fields, bamboo huts and vibrant range of flora and fauna.
Kardo Hills, Talley Valley, Talley Wildlife Sanctuary is the best of them. Ziro Putu is a perfect spot to have a bird's eye view of the entire Ziro Valley. This place suits for trekker junkies.
Pasighat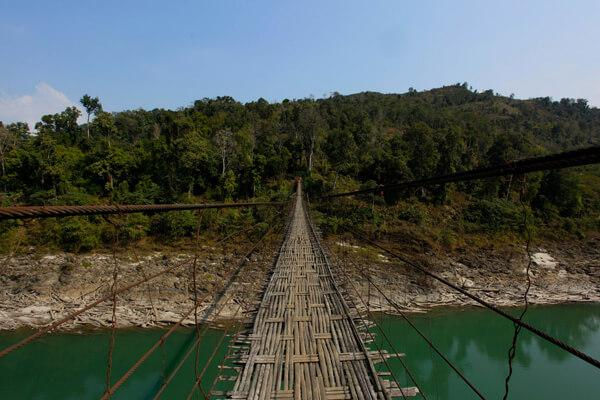 Pasighat is at a distance of 270km from Itanagar and known to be the oldest town of Arunachal Pradesh. It is the headquarter of East Siang District and situated at a height of 152m. Siang River, the main tributary of Brahmaputra flows by Pasighat.
Sela Pass
Sela Pass is only the pass that connects Tawang. Sela Pass ranks high among them. A high altitude pass full of rich natural beauty, and featuring spellbinding views of the neighboring mountains and valleys, this pass is a must-visit in Arunachal.
Namdapha National Park
Namdapha National Park is one of the best and attractive park and also known as the largest park in India situated in Arunachal Pradesh, most of the traveler loves to visit this park to experience the natural bounty, Its lush forests give shelter to many wonderful species including elephants, Black Bears, Indian Hornbills, Bison, White Winged Wood Ducks, deer among others. Tigers are the most important part of the national park since it is also an important tiger reserve.
Gorichen Peak
Another popular site close to Tawang, Gorichen Peak is a wonderful adventure destination in Arunachal. Gorichen Peak is the highest peak in Arunachal Pradesh, located at an altitude of 22,500 feet.
Bomdila
Bomdila another best tourist places of Arunachal Pradesh that presents the stunning view of the snow clad Himalayan mountain range. it is situated in 8000 feet above the sea level. It's also a heaven for adventure lovers offering them with a wide array of outdoor adventure activities such as hiking, trekking, mountain biking and forest camping.
Mechuka
Mechuka located in an altitude of 1829 m above sea level is known as one of the famous gateways in Arunachal Pradesh. Mechuka is an administrative township near the Indo-China border. The Siyom River runs through the valley adding serenity to its scenic view.
Along
The town is blessed with stupendous natural scenery sprinkled with beautiful orange gardens, swaying millet & buckwheat plantations and serene valleys. it is situated near Assam border the valley is a picturesque surrounded by a mountain with rivers flowing through them.
If you are also planning to spend your holiday vacation then Arunachal Pradesh will be the best tourist spot that you will experience in your whole life.
Things that you can experience in Arunachal Pradesh!
Arunachal Pradesh is called a Paradise which lies in India. Impeccably charming, wonderful rich in culture & history. One can explore the sprinkle scenery of hills, mountains, snow-clad Himalayas and other numbers of attractive sightseeing views and also you can get a chance to explore the historical sites like Ita Fort, Dirang Dzong, Jaswantgarh and Bhismaknagar Fort which can give a good glimpse of the rich history of the state. There are a number of lakes and waterfalls like Nuranang Waterfalls, Bap Teng Kang Waterfalls, Glow Lake, Shonga-tser Lake and Pankang Teng Tso that are ideal to visit for any nature lover.
Other then Arunachal Pradesh is also the best place for trekking, Homestays, village walk, bird & wildlife watching and doing adventure activities like rafting, boating, camping, paragliding and more.
Hope reading this blog you can get some information about Arunachal Pradesh Tourism.