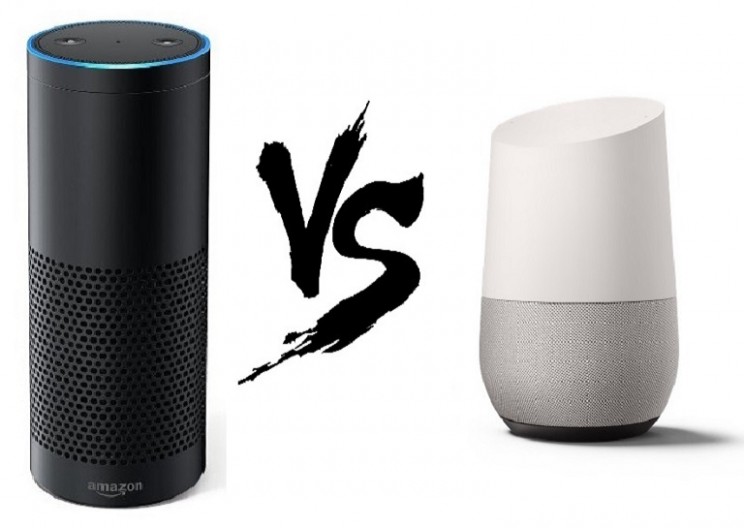 The smart speakers have been known to steal the show from smartphones in market since the launch of the first Amazon's Echo in 2014. The last 12 months have been explosive for smart speakers, which have surged into the mass market for two reasons. Firstly, smart speakers have become the central control hubs of the smart home ecosystem and most importantly, the price of smart speakers has fallen drastically.
Right now, there are three tiers of voice assistants. Alexa and Google Assistant are the premier choices, each with a range of smart speakers, they control many smart home devices, and run thousands of third-party skills. Siri and Cortana are more limited. Siri works with fewer phones, home entertainment products, and smart speakers than Alexa or Google Assistant do, but can be a good solution if you live an all-Apple lifestyle, and offers extensive home automation support through Apple HomeKit. Cortana is very limited in functionality right now. There are also some minor voice assistants like Samsung Bixby, found on certain Galaxy phones. These don't generally have the device support to be a whole-home solution.
World of Echo
The new Echo is shorter and fatter than the old one, at 5.9 by 3.5 by 3.5 inches (HWD), with six different sleeves to match your design tastes. The black, light gray, and dark gray fabric options don't add to the $99.99 price; if you want oak, walnut, or silver plastic, it's $20 extra. If you want to switch things up, additional "shells" cost $19.99 each for fabric and $29.99 for wood or plastic. Amazon has neutralized the visual differential with Google here; the Echo now looks as good as, if not better than, the Google Home.
On the top, a blue ring of light glows when the speaker is listening. There are also physical volume, mic mute, and action buttons. The physical volume buttons replace the rotating volume ring on the previous Echo. Around the back, a new 3.5mm output jack joins the power connector.
It's handy to keep on-hand, though, because it gives you a list of your past queries and answers. The app displays a history of all of the questions you ask Alexa, letting you scroll down and see when Alexa misheard you, and offering up Bing searches and Amazon links for further information about your requests.
Tapping the menu icon on the top left opens a menu to let you control settings for your Alexa and smart home devices, and also to manage your Amazon music and book libraries, and check lists, reminders, and alarms. You can set reminders and alarms in the app or by voice, and they'll work on all of your Alexa devices.
Dual-band Wi-Fi range is as good as on the other midrange smart speakers, but it's worth pointing out that at the very edge of coverage range, the Echo Plus is able to eke out better performance. While the Echo seems to have the same older, 802.11n Wi-Fi chipset as the original Echo and Google Home do, the Echo Plus uses a newer 802.11ac chipset.
In a quiet room with only the usual ambient chatter, the Echo had no problem hearing me from 40 feet away. With music playing at 60 percent volume, that distance dropped to 25 feet; with music playing at 80 percent volume, it was 15 feet, which is still the size of most rooms. If you want to control the Echo over truly blaring sound, you can get a $29.99 microphone-equipped remote, which also has its own volume and play/pause buttons.
Calling to the Echo while it played music at top volume from 15 feet away, I often had to speak two or three times before Alexa recognized me. But it still beats the pants off of the old Echo, which had trouble hearing its wake word over top-volume music even when I was right next to the speaker.
That 3.5mm jack highlights how Alexa devices, including the Echo, are more flexible than other smart speaker setups when it comes to connecting with both content and devices. Only Amazon lets you plug directly into another speaker or use Bluetooth to control another speaker (you can also connect your phone to the Echo via Bluetooth and use it as a standard Bluetooth speaker, itself), or play your own music files out of a cloud-based locker instead of a subscription music service or your phone (both of which you can also do).
Honourable Mention: The Apple Homepod
The Apple Homepod was released on 9th February. It is a must buy for a music lover as it is equipped with 7 micro speakers. The 8 speakers provide a 360º experience. It is quite sturdy in built. Though there are many downsides to the Homepod like having no USB Bluetooth (no and here) nor any kind of AUX input. It is compatible with only Apple devices. It is perfectly compatible with apple music though playing YouTube and Spotify may not be the smoothest of experiences. It comes at a hefty price of 349$ compared the other smart speakers in the market which are nearly half its price. The apple Homepod is suited for only home use i.e it cannot be used a portable speaker. Over that if the Homepod needs maintenance then you would have to pay 270$ to fix it as it is very tightly packed and sealed by Apple.
All in all the Amazon Echo still was most economical and valued smart speaker in the tech-market till date until the Google Home made its entry!
Google Home
There are two variants of the Google Home, the cheaper variant being the Home Mini. the Home is priced at Rs. 9,999 in direct competition with the Echo and the Home Mini at Rs. 4,499 against the Echo Dot.
Aesthetically, the Google Home devices come across as the more attractive products. Both the Home and Home Mini have contemporary design that is minimal but attractive. The Mini, in particular, looks nice. In comparison, none of the Echo devices look particularly good, although they aren't necessarily bad either. Of course, this is all subjective.
The mobile app setup is where the Google Home beats the Echo.
Both, Echo and Home, rely on their mobile apps to be set up. Both have apps on iOS and Android. I personally like the Google Home app more; Amazon has never been competent at making mobile apps, with most of its apps being rather obnoxiously bad on either platform, and while the Alexa app isn't that bad, it's still worse than the Home app. The worst thing about it is the speed and how every screen has a 4-5 second delay as it fetches the info from the cloud.
Coming down to the meat and potatoes, both, Alexa and Assistant, have their ups and downs. For basic searches, Alexa does quite well for itself by answering trivia questions correctly and succinctly most of the time. Google Assistant would also answer, but quite often the Assistant replies would be excerpts from Google Search, which may or may not have the answer and even if they did would occasionally go on for too long as it essentially read you the Wikipedia paragraph on it.
For use in India, Echo is clearly ahead for now. You can do things like calling for an Uber or ordering food from Zomato, neither which Google can do right now. Alexa can also answer all your Bollywood and Cricket queries, which it does better than Google. The pronunciation of local names and places is much more accurate and the voice also sounds native to India. Amazon has clearly spent more time localizing and it shows.
Though it is certain that like the World market India too will soon favor the Google Home over the Amazon Echo. Only time will tell the victor in the long term. The Apple Homepod is unsuitable for the Indian market.