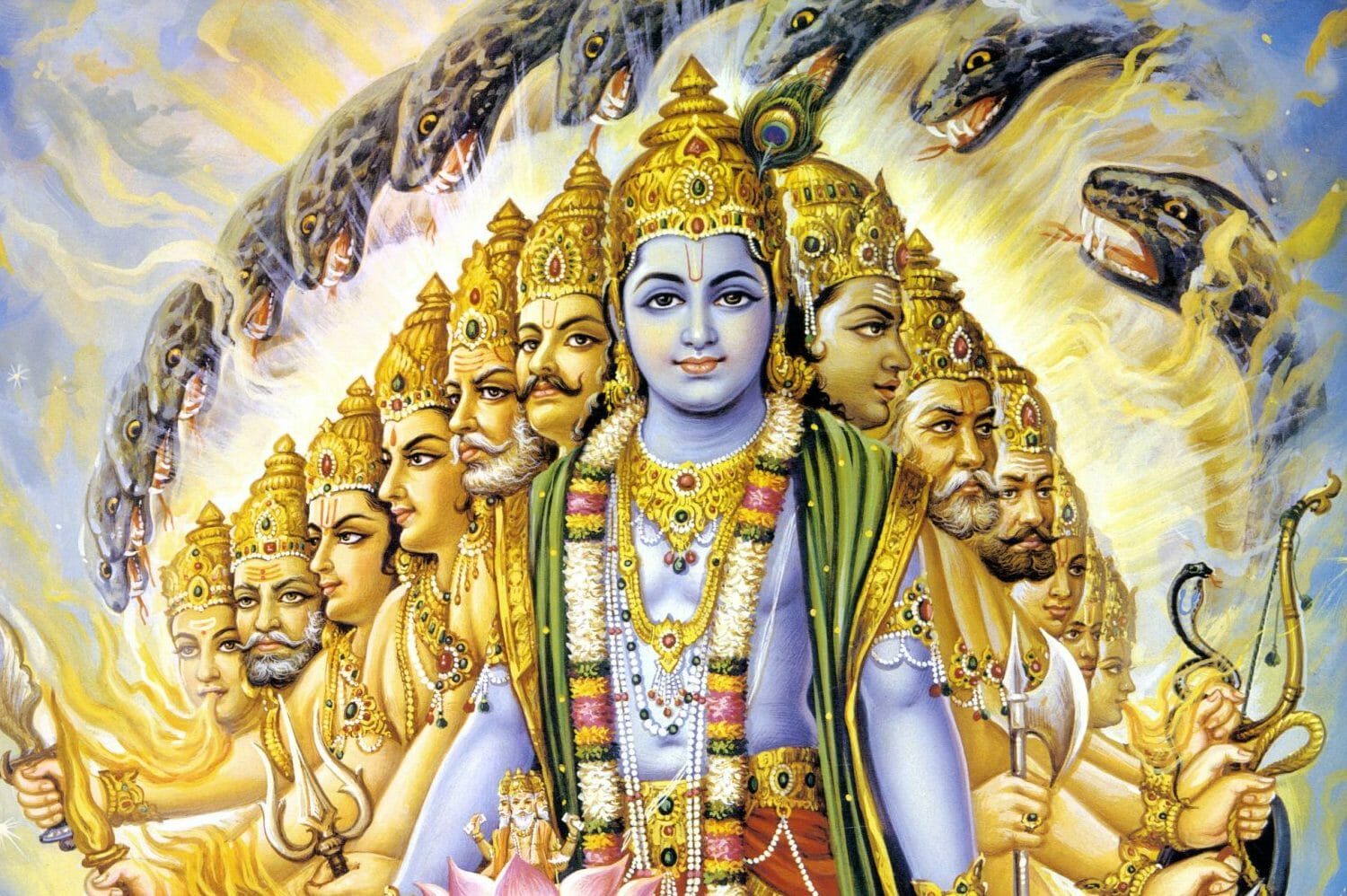 Emptiness - In Gita Verse 3.11 The demigods, being pleased by sacrifices, will also please you, and thus, by cooperation between men and demigods, prosperity will reign for all.
Krishna is saying to Arjuna that if you act from your subjectivity you will not be alone, many demigods will help you for this act. But if you are stuck in the objective world and want to act from objective world then you are alone, you will not get any support from demigods.
When you act from your subjectivity you are connected with universe. You may feel that through your body you took action but at that time the whole universe has used your body for particular action. You are not alone, the whole is with you. Combination of your body and universe at that time carry that action. This action is for growth and benefits of everyone around you.
We are not familiar with our subjectivity, we are only familiar with our objective world, we feel that when we are in objective world we are together. This is the illusion we have as we are not introduced ourselves with our subjectivity. Our subjectivity is very alive, full, whole. During the day many times we have realized that some kind of emptiness in us. This is our subjectivity, we get scared as we are not familiar with that emptiness. This is our connection with the universe. But as we are only familiar with objective world we feel that emptiness is alone. But it is not true.
Once you recognized it, become familiar with it then - Slowly slowly, you see that emptiness is not just emptiness; it is fullness, but the fullness of which you have never been aware, a fullness of which you have never tasted.
So in the beginning it looks empty; in the end it is full, totally full, over flowingly full. It is full of peace, it is full of silence, it is full of light.
There are only two ways of living in life. One is to live it from the very core of your being, from your subjectivity — that has been the way of the mystics. Meditation is nothing but a device to make you aware of your real self, your emptiness — which is not created by you, which need not be created by you, which you already are. You are born with it, you ARE it! It needs to be discovered. If this is not possible, or if the society does not allow it to happen…and no society allows it to happen, because the real self is dangerous — dangerous for the established church, dangerous for the state, dangerous for the crowd, dangerous for the tradition — because once a man knows his real self, he becomes an individual. He no longer belongs to the mob psychology; he will not be superstitious, and he cannot be exploited. He cannot be led like cattle, he cannot be ordered and commanded. He will live according to his light, he will live from his own inwardness. His life will have tremendous beauty, integrity. But that is the fear of the society.
Take the example of Guru Gobind SIngh - Guru Gobind Singh gained great stature as both saint and soldier. He was also an intellectual and wrote many powerful spiritual compositions that infused a martial spirit in the people.
After Gobind Singhji's father was publicly beheaded in Delhi on November 11, 1675 under the instructions of the then Mughal ruler Aurangzeb for refusing to convert to Islam.
To save his Sikh community from compulsory conversion of Islam, he become fighter, with the awareness of his true self and connection with his subjectivity.
How the universe wants to use our body leave that decision to the universe, but be alert about your connection with your subjectivity. Guru Gobind SIngh become individual by self-alertness.
Integrated persons become individuals, and the society wants you to be non-individuals. Instead of individuality, society teaches you to be a personality. The word 'personality' has to be understood. It comes from a root, 'persona' — persona means a mask. The society gives you a false idea of who you are; it gives you just a toy, and you go on clinging to the toy your whole life.
The one way is to live through meditation — then you live a life of rebellion, of adventure, of courage. Then you really live! The other way to live, or to fake living, is the way of the ego — strengthen the ego, nourish the ego; so that you need not look into the self, cling to the ego. The ego is an artifact created by the society to deceive you, to distract you.
By giving the example of Guru Gobind Singh every one of us got the idea that unless we are meditative and connected with our subjectivity we cannot respond to the present moment in the objective world.
Krishna is saying Arjuna drop your ego, drop misery, so you can connect with your subjectivity your own Godliness and then this war for you instead of mundane will become assignment of Universe, and your body will be vehicle for the universe.