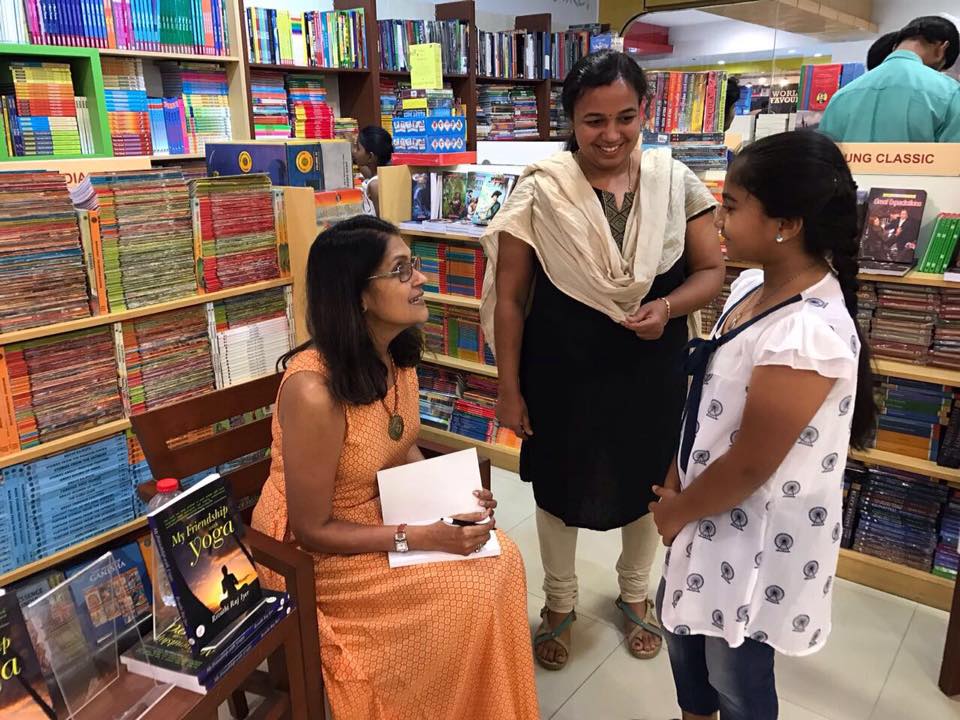 Revathi Raj Iyer is a freelance writer, book reviewer, company director, service volunteer and yoga/fitness enthusiast. Professionally qualified as Company Secretary (India & New Zealand) with legal background, she has worked in the corporate field for over a decade. Bombay is her hometown and Baroda her abode after marriage. When she moved to Fiji Islands, she bid adieu to a rewarding career with a multinational to become a full time mum and pursue her twin passions, yoga and writing. She worked as lecturer of Laws at the University of Fiji. Living between NZ and Fiji, she pursued writing and yoga training and continues her passion after moving to India. She lives in Ahmedabad, India and has completed her next book which is a collection of short stories. Her dream is to write books for children.
A couple of easy questions to begin with…First off, What inspired you to write "My Friendship with Yoga"?
Physical activity was dominant in my life right from an early age, as a trained classical dancer, which continued until my late twenties. Thereafter it took a back seat, when I became engrossed with my career together with being hands-on mum to a lovely little daughter alongside other demands that needed my attention. However, things changed when we moved to Fiji Islands, and I got back into fitness with intense aerobics and strength training. As destiny would have it, a disciple of Yogacharya BKS Iyengar was deputed to Fiji to introduce this ancient tradition to the people of Fiji. Yoga was at my door step and I embraced it with heartfelt love. I started writing my yoga journal. One fine day, I decided to give a formal structure to my jottings to reach out to a wider audience. As I wrote the book I had no idea of the publishing process, but I was focussed on my goal. "My Friendship with Yoga" thus took shape and was launched on the 10th January, 2017 at the New Delhi World Book Fair. Thanks to Lifi Publications for making this happen!
How do you see writing, as a hobby or a passion?
I find writing very therapeutic and it also makes me happy. It is passion that drives me to enter that lonely space, which I beautify with words, plot and characters to create a story.
Is yoga a way of life or a way to exercise and meditate
Yoga and meditation are a way of life for a holistic and healthy lifestyle. It is not instant therapy or about perfecting the postures. It is much more than that. One has to go through a process of learning – patiently and persistently; and observe the changes it brings about in oneself.
Please tell us some more about your debut novel?
"My Friendship with Yoga" is about my progression from learning under an instructor to achieving confidence in self-practice and sharing my varied experiences with readers. I have presented the complicated aspects of yoga in a lucid style with practical hints so as to cater book lovers of all age groups and skill levels. The book is divided into three parts:
Narrative which combines the physical, psychological and spiritual aspects of yoga, wherein a selection of topics along with interesting anecdotes have been covered
The 2nd Part has more than 80 postures with steps to attain these, guidelines, tips, techniques and benefits; keeping in mind yoga enthusiasts, beginners as well as those who have been practising yoga.
The 3rd Part consists of the much desired weekly practice schedule written sequentially with clear instructions to enhance one's practice.
What has yoga done for you as a person?
Yoga has helped me to deal with a given situation in a pragmatic and dispassionate manner. It has enabled me to let go of the past and negative emotions, be more positive and result-oriented and direct my energies towards my creative pursuit and other commitments. Yoga has certainly helped in making me acknowledge and appreciate the choices I have made so far, and offered me a healthier and more content lifestyle.
What sort of research did you do to write this book?
I have been reading books on yoga, but "My Friendship with Yoga," is the outcome of my entire learning process, from the disciple of BKS Iyengar and instructors from the West. My effort was to present the complicated aspects of yoga in simple language that would appeal to readers of all age groups and skill levels. Yoga is not about perfection as different bodies react in a certain way to a certain posture. To that end, my thought process kept evolving during the entire course of my writing. I made several drafts until I was fully satisfied that I had done justice to my work. For each and every asana which has been illustrated in the book, I consciously performed them and wrote down the steps. Every single breath, every movement, position, the sequence had to be accurate.
How did you come up with the title of the book "My Friendship with yoga"?
It came straight from the heart; in fact I did not falter or ponder over the title. I began writing this book with its title in place. The title was a reminder to simplify yoga and it guided me in writing a user and reader friendly book, which has been appreciated by the reviewers and readers. Fortunately, my publishers were also happy with the title and did not suggest any changes.
Besides writing, what else do you do in your free time?
Besides writing and reading books; I practice yoga, support my publisher in the promotion of my book, review books for Muse India, handle professional commitment as Director of a company, travel and spend time with my family. I love to bake and cook, and feel delighted when the outcome exceeds my expectations
Do you recall the first ever book/novel you read?
I don't recall the title of the first book, but I started off with the Enid Blyton series, followed by Agatha Christie.
Were your parents reading enthusiasts who gave you a push to be a reader as a kid?
My mum read a lot and I would accompany her to the local lending library. She was not pushy but I gradually picked up the habit and enjoyed those evening walks to the library after school, with my best friend. She will get nostalgic when she reads this!
What are your top three favorite books of all time?
It is hard to pick just 3, as I have so many favorites. Hmmm….. The Little Prince, Kite Runner, Reluctant Fundamentalist, Namesake…
As a new author, what is your favorite part of the writing/ publishing process? Least favorite.
My favorite part is the writing itself and working hand-in-glove with the publishers; the book launch being the icing on the cake. My least favorite part is to face rejections without knowing the reason for it, after waiting for months to hear from publishers.
What is the main thing you want readers to take away from your book?
To understand the pure essence and simplicity of yoga, without feeling intimidated or inadequate
As mentioned in the book, "Yoga is not about perfection. It is a very enjoyable bonding with our body and mind that teaches us to be resilient and patient."
I would like you to share something about yourself with the readers. Something that does not go in the about the author section something that is the real you?
I dream a lot and wish that all my dreams came true, hahaha…
And finally, A message for aspiring writers?
"Rejections are a part of the whole process of being ultimately accepted and acknowledged, as a writer. Please do not give up, no matter what, and pursue your passion, despite the road blocks. Think of the book lovers and connect with them. Write for them and the passion will always be with you."
Thank you.
It was really a privilege interviewing you. Hope you enjoyed the interview.
Links to buy the book- Amazon.in Amazon.com Flipkart
Write to her at chirminey@gmail.com