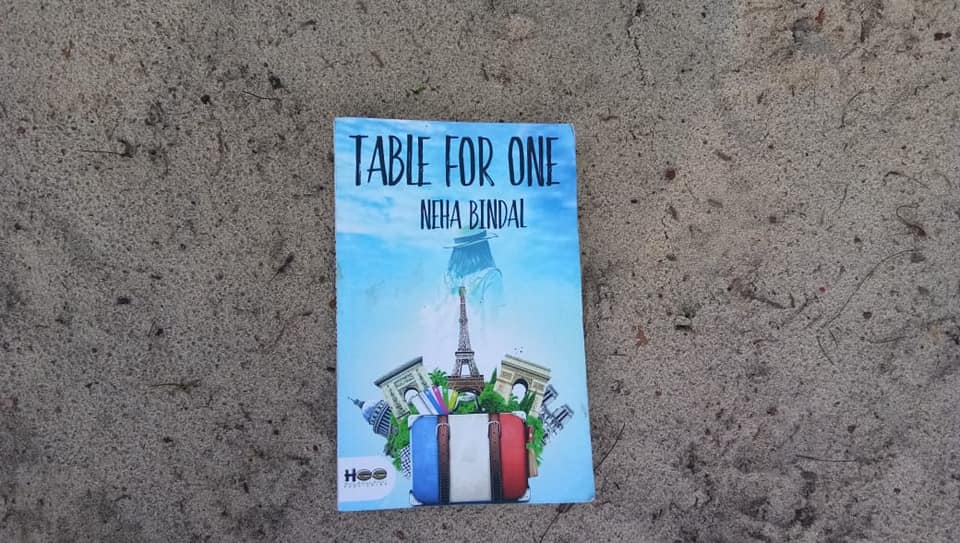 Book Title: Table For One
Author: Neha Bindal
Format: Paper Back
Total Number of Pages: 180
Language: English
Publisher: HALF BAKED BEANS
Publishing Date: 20 July 2018
ASIN: B07FQ7MWBC
Taara Maheshwari, a single woman in her thirties and a successful lawyer, is tough from outside but a die heart fan of romantic movies from inside.
She grew up seeking her "happily ever after' but amid various heartbreaks and culture of modern age short term relationships,her believe in "true connections" got replaced by the comfort of being "emotionally disconnected."
After she turned 31, her parents persuaded her into meeting a guy for marriage who sounded just perfect for her. Acting on impulse,she told her parents that she would meet him only if they let her go on a trip to Europe.
As Taara went on to explore the world, she experienced what actually happens when a single Indian girl travels to Europe all by herself. Is it only about dancing, singing or falling in love? What happens after you fall in love? Does love conquer all? Only her story would tell.
My Take
This is the story of protagonist Taara Maheshwari, a successful lawyer in her early thirties still unmarried. She is a confused women, who had encountered some heart breaks and doesn't know what to she wanted in her life. As her parents convinces for an arrange marriage. To which she agreed only if her parents would allow her for solo trip in Europe before marriage. She promised to meet the man once she returned back from the trip fortunately her parents agreed. She thinks it's an escape from marriage and quit her job to fulfill her dream to take a solo trip to Europe. Here her self-exploration starts with travelling diverse destinations, meets different kinds of peoples all around there, sang a song in public, danced crazily, went on trekking, and many more she explored the Europe. Taara in this trips founds new friends as well as she is attracted towards Fred and was in love with him. To know more what happen next read the book. The book is a bag of emotions of love, heartbreaks, travel, romance, adventure, external love, internal love, self realization, happiness, peace, friends, family, life, and many more.
Language is simple crisp and lucid and has the ability to bring live the events narrated in the book. The story flows like a movie and takes the readers on a journey to Paris, Switzerland and Italy with Taara the every scene is so well written than you can actually get images of them in your mind. Characterization should be have been strong and done better and i don't like the sudden climax. The faced paced and engaging narration. The writer's words has the capacity to hold the reader till the last page. The storytelling style was different and simply adorable. I loved Taara character through out the book. Characterization should be done better and i don't like the sudden climax. The cover and title is beautifully crafted.
We are all taught that the most beautiful part of a fairy-tale is "happily ever after". But we fail to notice that all fairy tales begin with "Once upon a time". Once. It all happened. It was all real. Once.
No matter who we are, what we do, or where we live, deep inside we all feel incomplete. It's like we have lost something and need to get it back. Just what that something is, most of us never find out. And of those who do, even fewer manage to go out and look for it.
Alone wasn't just a closed dark room anymore but a whole wide world full of opportunities. I needed to explore and occupy the vastness of the world inside of me, which until now I hadn't truly understood.
Like the houses we build, the sky was also a shelter to few.
I'll recommend this book to all the avid reader's.
Overall 4/5 Stars
Grab the copy here- AMAZON