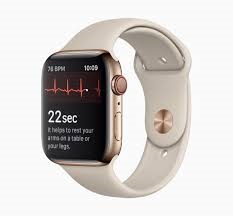 Apple has been continuously popping up one update after another for every OS and device. It recently launched iOS 13 and did not just stop there. Apple went on to release iOS 13.1 and iOS 13.1.2, as well. Several updates regarding Apple TV and iPad were also released. Now Apple watch has received a new update in the form of WatchOS 6 which includes new apps such as multiple touches to ask for time, Voice Memos, and weather update as well.
You will get the update preinstalled on Apple Watch Series 5, the latest upcoming watch in Apple's line-up. It will also pack features such as a built-in compass and always-on display. If you wish to avail of these features, you first need to install iOS 13 on your iPhone connected with your watch.
Watches You Can Update

Following watches can be updated:
Apple Watch Series 3
Apple Watch Series 4
Apple Watch Series 5
Apple Watch Series 1 and 2 will get the update later in 2019.
WatchOS 6 Update

Follow the mentioned steps to install WatchOS 6 update.
After updating your device, launch the Watch App.
Visit the General tab.
Locate Software Update.
Connect the Apple Watch to a charger.
Ensure that you have a stable network connection.
Follow the steps to install the update.
The update will be finished between 15-60 minutes, depending on your net speed.
You will get the all new features after updating to the latest update.
Features to Try out in WatchOS 6

Now that you have installed the update, let us check out the must-try features:
Apple watch now facilitates the option of deleting Apple apps. This can help you in personalizing the Watch screen to your taste and get rid of unnecessary apps. Here is how you can do so:
Find the app you wish to remove.
Long-press it until you see an "X" appear over it.
Click on X.
Confirm the decision.
The app has now been deleted.
Users have been asking for a female health tracking app both in the Health app alongside Apple Watch for a long time. Now you can avail of a dedicated Cycle Tracking app on the watch, which can be deleted as well. You will get reminders and alerts to log the symptoms.
The latest update will come with an app named Noise app. The app deciphers the nearby decibel levels to ensure that you are in a safe environment. You will get notified if the decibel levels cross safety measures, while it will also tell you the time you can be exposed in a setting. It can be customized or disabled altogether.
The new WatchOS 6 has a dedicated App Store which lets you download apps directly on to your watch. Previously you had to perform the process from the iPhone, but now it can be done through the watch itself.
Shazam will now come alongside your Apple Watch. You merely have to ask Siri about the song credentials, and you will get every detail about it. Siri can be accessed either by saying, "Hey Siri," followed by "What song is this?" or through tapping the Digital Crown.
You can now efficiently finish all your necessary calculations with the calculator app. The app even has an added feature by the name Tip. Through this option, you can figure out the amount you have to leave for the waiter.