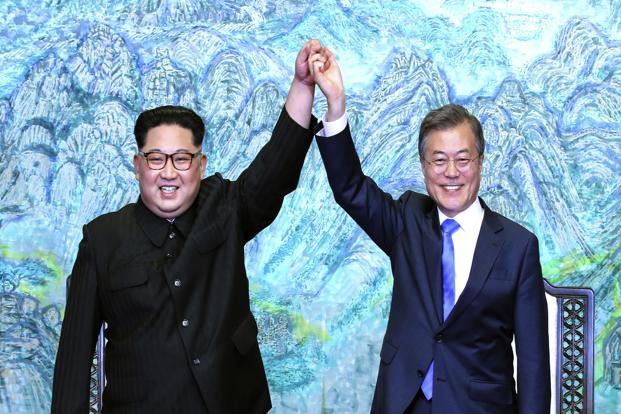 The leaders of the Korean nations have finally seemed to come to talking terms for peace among the two. Seoul and Pyongyang have remained technically at war since the 1950s but Moon and North Korean leader Kim Jong Un agreed at a landmark summit last week to work towards a permanent treaty to replace a 65-year-old armistice agreement.
Kim said:
"When it comes to North-South relations, we should lower the military tensions on the Korean Peninsula to create a peaceful environment, both the North and the South should make efforts."
Prior to this to North Koreans not only participated in the Winter Olympics hosted by South Korea, but their athletes also marched with the South Koreans in the opening ceremony and competed side by side in the Koreas' first joint Olympic team, in women's ice hockey. This was certainly an attempt to forward peace talks between the two nations.
North Korea has now become a nuclear power after successfully testing nuclear missiles. Kim humorously commented at this:
"I will no longer break their sleep at night with our missile testing."
He may have offered an olive branch of peace to his neighbouring South Koreans but he doesn't share the same warmth with the United States of America. North Korea now has intercontinental missiles. Kim Jong Un on Monday warned the United States that he has a "nuclear button" on his desk ready for use if North Korea is threatened.
Kim Jong-un and Moon Jae-in met on 27th April. The two presidents first met on the Korean border. First Kim shook Moon's hand and entered the South Korean half of the border and when Moon asked if he could visit the North, Kim just strolled to the North half of the border along with Moon.
Showing that in the upcoming days the border won't remain as hostile as it had been for years. The two leaders talked together for hours about political issues. They agreed on uniting the families separated due to the border. The two also planted a tree and agreed for a permanent peace treaty.
"We have always stated our willingness to talk with North Korea anytime and anywhere if that would help restore inter-Korean relations and lead to peace on the Korean peninsula," a spokesman for the presidential Blue House said.

"We hope the two Koreas will sit down and find a solution to lower tensions and establish peace on the Korean peninsula."
Moon took office in May last year pledging to engage Pyongyang in dialogue and restore strained ties after nearly a decade of conservative rule in the South.
North Korea has so far snubbed his overtures for warmer ties, including an offer to hold inter-Korean military talks about ceasing hostile activities along the border, as it tested missiles at an unprecedented pace and lambasted joint military drills between Seoul and Washington.
Rather than encouraging U.S. measures that "threaten the security and peace of the Korean peninsula," Seoul should instead respond to overtures from the North, and "stop nuclear war exercises with foreign forces, Kim said.
The U.S. State Department did not immediately respond to a request for comment on Kim's New Year's address with President Trump only saying:
"we'll see, we'll see."
This, Kim said, was "irreversible with any force", making it impossible for the United States to start a war against North Korea.
"The whole territory of the U.S. is within the range of our nuclear strike and a nuclear button is always on the desk of my office and this is just a reality, not a threat," he said, while emphasising that the weapons would only be used if North Korea is threatened.
While Kim is keen to declare his weapons programme a success, he is unlikely to completely end his contentious testing regime, said Scott LaFoy, a ballistic missile analyst at the website NK Pro, which monitors North Korea.Kim stated:
"I'm still very skeptical of the 'complete' thing they've been talking about, if only because we've seen so much activity in regards to the submarine launched ballistic missile programme. I think a slowdown (in testing) is very realistic, though."

"What North Korea is most afraid of is being forgotten in the international arena."
North Korea's position on world peace is still uncertain and these negotiations can be meaningless if they feel threatened or even challenged by further US intervention. The peace treaty too seems too good to be true and hence wasn't foreseen by anyone prior to its declaration. There could be more than what's on paper and definitely than what meets the eye. We could very well see the start of the Third World War with nuclear arms this time.