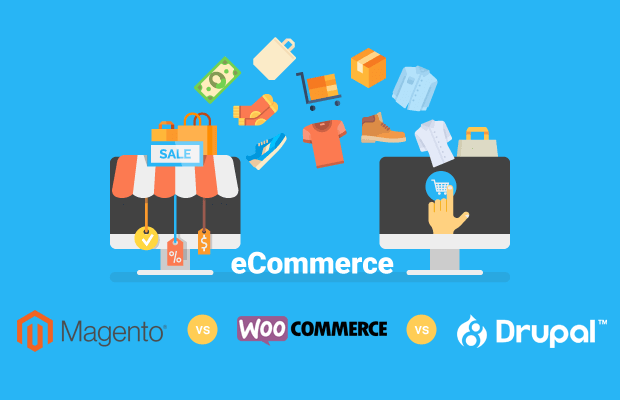 A CMS or Content management system is software used by portal developers to manage the content in effective ways. It helps the user to create, edit, publish and archive content. A good Content management system will reduce the developer's burden of making changes in the portals.
Here are the 4 popular CMS that will help you a better E-commerce portal
1. Magento
Magento is specially designed to satisfy the needs of e-commerce portals. It can efficiently run the front end from the same back end. It is used to manage catalogs, customer interaction, processing orders.
The credit for the immense success of Magento can be given to the extra functionality it offers. It is customizable, complex and comprehensive.
The pros of using Magento are
·User Dashboards
·Customer Segmentation
·Inventory Management
·Supplier and Shipping Management
·Cross-Sell and Upsell Options
The cons of using Magento are
·Complexity
·Slow on a single server
2. Shopify
Shopify is an easy to use fully hosted platform. It offers you the drag and drop options. It takes care of most of the technical part of your portal.
The built-in tools and high optimization has made Shopify famous amongst the users.
The pros of using Shopify are
·Cost effective
·Fully hosted
·Secure
·Large collection of themes and extensions
The cons of using Shopify are
·Minimum functionality
·Less flexible
3. Open Cart
Open cart is a PHP based online store management system. It supports different languages and provides thousands of extension and modules.
Simplicity, fast, easy to use features and readymade templates make it stand out from the other Content Management System.
The Pros of using Open Cart are
·SEO friendly
·Multi-Store Designing Mode
·Easy To Make A Multi-Lingual Site
The cons of using Open Cart are
·Duplicate pages
·Conflicts in modules, plug-ins, and add-ons
·Complicated purchase process
4. Prestashop
PrestaShop is one of the popular and widely used CMS. It lets you create, delete and manage the pages of the portal.
It provides a vast range of decent quality themes to choose from; you will never run out of themes while working with Prestashop.
Pros of using Prestashop are
·Classy Premium Templates
·Affordable themes
·Customizable modules
·Satisfactory user interface
Cons of using Prestashop are
·Theme installation is tricky
·Hectic customization
·High response time
Prarthana Associates Pvt. Ltd. Is an E-Commerce Website Design and Development Company in Udaipur, India. We offer professional E-commerce service at affordable price.
Address - Near, 6, Sevashram Choraha, Overbridge, Dore Nagar, Hiran Magri, Udaipur, Rajasthan 313001
Visit - Digital Marketing Agency in Udaipur
Call - 7230004111