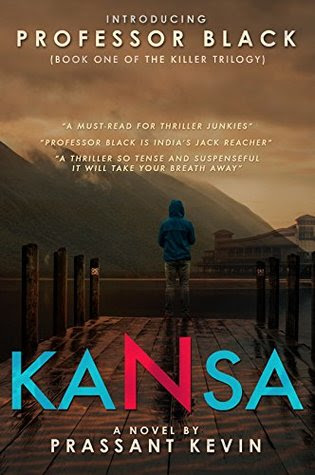 Book Name:- Kansa (Book one of the killer trilogy)
Author Name:- Prassant Kevin
Publisher:- Inked Company Publishing
Book Pages:- 398 pages
Description:-"One of the best Thriller novels written by an Indian Author."
"'Professor Black is India's Jack Reacher."
"You Cannot escape this thriller."
"Breathtaking. Original. Spine-Chilling and a perfect start to the TRILOGY."
OVER A SPAN OF TEN YEARS, HE KILLED FORTY PREGNANT WOMEN AND THEN VANISHED WITHOUT A TRACE. AFTER FIVE YEARS OF SILENCE, HE IS BACK AGAIN, SEEKING HIS NEXT VICTIM. ONLY ONE MAN CAN STOP HIM – PROFESSOR BLACK.
Maher was found unconscious in the middle of the highway and later, in the hospital, she revealed that she had escaped from a killer's house. All the details and patterns matched the serial killer 'Kansa,' who had disappeared five years ago after murdering forty pregnant women. ACP Saargi Desai was assigned to the case. She appealed to her department to bring back Professor Black to help her catch the killer. The Professor, who had a haunting past that had kept him away from the world of crime and investigation for several years, was not willing to take on this case. But the ACP managed to convince him to get on board just for this one last time. Soon after agreeing to help, the Professor realized that for the first time in his life, he had met his match. As he dug deeper into the case, everything got dirtier, the stakes went higher, and nothing was what it seemed.
Review:- Oh my my my!!!! What a book…hats off to the author… after a very very long time, I read a book which hooked me till d end and kept me wondering who the culprit was..I couldn't guess it until the end..
The story is written exceptionally well..it has that power which u need in a thriller fast paced book…as soon as I started this I knew I would love every bit of this book.. it is a book about a person who is called 'kansa' and who has killed more than 50 people including pregnant women, infants etc.. it all started when Maher met with a road accident and was admitted in the hospital where she revealed that she has escaped from a house where she was kept after kidnapping and also revealed that person was a killer.. ACP Saargi Desai is in charge of this case and after getting into this case she knew she needed help from someone who has vanished from this field years ago she insists commissioner and he agrees to her demands.. than professor comes into the picture he is a man who is alcoholic, aggressive, violent and has numbers of escorts girls as speed dials but he is the only person who can help them crack the case..

While trying to solve the case the facts that are portrayed, the twists and turns, people dying, the overall concept was written by the author is brilliant… we can see love, betrayal, duty all in this book…cannot wait for the next book in the series now and I am damn sure it will also be the same…intriguing, thriller, ride of roller coaster all in one book…
How do they get hold of Kansa is really worth reading..
Overall Rating:- ★★★★★
Hema Suresh Talreja