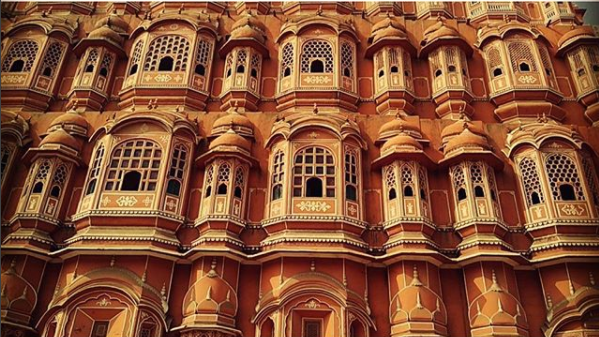 Epitome of art, architecture and culture. They are rightly the essence of Jaipur, the pink city. Place so vibrant and colorful can be synonymized as "Gateway to Royal Rajasthan". Art and Architecture is so vastly reflected in the city that once visited, it's almost impossible to control the urge to visit other parts of the state.
Food and delicacies of this region are something not to ignore either. Rich in spices, flavours and desi Ghee are truly the royal ingredients of a Rajasthani meal. This is the exact reason a clique of girls got lost on the streets of Jaipur looking for that perfect Gewarh,Pyaz ke Samose and Dal bati churma; until they could satisfy their appetites.
One of the girls wanted to capture the moments and perceptions, while others wanted to be captured in the moments.
While the other girls wanted to take back goodies and merchandises as memorabilia, this girl wanted to take back the memories, trapped in the right words.
Again, one among them, wanted to live in the aroma and vibes of the place herself, while others wanted to just experience them temporarily.
There was something beautiful about feeling on vacation and at home all at once, that's what made her pen this down.
Four girls landed in the city, early in the morning, unaware of even the places to halt. But were no slow-paced in kick starting the day, all dressed to perfection and making bold statements. "Yes, they believed in travelling in class". It didn't matter how their itinerary was, but their attires were sure as hell 'well planned'. It included colors and vibrancies as a base, two days of modernity with some desi touch, while one day restricted to contemporarily basic ethnic outfits!!
Itinerary was something like this, first day included all the outskirts, majorly forts of Jaipur. Second day an excursion to Ajmer and Pushkar. Last day included the local inner-city sight-seeing. Planned shopping was to be done either at Pushkar or on the last day of trip which went for a toss and they ended up shopping on all three days. After all,they were girls and it was a girls' trip, Duuuhhh!!!!!!! Let me clarify – not being a contra feminist here.
Experience differ from person to person and so does the stories of travel, even if it's of the same place or of multiple times. Amer fort (as pronounced), which is written as Amber fort,is a delight to ones' senses. Well planned, better maintained and least destroyed of all the forts deserves to be called the best of them all. A person can typically spend minimum of one to one and a half hour within the fort. Jaigarh holds world's largest cannon displayed for public. The walls of Jaigarh and Nahargarh forts are infamously called Great wall of India similar to that of China's. The view from above and amidst those walls are surely worth a great deal of calorie burn. Not to miss a couple of stops where a glimpse of Jalmahal can be spotted in all its glory,on the driveway to Nahargarh. One can even have some chai and coffee from the local vendors,while chilling at these viewpoints.
Pushkar, girls fell for it the moment they entered the streets. Call them vibes,spirit or energy, there was something totally positive. People tend to get drawn towards the hippie culture and ambience the town has. Hosting its tourists with the world's one and only Bramha temple,charm of the town lies on the banks of serene and sacred lake of Pushkar. The roads of Ajmer to Pushkar in between the aravalli ranges, a sunset on the countryside as a back drop to the camel safari, all adds on to the drive factor. A stay here wouldn't harm your pockets provided the kind of vacation being looked forward to is of chilling and relaxation as a main purpose. Add on: There is a lot to shop at this place, bargaining is the key!
Ajmer Shariff Dargah is a place of religious significance, where faith of believers can be seen at its highest. One thing to be kept in mind is not to visit the place during the times of prayer, especially on the days of Jumma. Tourists might end up waiting for hours together just to enter the center sanctum. Also, the inner most sanctum is the hardest to get in and out of, it is advisable to be cautious of your belongings and special attention required for kids.
The most economical and convenient way of travel around Jaipur, Ajmer, Pushkar back and forth is by local buses .It's good to keep a track of time and manage the day accordingly. There are frequent buses plying around, reaching the destination within the span of 2.5 hours. However, if there are kids and people with ailments and ageing, it's advisable to hire a cab on fair prices.
Final day, girls headed towards city the local way. The most effective way of reaching the local sights is by a rick or a cab. All the major destinations inside city for example City palace, Hawa Mahal, Jantar Mantar are all within the walkable distance from one another.
These structures of Hawa Mahal and city palace are of more recent times as compared to those forts on the outskirts. Peek-a-Boo through those colorful windows is how Hawa Mahal can be described. City palace is in all its splendor and glory of roughness. It is enclosed with Musuems, Art galleries, Durbar halls etc. which exhibit the objects used by the then royal family. Only place of interest in Jantar Mantar for girls was of structures containing zodiac signs, along with which they could get photographed. People with special interest in science and astronomical knowledge would enjoy this more than laymen. Otherwise, it is still a good sight to visit as a place from history, especially with the world's biggest sundial as a main attraction.
Girls felt teleported to the era of maharaja, these structures gave them a feel of life within them. How they wished, they could go back in time and visit when these places were inhabited!!
P.S. My HApPyy Moments:
1.Spotting Colorfully Painted Elephants on the streets.
2.Watching ladies cooking roti on the lanes of Pushkar.
3.Getting a glimpse of civilization and mountains merging from Nahargarh.
4.Buying a palazzo with elephant prints on them
Yesss… elephant in it's any form is LOVE!!!
HAppy Vacations and don't forget to check the next blog"Background Check, Jaipur Jaunts-2", containing history of the places mentioned here in detail.