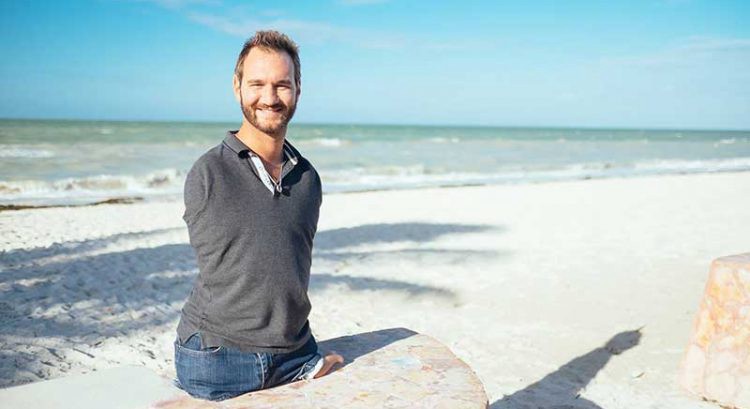 It is one thing to be born with a disability and another to not it let it rule your life. Nick Vujicic was born without limbs and it was not due to genetics. Even though his ultrasound was normal his mother had a premonition that something would be wrong. And what way did it come true in!
His mother was so disappointed that it took her three to four months to accept the fact. However his father accepted it right away and became a pillar of strength in his life.
He was offered prosthetics at six year of age but couldn't manage them because he had gotten accustomed to functioning without limbs that he just felt encumbered with the fake limbs. Being the first disabled person integrated into the Australian schooling system had its own share of problems. He had his own set of personalised bullies. It was the first time that he actually felt that he was not normal and started wanting to be like everyone else. It was then that his father told him that everyone was unique and he was a gift, just differently packaged. This was sign that his parents would never give up on him. Thus his home became his refuge.
However there is only so much confidence a 10 year old boy can have and at a tender age any action has a greater influence that can influence their actions in their later life. This was the first time Nick thought of suicide in fear of being a burden to his parents. At that moment a ray of hope entered his life in the form of any other boy with no limbs.
Fun fact: Both of his feet were deformed and on had to be operated on so that he could use one of them for basic tasks, he calls the other one 'chicken drumstick'.
Another gem of advice Nick received from his parents when he was a teen was that he wouldn't know what he could or could not do until he tried which pushed him to be as independent as possible. He now knows how to play football, swim and surf. His ability to pull off 360 degree spins on his board got him on the front cover of Surfer magazine. He also enjoys the occasional round of golf, having mastered striking the ball using a club nestled under his chin.
Fun fact: In 1990 he won the Australian Young Citizen of the Year award for his bravery and perseverance.
Even though he inspires millions his inspiration is Philip Toth. "I met him at a crucial time in my life at age 19 when I first started speaking. He was diagnosed with Lou Gehrig's disease, a debilitating disease with no cure, at 22. Doctors gave him three months to live, but he lived for another five years. He couldn't walk or talk, but when I met him and he smiled at me, his smile changed my life. I thought to myself, if a man who can't walk and talk can inspire hundreds, what can I do?" He was the one who inspired me and the catalyst for me taking up motivational speaking and the communication of hope.
During this time his relatives in California encouraged him to come over there and follow his dreams. He started as a motivational speaker in Australia. He has travelled 58 countries (3 million miles) and started an organisation called Life without Limbs a non-profit organisation that is now celebrating its 10th anniversary. He founded another organisation called Attitude is Altitude which is a secular motivational speaking company.
Some of his most famous quotes are:
If you can't get a miracle, become one.

It's a lie to think you're not good enough. It's a lie to think you're not worth anything.

The challenges in our lives are there to strengthen our convictions. They are not there to run us over.

Don't put your life on hold so that you can dwell on the unfairness of past hurts.

Some injuries heal more quickly if you keep moving.

Risk, then, is not just part of life. It is life. The place between your comfort zone and your dream is where life takes place.

Fear is the biggest disability of all. And will paralyse you more than being in a wheelchair.

Having faith, beliefs, and convictions is a great thing, but your life is measured by the actions you take based upon them.
Apart from this he has published a number of books like:
Life without Limits: Inspiration of a Ridiculously Good Life

(2010).

Your Life Without Limits

(2012).

Limitless: Devotions for a Ridiculously Good Life

(2013).

Unstoppable: The Incredible Power of Faith in Action

(2013).

The Power of Unstoppable Faith

(2014).

Stand Strong

(2015).

Love without Limits

(2016).

Be the Hands and Feet: Living out God's Love for All His Children

(2018).
To top it all Attitude is Altitude released a single and music video by Vujicic called 'Something More' in August 2011. He met his wife Kanae in Texas 2011, and they straight away fell in love. When they were dating Nick tried his hand at opening businesses which were unsuccessful. These failures brought his old feelings of depression and being a burden back which led to state of despair. However Kanae stuck by him and took a nursing job so that she could support him.
Nine months later they got married and have four healthy happy kids. They are Kiyoshi James Vujicic, Dejan Levi Vujicic, Olivia Mei Vujicic and Ellie Laurel Vujicic.
His humble character is shown when he is asked that how he wants to be remembered he says 'Just as a servant with a message. It's not my strength, I didn't write my own story'.