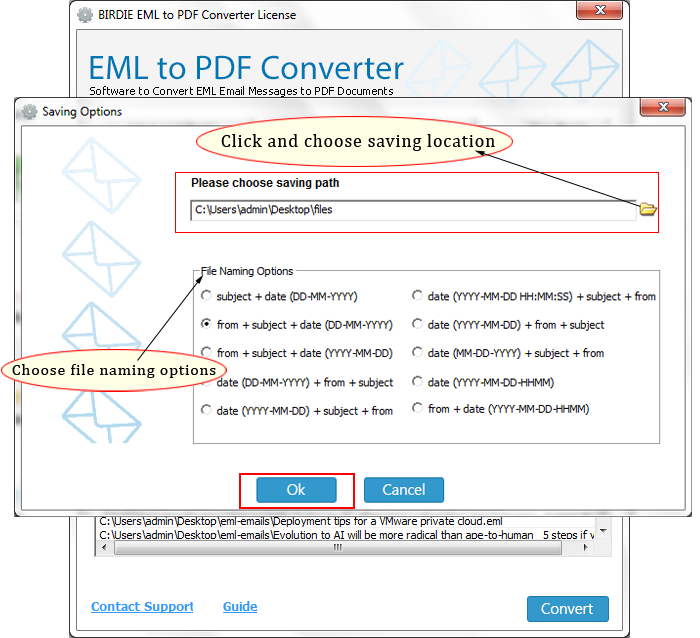 The article facilitates all the possible and reliable solutions to resolve the user query of how to save EML file as PDF file format without any complications. If you are one of them who want the answer of this above query then go through this article till the end because it contains two or more approaches which can help you save .eml as PDF file format. In this post, I have explained a free working procedure to perform the migration via Mozilla Thunderbird application or without Thunderbird installation. Initially, get to know about the EML & PDF file extension.
EML file is one of the most common individual message file extension, which consists of all technical database connected with a single email message. This file includes plain ASCII text for hyperlinks, headers, and attachments. It is considered a RFC-822 format, which is generated by Thunderbird, Windows Live Mail, Apple Mail, and so on. On another side, A PDF file is the portable document format which we can access on Adobe Reader. This PDF file includes text, images, hyperlinks, and attachments that can be easily open on any platform. When the files are in PDF format, the users believe that their data is in safe hand. And, that is the main reason for users shifting EML to PDF format.
The most noticed drawback of EML is that it does not facilitate with security feature. Also, few EML based app does not give contacts and email on the specific hard-drive does not comprise calendar and task list function by default. All over, I can say some of the disadvantages of EML file are the reasons of users to save EML file as PDF format.
Free Working Guide to Save .eml as PDF Format
As I discussed above that there are different solutions available to import and export EML files to PDF format. And these solutions are properly explained in the given below procedure:
Technique I- Export EML File to PDF via Thunderbird Email Client
In this procedure make sure that the Thunderbird email client is properly configured on your machine. When you are available with this Thunderbird application, you can follow below-mentioned steps to start the EML data to PDF conversion:
Step 1- Start and open Thunderbird email client having ImportExport add-on within it.
Step 2-Now click on minimize button of Thunderbird screen and save all the EML files in one folder which you want to convert into PDF.
Step 3- Then, again open the email client screen that you had minimized in 2nd Step. And, click on three lines box available on the top-right side. After clicking on it, and go through with the Tools >> ImportExportTools >> Import messages.
Step 4- A Windows will display, in which you have to go to the place where EML folder created in Step (2) is saved and press on Open button.
Step 5- After clicking on an open tab, all EML files are opened in which you have to select just one email and after selection of EML file, press on Open tab. At this time, you can only select a single file to export it into PDF format. If you want to convert multiple EML files to PDF then you have to follow the same procedure again and again.
Step 6- The selected EML message loaded in the mailbox of your Thunderbird profile. Now, press on the email and right-click on that file.
Step 7- press on Save Selected Messages from the different option in the list and then go to PDF format in another list.
Step 8- Now, A message box will appear in which you have to just click on OK >> OK.
Step 9- Choose the stored location of PDF document and go to Select Folder button.
Step 10- At last, you will get that portable document is archived on the selected destination. So, you can open the PDF and check the PDF file.
Technique Il- Transfer EML file to PDF without Thunderbird Installation
This method needs the availability of the Microsoft Word program on the computer to migrate EML file to PDF. If this is available on your machine then, follow described below steps:
1. Go to the place where EML files are stored and choose anyone of them.
2. Right-click on selected file and press on Open with >> Microsoft Word.
3. Then, Microsoft Word opened in which you have to press on Office icon >> Save As.
4. A file saving dialog box will open where you can select the PDF option from the Save As Type menu.
5. In this step, your EML file content stored into the PDF file format just after going to the Save tab.
6. Go to the location where you have archived PDF in 4th point and double-press on it to access the portable document.
Different Issues Arise in the Above Explained Techniques
Not capable to convert EML emails to PDF with attachments.

The first technique needs Thunderbird installation and another one need MS Word.

Both techniques fail to convert multiple EML files to PDF at a time.

High chances of corruption of EML database during the conversion process.
Summing Up
"How to save EML file as PDF file format" is a critical question when it comes up to batch EML file conversion. In case, if the need arises of one or two EML files to PDF migration then the above techniques work superbly. But, when you are stuck in the situation where you have to transfer hundreds or more EML files to PDF, the best approach is always go to the expert's choice i.e. EML to PDF Converter. The converter allows batch migration with the 100% successful result. Moreover, it gives a free trial version facility for users to analyze the complete software and offers the facility to operate it on any Windows versions including 10.