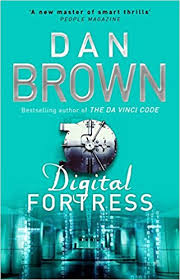 Digital Fortress by Dan Brown
My Rating: 3 out of 5
NSA Command center (Source: www.nsa.org)[/caption]
Mission Statement

The National Security Agency/Central Security Service (NSA/CSS) leads the U.S. Government in cryptology that encompasses both Signals Intelligence (SIGINT) and Information Assurance (IA) products and services, and enables Computer Network Operations (CNO) in order to gain a decision advantage for the Nation and our allies under all circumstances.
NSA Seal (Source: www.nsa.org)[/caption]
National Security Agency ex-employee put this institution under hostage and he chose individual privacy right before national security. NSA has done the great job for United state security which is in the reflection of their tagline for this institution: Defending our Nation. Securing the Future. NSA has done the great job for United state security which is in the reflection of their tagline for this institution: Defending our Nation. Securing the Future. Dan Brown novel give the opportunity to glimpse us inside this mega-institutions which work for the cyber-security of United state of America. Irrespective of Dan brown critics, who had given this novel a big thumb down. I think this novel survive my expectation. This cannot be equated with The DaVinci Code, Origin, Angle, and Demons, The Lost Symbol, Inferno and Deception Point.
Susan Fleischer, the young and dynamic cryptographer with his professor boyfriend David Backer had a bad morning. While His boyfriend flew to Spain, she had been called by His boss (Deputy Director of NSA) for resolving some sort of the problem in their office. She had crossed checked the issue with his boss and with great astonishment she learns that NSA has been facing problem for their extension. 2 Billion dollar machine which was created for breaking every code by brutal force technique and had maximum time consume for a code is three hours is unable to break a code for more than 15 hours.
This put her as cryptography chief and his boss into a position where they need to break the code. This code can be broke by Pass Key which has only available with The Original code maker or his friend with allies NDKOTHA . Even trying hard luck with this machine Susan and his boss failed to get any luck on this code So, they decided to trace NDKOTHA . The plot of novel run around another side where David (Susan Boyfriend) fail to get Ring of original code breaker (Who has been killed by NSA or Any other party is suspense to Read). From the Spanish Police station to Santa Cruz church, David has to run for the ring without knowing that the people he was speaking silently being terminated by a deaf Killer who works for NSA. Killer only waiting for the opportunity after David get back the ring which has pass-key. Finally, Devid obtains that pass key but within a second he understands that he has been chased by someone. Then start a chase by NSA Killer and Devid.
Spain Sunday Mass[/caption]
On the Other side of the world, Things being changed from bad to worst. Susan failed to chase NDKOTHA because her tracer is being aborted by one of his colleagues. But an unfortunate turn of event, her friend is also killed. Things jumped from one mystery to second and at last the national databank come to the risk. Director of NSA involves into this circus. Susan also lost Dupety Director in an accident and chase concentrate into Devid Passkey decipher and the National threat to Databank. What happens next? is an exciting read.
Digital Fortress is a technical thriller which creates astonish amazement though its shape and turning plot which can amuse readers. Although, I am impressed by Dan Brown way of writing this novel has done a bit less compared to Robert Langdon series. I can say that David Becker is an early version of Robert Langdon.
Dan Brown (Source: Google Play)[/caption]
This fast-paced novel has been increasingly great for me as I turned the page more and more.
Happy Reading !!