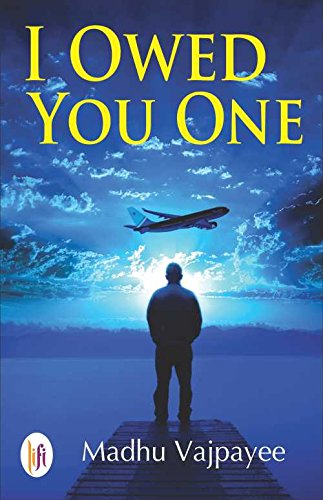 Book Title: I Owed You One
Author: Madhu Vajpayee
Format: Paper Back
Total Number of Pages: 258
Language: English
Publisher: LiFi Publications Pvt. Ltd.
Publishing Date: 2018
ISBN-10: 978-9386191281
ISBN-13: 978-9386191281
Dev Khanna has it all before a mysterious letter shakes the very foundation he has built his life on. With his beliefs challenged, he decides to close the chapter once and for all. I Owed You One is the story of promises and commitments, of triumphs and defeat, and of holding on and letting go.
My Take
The title of the book and the cover are just stunning. It's a combination of love, loss, friendships, suspense, thriller and duty. The story revolves around the lives of Dev Khanna, Amar Khanna, Nayana Khanna, Muni Aunty, Javed Ali, Saira Alam, Saif Alam, Zoya, Dr.Sharma, Sanjay, Mr.&Mrs.Kappor, Mr.&Mrs.Goyal, Abhishek, Nalini, Ishaan, Risha, Mrs.Rita Anand, Azra Beg, Mr.Sp Yadhav, Sheikh, Ram Krishna Pandey, Rajesh, Surya Singh, Arif Abbas, Sheikh. Sometimes pain is the only thing that defines your existence,yet its you who has power to decide its imprint.
This is the story of protagonist Dev Khanna is a chemical engineer, settled in Melbourne(Austrialia).He was the only child of his parents Mr.Amar Khanna and Mrs.Nayana Khanna. Dev from the childhood day's he was only connected with his mother all the time and come up with excuse like he has to much work in office or meetings and didn't share any emotional bonding with his mother. Due to such weird behaviour Dev never shared a good relationship with his father. Later with a lot of hope and dreams he jpoins engineering college and from there he came to know the truth of his father extra maritial affairs with Saira Alam in Moradabad. Then another shock for Dev, Mrs.Khanna has a liver cancer. It's not treatable.
She is dying…

She doesn't have much time left…

And I want to make her remaining days as the best days of her life…

I want her to be happy….
Dev asks Saira for a favour to stop meeting his father till the time his mother is alive??? Saira agrees she will never meet him. If that makes you happy and gives your mother a chance to have a peaceful end.. From that day own wards Dev was owed to Saira.
After Dev's mother death. He left for Melbourne to start a new beginning. James Myer company's Director welcomed Dev and introduced with other staff and spent the rest of the first day getting accustomed to the new envirinment, my work and getting introduced to all the people with whom i would be working. He was feeling comfortable there. Then he meets Radhika in party organised by James. One more encounter with Radhika in new years's eve. It was the best new year gift one can ever have. Dev was in love with Radhika. Radhika's family approves there decision to get married. When Dev's trys to get attached with dad because of Radhika's insistence. Dev's Dad Mr.Amar Khanna passed away. Later Radhika and Dev got married and they are blessed with a son Neel. Letter from Saira, Zoya was missing in a communak riot. She had asked a favour to help her finding her daughter. After reading he can never forget the happiness that his mother experienced in the last days of her life and also with that he could never forget Saira's selfless act. Then he goes to India. The Missing Zoya's hunt begins…
Language is simple and lucid to read and connect with the story and being engaged throughout the story. The story flows like a movie. The every scene and all character are well crafted that you can actually get images of them in your mind. Narration of the novel is simple and really nice..
There are no debts or credits in this world…

We need to do everything as our duty…

We owe it to ourselves more than any one else…
I would like to recommend this book to all bibliophiles out there…
Overall Ratings- 4/5 Stars
About the Author
Dr. Madhu Vajpayee the writer was born somewhere in those hospital corridors where she has spent the last two decades of her life. Witnessing life at such close quarters pushed her to capture its enigma in her words and slowly it became her passion. After writing several scientific papers and chapters in books, this book is her second step in the literary world ,the first being Seeking Redemption.
Having done her graduation, MBBS from King Georges Medical University (KGMU), Lucknow she went ahead to pursue her post-graduation, MD from AIIMS, New Delhi. She was a consultant at All India Institute of Medical Sciences (AIIMS), New Delhi having been associated with management of patients living with HIV/AIDS. She is now settled in Melbourne, Australia with her family, where she is devoting most of her time to writing, the passion that she couldn't pursue earlier because of the demands of medical profession and commitment it requires.
When not creating stories, Madhu enjoys reading and traveling.
https://www.amazon.in/Owed-You-One-Madhu-Vajpayee/dp/9386191288/ref=tmm_pap_swatch_0?_encoding=UTF8&qid=&sr=