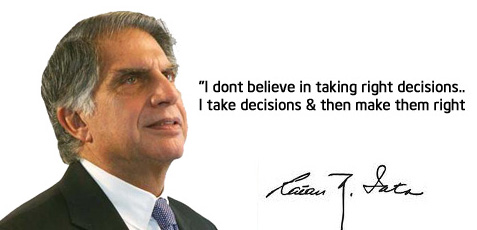 Ratan Naval Tata -is an Indian Industrialist, Investor, Philanthropist and former chairman of TATA Sons. He is a recipient of two prestigious awards Padma Bhushan(2000) and Padma Vibushan (2008).
EARLY LIFE:
He was born on 28th December in 1937 in Surat.
Ratan Tata is the adopted son of Naval Tata.His parents separated in 1948 when he was 10 years old.He and his younger brother Jimmy were brought up by his grandmother.He did his early schooling from Cathedral and John Canon(Mumbai) and Bishop Cotton School (Shimla).He graduated from Riverdale Country School(1955) and did his B.Arch with structural engineering from Cornell University(1962).He did his advanced management programme at Harvard Business School(1975).
CAREER:
He started his career in Tata group in (1961), In(1991) he was made Chairman of Tata Sons.He spent 21 years as a chairman and the revenues escalated 40 times.He turned the company from India-centric group to a Global business.He stepped down from the post of chairman on his 75 th birthday and appointed Cyrus Mistry as his successor.But on 12th January 2017, Cyrus was removed and Natarajan Chandrasekaran was appointed as the chairman of Tata Sons.
PHILANTHROPY:
Tata Hall was created by his philanthropic gesture of giving charity for its construction.This is located in the HBS campus.65% of his share is invested in charitable trusts.He believes in uplifting the life of Indians.
AWARDS:
He has been a recipient of several National and International awards.Two highest Indian awards in 2000 and 2008 and in 2014 he was conferred the' Honorary Knight Grand Cross Of The Order Of The British Empire.'
A bachelor keeping a low profile and a simple lifestyle .He lives in a simple house in Mumbai and owns a Tata Sedan.
INSPIRATION:
In 1962 he started his career in the Tata Steel division where he shoveled stones and worked in furnaces along with the blue-collar employees.He gained respect and understanding for his family business.In 1971 he was made Director-in-charge of NELCO.In 1977 he was moved to Empress Mills but soon due to financial problems the mill shut down. In 1991 J.R.D Tata made him chairman of Tata Group Of Companies.The executives were in a dilemma regarding his business acumen but he proved them wrong and enhanced the financial condition of the company.On his 75th birthday, he resigned from the post of chairman.He achieved International recognition and prestige for the company.Now he holds the post of Chairman Emeritus Of Tata Sons.
Even at the ripe age of 80 he is the guiding force for his conglomerate.By dint of his hard work ,simplicity and a good farsight he has brought International recognition for the company.