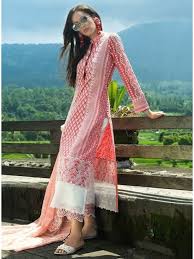 Chikankari is one of the most traditional embroidery style of Lucknow introduced by Nur Jehan,emperor Jahangir's wife.Chikankari--means delicate and shadow work embroidery.This embroidery is native to the city of Lucknow.It is carried out on different fabrics like georgette,cotton and chiffon.The embroidery is done on kurtas,table-linen,pillow-covers,sheets etc.Chikankari is derived from the Persian word Chakin or Chakeen meaning delicate patterns on a fabric.The embroidery involves lots of steps which are cutting,stitching, printing ,embroidery,washing and finishing.The embroidery is mostly done by women and it involves creepers and floral motifs used throughout the garment or in corners.The embroidery consists of flat stitches,embossed stitches and jalli stitches.Lucknow received the Geographical Indication (GI) status for chikankari in 2008.
The chikankari work is exported to many countries all over the world.Two most prominent Indian designers Sandeep Khosla and Abu Jani have made their aim to uplift the craft profile in India and overseas.Many well known cloth brands are also using chikankari work.SEWA or The Self Employed Womens Association involving chikankari artisans are renowned for their fine chikankari work on khadi and woollen garments which they are doing for an Italian client,Comitato.40 different stitches are used in chikankari embroidery to create the open-work designs.
Types of chikankari embroidery--the flat stitch
Taipchi
Pechni
Pashni
Bakhia
Khatao
Gitti
Jangira
Embossed Stitches-bolder stitches which give a grainy appearance
Murri
Pechni
Phanda
Jaali Stitch--gives a net effect
Making of a chikan garment-first the fabric is cut into shape by a tailor,then pre-embroidery work is done so the block printer is able to correctly do the designing.Design is printed on semi stitched garment with fugitive colours,then it is washed in a bhatti and dried.The garment is starched and ironed,the whole process takes from 1-6 months.In ancient days chikankari was only done on white fabric.