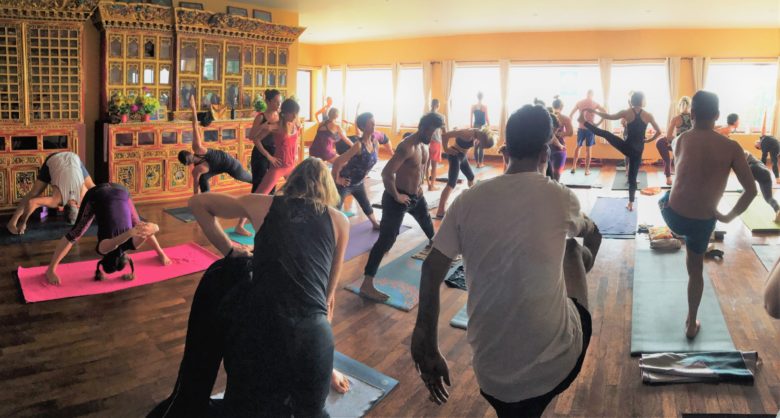 Nepal is the birthplace of the Enlightened one, the greatest teacher that ever was, The Buddha. Yes, the Budhha was born amidst the purity and the serenity of the pristine Himalayan range, and like a mountain, he led the ideals of the world for a more inclusive and a harmonious way of life in those times. What he created is still bringing about Peace in the 21st century.
Nepal is such an interesting place. Did you know that it is the only country with a flag that is not rectangle in shape? Nepal is also the only country that was never invaded by the foreigners. There was an attempt by the British East India Company to invade the land, but they faced such drastic causalities, that they had to sign a peace treaty in the year 1815.
The Ghurkhas of Nepal are some of the strongest armies, which the entire world has ever witnessed. Their motto is "better to die, than live like a coward" The British army still employs the Ghurkha forces to-date, and since 1816.
Here I quote:
"The Gurkha keeps faith not only with his fellow men but with great spiritual concepts, and above all, with himself."
John Masters, 'Bugles and a Tiger' (1956)
This is so interesting because it seems as though the Nepali country survived through all these centuries relying on the purity that the Himalayas behind their backs. It is impoverished in many aspects but why fear when there is so much space for each living being in Nepal?
One could lead a healthy and fulfilled life without all the effects of heavy consumerism that has a take on the rest of the wide world.
A lot of people in the yoga world are turning their focus towards Nepal and for good reason. This mystical country with so much spirituality plays the best kind of host for the optimal realization of the age-old practice of yoga.
There are a lot of yoga courses in Nepal that yoga enthusiasts are flocking to, in large numbers. There is no reason why a yogi would not choose to practice and learn the spiritual practices of Yoga in a spiritual and a breathtaking place like Nepal. One may find yoga retreat in Nepal happening all the year round if they plan to take on one of these courses. The culture there is strong in its roots and the people, even stronger.
Apart from all these things Nepal is a great choice for yoga retreats because:
You get a taste of a stress-free lifestyle where you can connect to your inner self without the distractions of technology:
With practicing yoga one takes a first step at eliminating the demons of insecurities from their minds. The insecurities cause stress at every step of our live. When you participate in a yoga retreat in a place that is full of people who are leading lives that are stress free, it teaches you a thing or two. And if you do in Rome as Romans do, you should be on the fastest way to detoxify your mental space.
Agree with this or not, technology does cause unwanted distractions in life, leading to so many of the insecurities that one inculcates with engaging with technology. Nepal surfs the internet at a low speed of, 256 kbps. With that speed, one is sure to let go of whatever aspect of the internet they enjoy so much. That gives you a push into the real life, with a real timeline. You are free to interact and mend your ways of life in a social concept once the distractions are gone.
Revamp your bodily strength and vitality:
After the distractions are out and at bay, one has ample of time for oneself. In this time you prepare and engage with your body in positive ways, choosing positive actions and implications. You start fuelling your body with organic nutritious foods, the foods then leads to a positive outlook within yourself.
This leads to a positive perception towards the outside.
With so much of positivity and reenergizing chakras happening within you, your body heals and develops a stronger immune system.
Your body feels lighter, vitalized and stronger than ever before. You will come across these changes and benefits for yourself. Next time you choose a yoga retreat in Nepal, know that you are blessing your body mind and your spiritual growth. And that is a mighty helping of self love and care!