Motor Insurance
Motor Insurance is compulsory for every car owner in Singapore. We pay annual premiums. There are three types of motor insurance covers
Third-party cover- covers your liability of property damage, driver's liability in case of injury or death to passengers or others caused by an accident.
Third-party cover, theft, and fire – includes theft or accidental fires to the vehicle
Comprehensive cover – this includes a third party cover, theft, fire, and repair cost,
Your Motor Insurance premium will depend on your age cheapest premium is available from 30 to 65, sex, marital status, occupation, driving experience, no claim discount, certificate of merit. The make, age, and model of your car and usage will also factor in your premium costs.
China Taiping offers a comprehensive motor insurance policy with 10% NCD discounts and a one-time waiver excess in case of damages.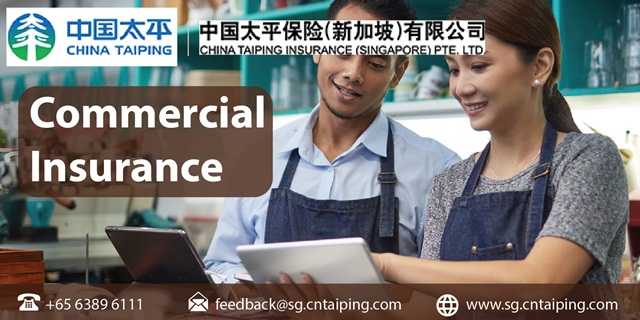 Commercial Insurance
Commercial Insurance protects your business from future risks. Coverage may include damage to property, loss of business because of interruption, worker's compensation, legal issues, and employee grievance. The different commercial insurance policy for your firm:-
Property insurance
Boiler and machinery insurance
Debris removal insurance
Building risk insurance
Glass insurance
Business interruption insurance
Ordinance or law insurance


The Commercial Insurance premium will depend on:- the nature of the business, the number of employees, years of business, and revenue. The premium may also vary depending on whether the business owns or leases cars for its business, the business owns or leases property.

Public Liability Insurance
Public liability insurance is not a legal requirement. Public Liability Insurance protects your firm if someone is injured and you face a liability claim. It covers you not only on your business premises but also when you are working at your client site or in public. The premium cost of public liability insurance will depend on your business, the size of your business, the amount of cover you require, individuals being covered and your claim history.

China Taiping offers comprehensive public liability insurance protecting you and your firm from an external claim.