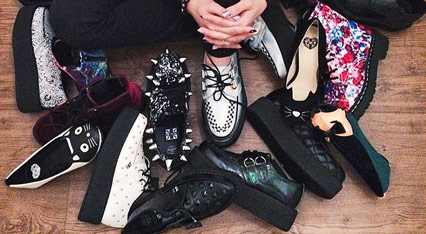 While creepers have grown in popularity over the last few decades, they are more than just a rebellious fashion statement item.

The thick sole actually makes them perfect for exercising but you need to pick out one that is suited to you. Not all shoes are made properly; some shoes might actually damage your foot or even worse cause feet related injuries. More so if you are going to use them for working out.

To pick out the best creeper trainers for exercising, you need to take the following things into consideration;

1. Exercise type

First and foremost, you need to determine the type of exercise you intend to use the creepers for. While most creepers trainers can be used for multiple forms of exercise, if you are more outdoorsy then you are better off picking creepers suited for outdoor terrain. These can be identified by the deeper sole tracks. Yu also need to ensure that the shoes you buy are comfortable for climbing purposes. Pick a size bigger if need be to take foot expansion and sock room into consideration.

2. Brand

Do your research before you fork out a tidy sum of money to buy your shoes. Some brands are best suited for fashion purposes only. It would be a setback to spend your sport wear budget on a costly pair of shoes that you cannot use for the reason you bought them. Stick to brands that have a track record for producing reliable work out creepers. Use consumer reviews and product ratings to wade through the sea of shoe options and pick out the top options before you go shopping.

3. Foot sole type

Pick out options designed for your specific foot sole. This decision will be based on whether you are flat footed or an arched foot sole. Using the wrong shoes can result in back related as well as feet related injuries. As such it is best to ask the store assistants to assist you pick out the best shoe type for your feet. They are usually better versed in this task than you would be doing it on your own.

4. Price

Evaluate the different price points and decide whether you should dole out tons of money for a pair or go for a cheaper option. A key point to remember is that pricier does not always mean better. None the less, you are more likely to get a fair priced pair of creeper trainers. Additionally, you can get better priced creepers when you shop during clearance sales or at thrift stores. You can also sign up on online stores and get discount coupons and updates when the shoes are on offer.

5. Heel size

Finally, decide on the heel size of your choice. You need to take into consideration what form of exercise you intend to use the shoes for. If you are going to be doing aerobics for instance you would be better off picking a smaller heel size.
T.U.K. Shoes UK is author of this article on creeper trainers. Find more information about creepers.