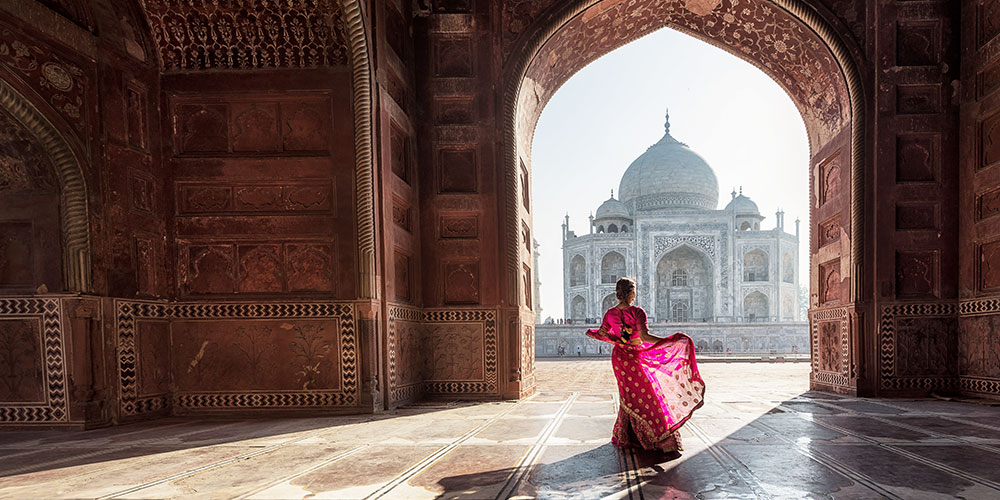 Agra is known for some of the most beautiful Mughal architectural marvels. The Taj Mahal, Agra Fort, Akbar's Tomb and Fatehpur Sikri are among the most beautiful crafted monuments around the world. These monuments reflect the royal taste and lavish lifestyle of the Mughal emperors. Standing tall since centuries, these spectacular structures still hold the same charm and draw tourists from around the world. The best part about planning Agra tour is that all the monuments and popular tourist destinations in the city can be covered in a day. If you are from Delhi, you can start off and get back home the same day after covering all the famous tourist spots in Agra.
Here is how you can plan same day Taj Mahal tour from Delhi:
The road trip is the best option when traveling from Delhi to Agra more so after the construction of the Yamuna Expressway. It is suggested to start off not later than 5 in the morning. This way you will be able to avoid the in-city traffic and reach your destination well in time. It should not take more than three hours to reach Agra via the expressway. So, you will be able to reach your destination by 8 am.
Taj Mahal
It is best to head straight to the marvelous Taj Mahal. You may have to wait for sometime before you get the ticket. The time wasted here due to the long queue can be avoided if you choose a good travel agent to plan your trip). You are sure to get mesmerized by the beauty of this white mausoleum built by the emperor, Shah Jahan in the loving memory of his wife, Mumtaz Mahal. Don't take more than two hours to explore this monument as you wouldn't want to miss out on other places of interest in the city.
Also Read: Important Facts about Taj Mahal
Breakfast and Mehtab Bagh
Mehtab Bagh, which is located close by should be next on your list. As you head towards Mehtab Bagh, we suggest you stop by and grab some street food for breakfast. This will serve two purposes. Firstly, you will get a taste of the local food here and secondly, you wouldn't have to invest much time in breakfast. You can have it on the move.
You should enter Mehtab Bagh by 10:30 am. Built by Mughal emperor, Babur, the garden encompasses a pond that shows the reflection of Taj Mahal. It is full of green trees and plants and also houses a step fountain and several domes. It gives a good view of the Taj Mahal. So, you can capture some really good pictures of the monument from here. You should be able to cover it in less than an hour.
Agra Fort
From here, you should move to the Agra Fort. It will not take more than 15 minutes to reach this majestic monument. The structure is huge and you should explore it at length as it gives a true picture of the Mughal lifestyle and their architectural brilliance. You will take almost two hours to walk through this spectacular red stone fort that houses many beautiful white marble structures too. Different structures in the fortress include Jahangir's Palace, Moti Masjid, Sheesh Mahal, Khaas Mahal, Musamman Burj, Diwan-E-Am and Diwan-E-Khaas. Built during Akbar's reign in the 16th century, Agra Fort is a UNESCO world heritage site.
Lunch at a Mughal Restaurant
You should be out of the fortress by 1:30- 2:00 pm. We suggest you visit a popular restaurant located nearby to have scrumptious Mughlai delicacies for lunch.
Akbar's Tomb
Akbar's Tomb is another not-to-be-missed monument here and thus you must visit it. It is located in Sikandra which is close by. This structure is made of red sandstone and white marble. It was partly built by an emperor, Akbar himself. However, unfortunately, he died when it was only half built. Initially, it was a red sandstone construction. It was Akbar's grandson, Shah Jahan who added white marble structures here. Akbar's Tomb is known for its intricate geometric patterns that add to its beauty. You should not take more than an hour to roam around this place and view it properly.
Fatehpur Sikri
By 4 pm we suggest you head back as you have to cover another major tourist attraction on your way back. Your Agra tour would not be complete without visiting this beautiful structure. Yes, we are talking about the much-talked-about Fatehpur Sikri which is known for its stunning Persian and Mughal architecture.
Fatehpur Sikri is located at a distance of around 40 km from Agra and you should not take more than an hour to reach the place. This beautifully constructed walled city consists of several structures including the Palace of Jodha Bai, Birbal Bhawan, Panch Mahal, Diwan-i-Khas, Buland Darwaza, Tomb of Salim Chisti and Karawan Serai. We suggest you to hire a guide to make your experience more enriching. He will give you a brief history attached to each of these structures as you admire their architectural brilliance. An hour and a half should be enough to explore this place.
You should be out by 6:30 which is the time for Sikri to close. It is also the time you should head back to Delhi so that you reach back by 10 pm.
While the plan shared here is absolutely workable, it would be more convenient for you if you seek help from a good travel agency. This way you will save unnecessary time spent in queues for purchasing tickets and finding the best routes. You can enjoy your trip while the rest will be taken care of by the travel agents.