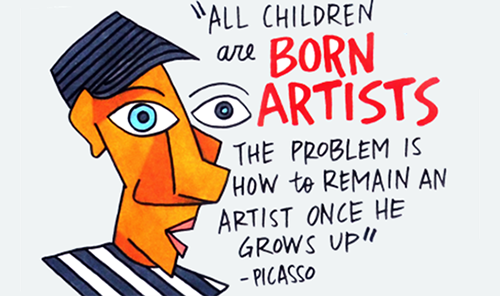 I say about schooling from an unappealing point of opinion — perhaps as it is destroying our captivating, inquisitive minds.
I do not entitle to be an expert in education. I am still a schoolboy and I articulate for myself. I will be certain of that learners should have a power of speech in the education system nowadays, as mostly they are the ones who are being sophisticated. The power of education should be in the fingers of schoolchildren's. They should be positioned first and foremost.
The only lessons that ever permissible for any creativity were art and music (besides occasional woodshop). As school finances get stressed these are the lessons that get cut, de-accentuated. It's a miserable state of affairs. So much spell expended teaching English grammar and history classes. The past events are mostly overlooked and if you can speak correctly, then you can inscribe with correct grammar. You do not need to recognize what a past participle or conjunction seam is if you know how to express correctly
Even if public school syllabi are strictly planned, the information children obtain from the holing shapes a platform for new pioneering thinking. One instance of creativity not being slain is that maximum high school grads that go on college are disrespected by many diverse generals. If communal schools destroyed creativity and ended us all think the similar, we would all take the identical major.
It is surely unhelpful, and may be wrong, consequently, to talk about 'serious thinking abilities'. Critical intelligent is a significant part of most castigations, and if you ask disciplinary experts to define what they mean by critical intelligent, you may well find substantial resemblances in the replies of statisticians and historians. The lure is then to contemplate that they are unfolding the same object, however, they are not.
The similar is accurate for creativity. Creativity is not a lone thing, however, in fact, an entire collection of alike, but diverse, developments. Creativity in arithmetic is not the equivalent of creativity in pictorial art. If a scholar chooses to be creative in arithmetic by determining that 2 + 2 = 3, that is not being creative, it is just meaningless as the student is no longer doing arithmetic…Creativity includes being at the superiority of an arena but then still being surrounded by it.
Alike advice can be complete for other '21st Century Talents' such as problem-solving, transmission and knowledge how to absorb. There is some indication that scholars who swot to work well through others in one set may be more operative doing so in further situations, so some handover is certainly conceivable. Though, the really significant message from the study to this extent is that if you want schoolchildren to be creative in arithmetic you have to impart this in arithmetic classrooms. If you want scholars to think unsympathetically in history, you have to impart this in history.
Transformation in schooling is what A.P.J Abdul Kalam links to the walking trees of rainforest that move an inch every 50 years in his book by the similar name. In further confrontations, it's slow. Though, if we understand that schools are not emerging creative thinkers, and we comprehend that children need to be creative, and we identify what learning circumstances must be extant then we must claim on transformation, slow or not.
I pronounce it's time to get some trees rambling.