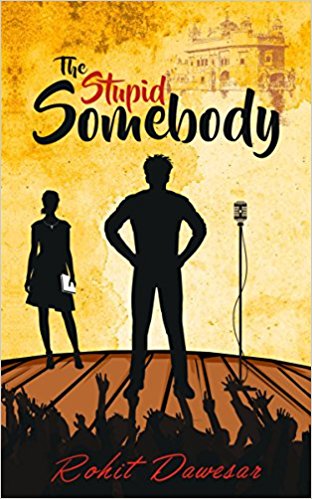 Book Title: The Stupid Somebody
Author: Rohit Dawesar
Paperback: 210 pages
Publisher: Rohit Dawesar; First edition (3 December 2017)
Language: English
Blurb:
"My d-d-dream! Umm, my dream is…. That one day, I will be standing outside an auditorium, a packed house a-a-a-auditorium. People there would be waiting to hear me speak. They would be chanting my name. We love R-R-R-Rohit, We love Rohit," he said, looking into her mesmerizing eyes. After seventeen years, Sherly was standing in his house, holding a copy of his first novel in one hand, and her wedding invitation card in the other. She was getting married in four days. Join Rohit in his journey as he sets off to conquer the greatest obstacle of his life, and how on the way he finds out that his childhood dream was the thread connecting everything happening to him in his life. Will he lose her on this journey of his lifetime?
My Review:
I will start this by quoting "If you want to make everyone happy stop breathing". Yes, this story is about a stutter who wishes to succeed in his both personal and professional life. This is the tale of Protagonist Rohit who is in process of turning his dreams into reality and winning his childhood love maggie/Sheryl, with a lot of twists n turns. Unlike the traditional love story, it has portrayed every relation like brother_sister, mother_son, father_daughter, lovers and friends. This book efficaciously carries out the required warmth, at few places readers will experience tear drops from their eyes. Uniqueness of the book is that the author has never left any feasible instant to justify the title.
Most importantly when we run out of ideas during any crucial decision making situation or to come out of any hesitation in our life, we look forward a super force to drive us towards correct path. Not to spoil further in one line "Amritsar Golden Temple" episode stands highlight in the plot. Authors plan in bringing tale inside tale is super awesome approach which brings in more attention by the readers.Not to miss mentioning few highlights without deface of the treatise as said blow.
Points to ponder:
1. When life throws in a situation to choose between passion or partner, choose wisely.
2.Human malady is not a barrier in achieving the dream
3. What's meant to be will always find a way
4. Never miss pinch of humour in your life.
5. Life is like a roller coaster, live it, be happy, enjoy every moment.
Cover:
Next pinnacle of the book is the cover, In a Yellow background which is a huge dias with a single microphone in the middle and assemblage waiting for the discourse and "Golden Temple" in the background throws some hints on "Amritsar" connection
Ratings:
Carrying more p-p-p-p-positivism and c-c-c-c-creativity to the readers and s-s-s-s-simple narration, s-s-s-swift flow, c-c-c-captivating vocabulary, l-l-l-l-l-life learning lessons, h-h-h-humor punch, e-e-e-e-emotional jigsaw, r-r-r-r-romance and l-l-l-l-love, I rate "The Stupid Somebody – Rohit Dawesar" a 4.5/5. Rather calling it a love / romantic story I will place this book in "Self-help" shelf. This book is a must onetime read by any bibliophile specially for those who are looking to make their spirits high and become successful in their life.
Word to author:
Few places needs an elaborated approach and some places needs crispness.
Hope you take care in your upcoming book.
PS: Do follow author's page for "The Nano Tales" series in Facebook which has much more to offer to his readers in the form of motivation, tickle and makes you think. As a honest reader, I sincerely waif for his next book.
I tried my level best not to spoil the plot to the readers. By any way if you felt so, it was not intentional but is to express & highlight the same.

Direct Link: The Stupid Somebody
Regards
Kiran K Adharapuram