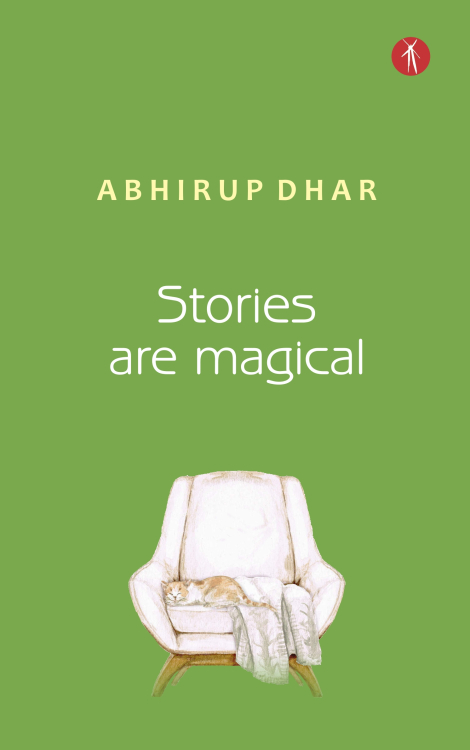 Book Title: Stories Are Magical
Author: Abhirup Dhar
Format: Paper Back
Total Number of Pages: 175 pages
Language: English
Publisher: Hawakal Publishers
Publishing Date: 16th April 2018
ISBN-10: 9387883043
ISBN-13: 978-9387883048
Stories are like magic! Who doesn't like listening to or reading a good one? This book is just that. A reminder why we love them and why we live them – a celebration of storytelling!
Six stories. Six different genres. One book.
My Take
Starting from the cover the green colour is quite soothing design is simple but powerful. You would want to sit in your own cosy corner and immerse yourself. The title of the book is captivate.
Stories Are Magical is a collection of six different short stories And Love Happened With Her Again!, Once Upon A ghost, Woof!, A walk Through Memory Lane, The reunion, Two Plans Ans A Murder. Never felt my interest waning. To write is an art, to keep the reader fascinating and hankering for more is magic. Out of this six short stories Woof! is my favorite part Dogs have long been considered "man's best friend."
The plot is blend of emotions, friendship, heartbreaks, romance, hope affection, anxiety, phantasm, creature love, dreams, power struggle, passion, crime, betrayal and many more.
Language is simple and lucid to read and connect with the story and being engaged throughout the story. The author's mastery over the language is evident from the terms he has used and the vivid description of events that unfold in the pages of the book. The characters are well developed and one can easily relate them. Narration is done well.
An engrossing read that's capable of keeping the reader on edge till the very end.
Overall Ratings 4/5 Stars
Grab the book here Amazon
About the Author
Abhirup Dhar was born in Kolkata and is still being brought up in India. A banker by profession and aspirational in life with a passion to excel, he also reviewed movies for certain portals years ago. He writes for the sheer joy of it since childhood and that itself led him to pen his first book 'Once Again… With Love!'. He believes the best stories are always the simpler ones. He now celebrated storytelling in his second outing with 'Stories Are Magical' and readers had a quick, relaxing and fun read. Abhirup currently lives in Delhi.