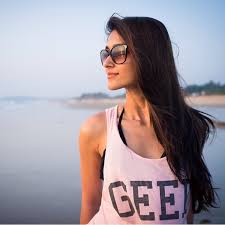 You are envied by your friends, because you are thin or slim, but you feel clothes hang on you, rather than frame your body. You wish you had some feminine curves to flaunt. You can look fabulous, without adding a kilo.
Style tips to create visual illusions
Wear bright colors in at least one garment, to create an illusion of fullness – neon colors, bright yellow, pink would all add to the charm. Combine it with muted colors, so as not to look like a candy shop.
2. White and pastels would look fabulous, provided they are compatible with your skin tone.
3. Wear flared skirts, peplum tops, flared trousers, maxi dresses etc. to counteract the overall tubular shape.
4. Wear loose, unstructured tops with straight trousers.
5. Add layers in the form of shrugs, jackets, scarves, stoles, a shirt loosely thrown over a tank-top and jeans.
6. Use wide sashes, belts as much as possible to cinch the waistline and create curves.
7. Use patterns on the clothing to create an illusion of fullness. Polka dots and paisleys are curvy patterns. You could experience with large, stylish motifs on the upper part of the sari drape.
8. The fabric used should be firm, so that the garment retains its shape, and does not cling to the body.
9. Fabrics with a sheen also help in adding volume.
10. Sheer or lightweight fabrics can be used with a frilly or ruffled design.
11. Geometric cuts or patterns will add interest to the garment, as the eye moves with the geometric shapes rather than the body line.
12. Wear horizontal stripes, only if you are tall.
13. Wear pencil heels or flats, to complement your body shape. Wedges or platforms should be worn only with flared trousers or sarees, as they will juxtapose the slender frame.
14. Carry large bags like hobo bags, totes etc, but proportionate to the size of the body. It should not overpower the total appearance.