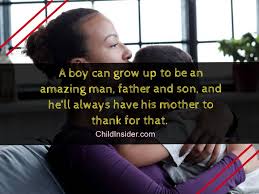 A mother's love's a blessing, no matter where you roam.
Keep her while she's living, you'll miss her when she's gone.
Love her as in childhood, though feeble, old and grey.
For you'll never miss a mother's love, till she's buried beneath the clay."
~ Thomas P. Keenan
As it is said opposites attract the mother and son bonding is unique.Some people feel mother and son should get detached at an early age otherwise the son might remain tied to the mother's apron strings.But this story proves otherwise.
Lata was quite disheartened when the doctor told her due to hormonal imbalance conception would be difficult.She was young,energetic woman working with a software company and had married her colleague Rahul, a little time back. They had known each other for the past five years but had taken the plunge recently.Since Lata's biological clock was ticking fast both sides of parents wanted them to start a family.It was eight months of marriage and still she couldn't conceive.She went to consult a renowned gynaecologist,who ran her through a battery of tests before passing the verdict.She surfed the net but could not find any answer to her infertility.
Rahul was insistent that she visit an infertility specialist.The specialist gave them hope by explaining the in-vitro fertilization technique.They saw a ray of light at the end of the dark tunnel. Lata decided to undergo the first cycle, it was a painful and expensive process but they didn't want to leave any stone unturned. She underwent four cycles but all in vain.They got no success.Both were under a lot of stress.During this period Rahul's younger brother got married and soon he became a father. Rahul and Lata doted on the little one forgetting about their pain.The baby girl became very dear to them.While Lata's sister-in-law recuperated after her delivery,Lata cared for the child like her own.Within no time another daughter was born to the younger brother and people pointed fingers at Lata. She went into an abyss of despair,she felt being barren was the biggest curse any lady could get.Her parents and in-laws were her pillars of strength during this time period.They even arranged for a holiday for the couple ,so that they could rejuvenate and get away from the madding crowd. Lata went half- heartedly as her emptiness gnawed her.
Somehow she put her mind back to work and joined office again.She had been on a long sabbatical due to her health problems.Both Rahul and Lata doted on the brother's first born daughter and the child too considered them as her biological parents.Both brothers stayed together with the parents,so the brother didn't mind them pampering his daughter.They now legally adopted her and forgot about not having their own offspring.But God heard them and after sixteen long years,they were blessed with a son whom they named Deepak. They were over the moon and within no time their son grew up to be a man. Lata had taken pains to inculcate culture and humility in her son and like his name he always brought light and happiness in their life.
Sending him far away to pursue his dreams was a difficult task but they did not pose any hindrance.While pursuing his job,he found his life partner Jaya and with the blessings of the elders they got married. Deepak wanted to live with his parents as his adopted sister was already married and had gone to a different city.They were aging and ailing and as a dutiful son he wanted to care for them. But before he could do that,his father passed away.He had always shared a special bond with his mother,who had looked after his needs tenderly.He wanted her to live with him but his wife had differences with his mother. Lata didn't want to become a parasite on her son and wanted to live in her own place. Deepak was sensible as he didn't want to hurt the mother or wife's sentiments.He let them both stay separate but to make his mother's life comfortable,he equipped the home with modern day gadgets,put the best nursing care for her .He had taken a separate home at a stone's throw and he knew his mother craved for his company in old age,so both his wife and himself lunched with the mother and took the mother to dine with them.Each could have his or her way without compromising on their independence. Deepak had loved his mother's simple home cooked meals and he made it a point to still relish it ,while his wife's gourmet meals too were a delight,so he got the best of both worlds.Son may outgrow a mother's lap but not her heart.