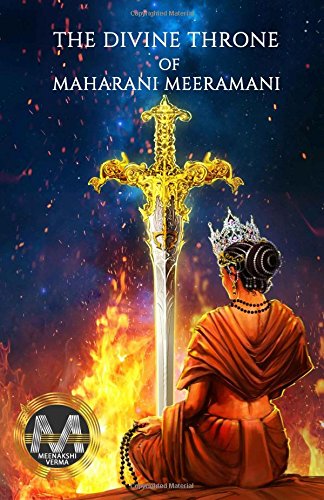 Book Title: The Divine Throne Of Maharani Meeramani
Author: Meenakshi Verma
Format: Paper Back
Total Number of Pages: 278
Language: English
Publisher: Invincible Publishers
Publishing Date: 12 August 2017
ISBN-10: 9386148773
ISBN-13: 978-9386148773
This story has Historical, Political & Social aspects. "JAIRAJGARH," The Grand Empire of Rajputana, whose King is a great warrior, and a devious politician. He didn't limit his devious politics to only the royal throne, but extended it to his personal relationships. He's a ruler, who waited for a long time to have a successor for his grand empire and went on to design a conspiracy for the murder of his own child… The third wife of the King, Maharani Meeramani, who is a warrior by actions, and a hermit by thoughts. This ardent devotee of Lord Shiva, turned her pain into power and despite being a stepmother of a Eunuch Prince, Meeramani has not only loved, but has safeguarded the prince from his own father and beyond everyone's imagination, she has tried to prepare him to take over the Royal Throne while fighting against all odds of society. A 'Eunuch' Prince, whose responsibility is to earn rights for the entire Eunuch community. A Political and Social war between the 'King'& his 'Queen'. Who will win and claim the Royal Throne Will Queen Meeramani convert the Royal Throne into "The Divine Throne"? To unravel the truth you have to be a part of the journey of Queen Meeramani's struggle.
MY TAKE
Starting from the cover It's one of the best I've come across in recent times in historical friction. The tile is perfect for the plot. "The Divine Throne of Maharani Meeramani" is the first fictional social novel of the author Meenakshi Verma, in which she has raised the question of respect and rights of the third gender, 'Eunuchs' along with the equal rights of all human beings. She has not only raised the questions, but also tried to suggest a solution to the society.
This is the story of Jairajgarh: The Grand Empire Of Rajputana of Maharana Ranjeet Dev Pratap Singh is a great warrior, and a devious politician. The story starts with announcement of next war and news of Prince Samar Dev marriage. While going for the war the news of untimely death of Prince Samar Dev Pratap Singh everybody was shaken. The entire Jairajgarh was struck with grief. Maharana had locked himself up in his personal room. He had restricted himself to a personal dark room and the words of his Father Maharana Surya Dev Pratap Singh were echoing in his mind and then goes to flashback of Ranjeet childhood memories with his father Surya Dev Pratap Singh and two wives Queen Manorama Devi and Maharani Kesar Devi and seven children. There is no unity in the family and where is no unity, there can never be peace. Both wives and their children all are always busy in pulling each other. While remembering these lesson from his father life, Ranjeet has decided he will marry as many wives as he want but was sure enough that he will make his child from only one wife who deserves to get the throne. He first marries Queen Vaishali as per his father wish but there relation was not much successful. He then marries Queen Ambika love of his life. Later Queen Vaishali realizes the truth of Maharana Ranjeet and commits suicides and Queen Ambika was all alone after the death of Queen Vaishali and she realize the pain of Queen Vaishali had gone through. Maharana had never loved her and then later Maharana Ranjeet marry Queen Meermani. Meeramani and Ambika share a bond more than real sisters rather than the life of co-wives. Later Queen Ambika with help of Queen Meermani was conceiving. The child born was was eunuch. If a child gets good upbringing and education then he could do anything and become anything, even if he is a eunuch. Deformity in a body could be anywhere so how is the child responsible for it, if he is a son, a daughter or a eunuch, but isn't he still the child to his parents. He can be anything for society, but for his parents he is still their child and separating a child from his mother or a father is a shame on humanity as well as society. As per Queen Ambika request Maharana Ranjeet to give throne of Maharani to Meeramani and also gives the right of his son as mother to Meeramani. From there Maharani Meeramani and her struggle begins with the Prince Samar Dev and form a army of eunuch peoples to give them their right to live Shiva-Jan Army their main aim was to protect Prince Samar Dev. Will Maharana will get to know the truth behind the birth of his son? What happens to Meeramani? Will the bond with Queen Ambika and Maharani Meeramani will remain same? To know more go and grab the copy of book.
Settings in the story are Jairajgarh, Ballabhgarh, Rajputana, Sambhalgarh, Kashi, Santpuram. The story revolves around the Maharana Ranjeet Dev Pratap Singh, Prince Samar Dev, Maharani Meeramani Devi, Maharana Surya Dev Pratap Singh, Queen Vaishali, Queen Ambika Devi, Prince Rudra Dev Pratap Singh, Princess Amritamani, Akroor Singh, Sushant Singh, Sukanya Devi, King Satya Rajsingh, Queen Manorama Devi, Maharani Kesar Devi, Neelima, Manjeet Dev Pratap Singh, Jagjeet Dev Pratap Singh, Rukma, Padma, Shobhana, Shamsheer Singh, Acharya Chaturanand, Prince Neelkant, King Krishnakant, Queen Jamuna Devi, Princess Ambika, Prince Khushaal Singh, Shiromani Pandit Gangeshwar Nath Shastri, Pandit Rameshwar Nath Shastri, Sushma, Heeranand, Ranjeet Singh, Janki Devi, Gulabo, King Surat Singh, Uma Devi, Kaushika, Prince Virat Singh, Sheetla Devi, Prince Somesh, Malini, Jagat Singh, Shambhoo Singh, Kaushika, Queen Padmavati, King Shantanu Dev, Shankula Devi, Sulakshana, Mungeri, King Gangdev, Baba Vishwanath, Kokila, Chanchala, Phoolan, Chammo, Gola, Gannu, Kaalu, Malini, Princess Sukanya, Shiromani Pandit Gopaleshwar Nath Shastri, Kamala Devi, Leela Devi, Dev Kumar Shashtri, Shyaamla, Govardhandas.
Language is Simple, crisp and lucid. The smooth flow of words makes the narrative not only easy but engrossing too. The characters be they the protagonists or the supporting souls, are well articulated, thus making it easy for the reader to relate to them, their views, their actions and reactions. In fact one can easily don their shoes and live the story without feeling ill at ease/ appearing odd. Each one of them contributes to taking the story forward without a hitch, without a hurdle. The author's mastery over the language is evident from the terms he has used and the vivid description of events that unfold in the pages of the book. To write is an art, to keep the reader spellbound and yearning for more is magic. The book brings out sibling love at its best and also addresses certain social issues in subtle yet powerful strokes. This book deals with every aspect of struggles a women undergone during the ancient time and also serves a great social message about eunuch community. There are a few typos and one or two places where the author has made contradictory usages that need to be rectified. My favorite protagonist of this story is Maharani Meeramani. The book has worth to be carried and flaunt because it has got a magical touch of love which can be done in a single sitting.
A wonderful read, one I'll strongly recommend to all book lovers. I'm sure that those who don't like the historical friction will not get disappointed after reading the book.
Overall Ratings- 4/5 Stars
About the Author
Meenakshi was born on December 27, 1972, in New Delhi. She now lives in Gurgaon, Haryana, with her husband and a daughter. Graduated from Jesus and Mary College (Delhi University) in 1994, she got married in 1997. Despite being an Interior designer, she preferred to be a house wife, and invests her lone time in reading (literature, history, spiritual) and writing ( poetry and novels). She is a supporter of Indian culture and has a great faith in God and Karma. She is very religious but not superstitious and strongly believe in Humanity.